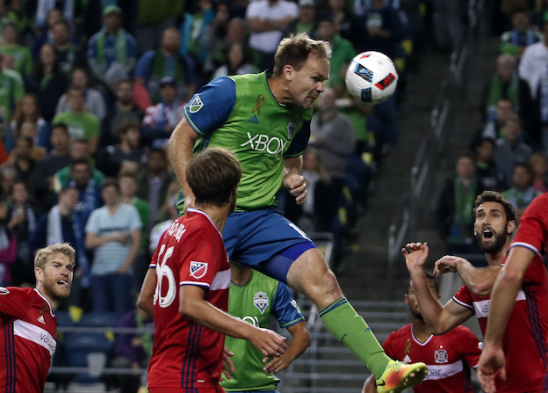 For the first time this season, the Seattle Sounders occupy a playoff spot. A Chad Marshall header in the 24th minute was enough, despite an ugly game, to see Seattle past the Chicago Fire, 1-0 at CenturyLink Field Wednesday night. Seattle's third win in a row vaulted it into the sixth and final playoff spot in the Western Conference.
"They were a little flat, but they somehow found a way to win," coach Brian chmetzer said Wednesday. "That's what you like about teams that make the playoffs and do good things in the playoffs."
Seattle started the same lineup it has used in the absence of Clint Dempsey, who the club said Tuesday would miss the rest of the season. Jordan Morris was at striker and Nicolas Lodeiro playing beneath him. Andreas Ivanschitz and Alvaro Fernandez took the left and right wings, respectively.
The goal came from a corner kick, sent in by Ivanschitz. Marshall jumped to meet the ball, heading it to the far side of the net as it bounced before crossing the goal line.
"That's (Ivanschitz's) game," Marshall said of the cross. "That's what he's known for. He serves a great ball. It's just a matter of making good runs and fortunately I was able to get on the end of it. It helps having (center back Roman Torres) in there too, drawing big dudes.
"I don't think tonight was our best soccer by any means  . . . It was an ugly game. It wasn't the free-flowing, attacking style we like to play, but at this point in the year you'll take three points however you can get it. It's comforting to know you can still get three points even when you're not playing you're best."
And how. In the first half, Seattle (12-13-5) was pressured all over the pitch by Chicago's defense, shutting down the usual routes of attack by concentrating on isolating Lodeiro and Morris. Schmetzer claimed he wanted his team to avoid dropping too far back after scoring, as it has often led to allowing the foe an avenue back into the game.
And avenues appeared, despite Seattle's best efforts. Twice, cutback crosses from the right side found the feet of Fire forward David Accam, but both shots wound up blocked by Torres and right back Tyrone Mears.
In the second half, the game opened up more for the Sounders, who pressed their way toward a second goal. Nelson Valdez, who appeared as a substitute in the 71st minute, nearly broke his scoring drought, but could not connect with any of the chances that came his way.
Despite the Paraguayan's misfortunes, Schmetzer remained confident in his backup striker.
"The guy has played at a much higher level than I ever did," Schmetzer said. "I don't have to say anything to him. He's a tremendous pro. In LA, I thought he was unlucky. There are things that just haven't gone his way. He does such a tremendous job for us, whether we're behind or ahead late in games. It's a really good thing for me to have him to come off the bench."
Chicago (6-15-9) attempted to mount a comeback in stoppage time, but Seattle's defense clawed away a pair of shots from David Arshakyan to preserve the clean sheet.
Seattle will go to Vancouver Sunday (5 p.m., JoeTV) ruing a moment from the 58th minute. After a foul was called against the Sounders in their attacking half, Lodeiro rushed into the path of the ball to give his defense time to recover. The Fire kicked the ball into Lodeiro, who was given a yellow card from referee Hilario Grajeda for delaying the restart of play.
The yellow card is Lodeiro's fifth, meaning that he will serve a one-game suspension for yellow card accumulation against Vancouver. Added to a call-up for Uruguay's World Cup qualifiers against Venezuela and Colombia the following week, Lodeiro, who has recorded a goal or assist in seven of his nine games as a Sounder, may miss Seattle's home match against Houston Oct. 12 (7:30 p.m., JoeTV).
Schmetzer said that the loss of Lodeiro, while big, would not sink his team's hopes.
"The foul happened right in front of me," Schmetzer said. "It's a technicality, it could have gone either way. Those things are unfortunate, and we'll certainly address that with Nico because we don't want him to get a yellow card for something like that.
"As far as the preparation, it just comes down to the players (available). If I put Nelson Valdez in, I don't think you're going to see Nelson worry if Nico is on the field. They have that mindset. We lost Dempsey, and what has this team done? They've just continued."
Trying and succeeding are two different things in the world of MLS parity. But finally atop the red line, the Sounders control their own playoff destiny.
Hope Solo undergoes shoulder replacement surgery
Seattle Reign and longtime U.S. Women's National Team goalkeeper Hope Solo has undergone shoulder replacement surgery, she announced via her Facebook account Wednesday.
Solo, 35, is serving a six-month suspension with the national team after making negative comments following the team's loss to Sweden in the Olympic quarterfinals said she would not play the remainder of the Reign's season.
"Yesterday, I underwent shoulder replacement surgery to address an injury I've been dealing with for some time," Solo wrote. "An opportunity presented itself after my contract was terminated and while difficult, it opened the door to take care of a long overdue surgery.
"Thanks to a brilliant team of doctors at the University of Washington Medical Center led by Dr. Frederick Matsen, I've got a brand new shoulder and for the first time in years, I can raise my right arm above my head. I'm filled with excitement knowing how life-changing this is and I look forward to coming back healthier and stronger than ever."
The Reign, who made consecutive appearances in the past two NWSL championship games, went 2-1-1 over its final four games after Solo's announcement, missing the playoffs by two points.