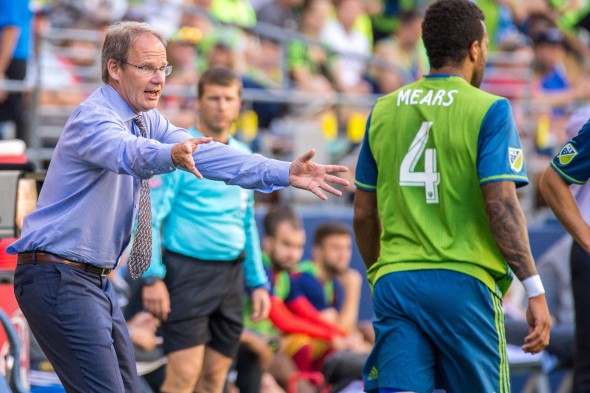 The long shot who made an even longer shot, the Seattle Sounders, a hot playoff team, was rewarded Wednesday night. At the club's annual public business meeting at the Clink, Brian Schmetzer was named the MLS Sounders second head coach, succeeding the man who hired him, Sigi Schmid.
"I am grateful for the opportunities that I've received here as a player, a coach in the club's USL era, and now as head coach of the MLS team," Schmetzer said in a club release. "I believe in the fact that for our players, this is their team, and they have responded by taking complete ownership of the season and driving us into the playoffs.
"I give them full credit for that, but our work isn't finished yet. My goal is to make sure we can all enjoy this ride a little longer deep into the postseason."
Schmetzer had been interim head coach since July 26, when Schmid was fired after the Sounders' slowest start in their MLS history, 6-12-2. Bolstered by the addition of designated player Nicolas Lodeiro, the Sounders finished regular season with an 8-2-4 run, securing the No. 4 seed on the final day with a win over Real Salt Lake after being in ninth place as late as Sept. 10.
It was the first of three victories in eight days that gives Seattle a good shot at reaching the Western Conference finals. After a knockout-round win over Kansas City, the team that beat Seattle twice in the regular season, the Sounders Sunday defeated No. 1 seed Dallas 3-0 in the first leg of the Western Conference semifinals home-and home series.
"His connection to this city and club goes back decades, long before I hired him to manage the USL Sounders in 2002," club owner Adrian Hanauer said. "He has always been an incredible steward of the organization and ambassador for our club in the community, and what he and the team have accomplished on the field over the past three months is worthy of recognition."
Schmetzer, 54, led the biggest turnaround in league history. Seattle became the first team in league history to make the postseason after recording 20 or fewer points through the first 20 matches of the season.