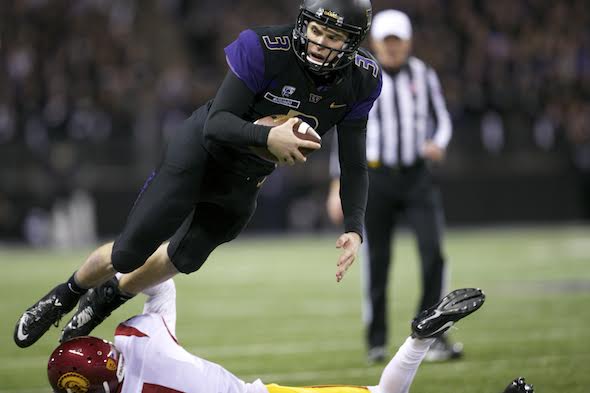 Washingon took a predictable drop in the Associated Press and coaches polls released Sunday, from No. 4 to No. 7 in both, following the Huskies' 26-13 loss to USC Saturday night. UW is expected to take a similar fall in the College Football Rankings, which determine the semifinalists for the national championship playoffs. They will be released Tuesday (4 p.m. PT., ESPN).
The Huskies (9-1 overall, 6-1 Pac-12), who had their perfect season spoiled by the Trojans, collected 1,150 points in the latest AP poll (1,364 points last week). Alabama (10-0) remained No. 1 with 1,525 points, followed by No. 2 Ohio State (9-1, 1,455), No. 3 Louisville (9-1, 1,357), No. 4 Michigan (9-1, 1,323), No. 5 Clemson (9-1, 1,304, and No. 6 Wisconsin (8-2, 1,214).
The Crimson Tide won 51-3 over unranked Mississippi State, but Clemson lost to Pittsburgh 43-42, and Michigan fell to Iowa 14-13.
Washington's weak nonconference schedule came into play when 8-2 Wisconsin became the first two-loss team to move past the Huskies. The Badgers' two losses are by seven points each to Ohio State and Michigan, and they beat LSU in nonconference play.
Four Pac-12 teams advanced.
Utah (8-2, 207) moved up two spots to No. 11, Colorado (8-2, 797) climbed four places to No. 12, USC (584) collected its first AP ranking since early in the season at No. 15, and Washington State (8-2, 501) jumped three spots to No. 20 after bashing the Cal Bears 56-21.
The Cougars are 7-0 in the Pac-12 North, one game ahead of Washington. They play at Colorado, the Pac-12 South leaders, at 12:30 p.m. PT Saturday (FOX).
In the coaches poll, Washington received 1,190 points, down from 1,422 last week. Alabama (1,575) remained No. 1, followed by 2. Ohio State (1,495); 3. Louisville (1,418); 4. Michigan (1,332); 5. Clemson (1,318) and 6. Wisconsin (1,231).
Among Pac-12 schools, Utah (909) jumped one spot to 11th, Colorado (861) moved up three spots to 12th, Southern California (473) cracked the poll at No. 19, and Washington State (438) gained three spots to 20th.
Washington will try to rebound against Arizona State (2-5, 5-5) at 4:30 p.m. Saturday at Husky Stadium (FOX).