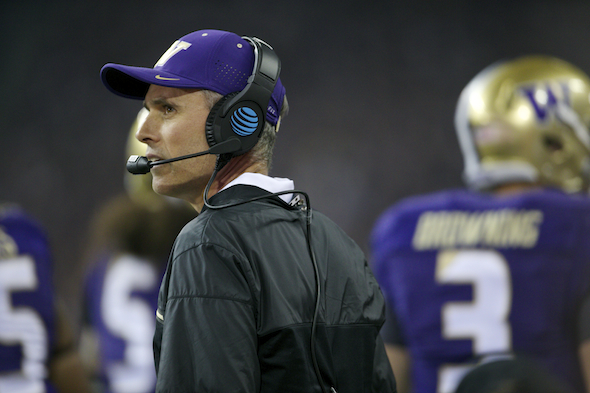 Apparently hoping to keep the Apple Cup as sterile as possible, Washington coach Chris Petersen and Washington State coach Mike Leach have banned player interviews this week ahead of the Friday showdown in Pullman for the Pac-12 North Division championship.
So no trash trash talk from principals is happening on conventional media and likely not on social media, given both coaches' penchant for control. With stakes and money so high, both coaches are attempting to avert pre-game inflammation.
For certain, there will be nothing from Huskies junior CB Darren Gardenhire, a reserve who surprised coaches and teammates when he announced via his Instagram account that he was quitting the program and hopes to transfer.
At his weekly press conference Monday, a terse Petersen said only there was a "difference in philosophy is probably best way you could put it."
He said the decision was the player's, and happened sometime after the Huskies' 44-18 win over Arizona State Saturday.
The 5-11, 185-pounder from Long Beach, CA, a cousin of former UW RB Dwayne Washington, played in every game this season and was a regular on special teams, although he started the opener against Rutgers. But a year ago, he started nine games before losing the starting job this season to senior Kevin King.
Saturday he had a tackle and fumble recovery against ASU. He also had an interception against Oregon State and a sack at Arizona. For the season, he had 13 tackles.
Although King is a senior and the other starting cornerback, junior Sidney Jones, is expected to declare for the NFL draft, the Huskies have a number of talented cornerbacks on the way up, including Austin Joyner, which may have been a factor.
His Instagram message read:
"I would just Like to say that I appreciate everyone At the University of Washington and thank them for everything they've helped me accomplish while I spent my time here. After talking with my family and really taking time to make this decision. I will no longer be continuing my career here at the University of Washington. It was a real tough decision but I have to go wit ma Heart and make the best decision I feel is for my future. And I will transfer to the University i feel is right to do it at. And to my Teammates y'all already know what y'all gotta do and that's get everything y'all worked hard for and deserve. !"