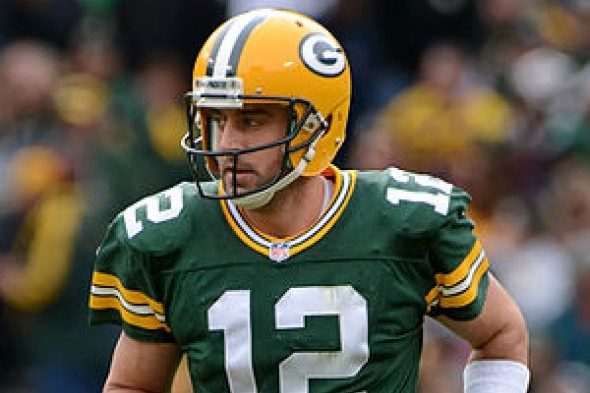 Takeaway
Contrary to weather forecasts, no snow fell upon at Lambeau Field. Contrary to what odds makers predicted — a three-point win — the Seahawks, due largely to six turnovers, still got buried.
Needing a win to clinch the NFC West, the Seahawks came nowhere close as QV Russell Wilson never looked worse. The Legion of Boom flailed helplessly against Aaron Rodgers. It added up to a 38-10 Green Bay romp at Lambeau, where Seattle has lost seven consecutive games dating to 1999, none more ineptly than Sunday. (box).
Wilson tossed a career-high five interceptions (two coming off deflections). Twice he overthrew open receivers for what should have been easy touchdowns. He even overthrew targets on short screens. Four passes were dropped. His passer rating — 43.7 — wasn't his worst, but the eye test was: Wilson has never looked more ineffective.
Rodgers, limping all game with a sore calf injured on the game's third play — a 67-yard touchdown pass — played virtually pressure-free and carved up the Seahawks with 18 completions in 23 attempts for 246 yards, three touchdowns and no turnovers.
Continually picking on CB DeShawn Shead, Rogers' finished with a 150.8 rating, becoming only the fifth quarterback in 41 years to exceed 150.0 against the Seahawks. Rodgers didn't even play most of the fourth quarter.
If that wasn't bad enough, RB Christine Michael, cut by Seattle Nov. 15 and immediately signed by the Packers, got in a few licks, rushing 10 times for 36 yards.
Seattle (8-4-1) not only fell out of the No. 2 seed in the NFC, but suffered its worst drubbing under head coach Pete Carroll. The Seahawks had gone an NFL-record 95 consecutive games, regular season and playoffs, without losing by more than 10 points before their 28-point defeat Sunday.
Essential moments

Rodgers' 66-yard TD to Davante Adams, who out-maneuvered CB Jeremy Lane, came on third-and-2 and was the longest pass allowed by Seattle this season. But the Seahawks answered with a 13-play, 75-yard drive that ended with Stephen Hauschka's 28-yard field goal.

On that drive, Wilson had a touchdown opportunity on a long pass to wide-open WR Doug Baldwin, but overthrew badly. On the second possession, Wilson had TE Jimmy Graham in his sights for what should have been a touchdown, but overthrew him as well.
Wilson never got into any kind of rhythm after that until midway through the fourth quarter when he threw a 21-yard TD to WR Tanner McEvoy.
Offense
Wilson completed 22 of 39 for 240 yards. But has eight interceptions in his past three games after throwing only two in his first 10. His passer rating of 43.7 was his second lowest of the season, coming only two weeks after he posted a 38.8 at Tampa Bay.
Wilson had four picks in a playoff game against the Packers two years ago and has been intercepted 10 times in his career by Green Bay.
RB Thomas Rawls rushed for 67 yards on 12 carries, but barely saw action in the second half as the Seahawks were forced to throw. RB Alex Collins had seven carries for 123 yards. Seattle finished with 136, 19 by Wilson, after averaging 173 yards per game the past three weeks.
Two of Wilson's picks bounced off Baldwin and WR Tyler Lockett, who led the Seahawks with 46 and 41 yards, respectively. Graham was not a factor — one pass for 16 yards. FB Marcel Reece, the former University of Washington wide receiver signed earlier this week, had one play, a 38-yard reception.
Seattle accumulated more yards than the Packers, 354 yards to 330, and ran more plays, 68 to 56, but couldn't overcome the six turnovers, including a Collins fumble.
Defense
The Seahawks had a 79.9 opponent quarterback rating, fourth best in the NFL, until Rodgers laid a 150.8 on them. Had the Seahawks not sacked Rodgers in the third quarter, it would have marked the first time in franchise history that they had gone three consecutive games without a sack.
LB Bobby Wagner led the Seahawks with 12 tackles (seven solo) while SS Kam Chancellor had seven (five solo). DT Ahtyba Rubin had the sack.
Words
"This was a great night for the Packers. To take the ball away from us like that, that was a great job by them. It was very frustrating to watch Aaron Rodgers have it so easy. We've played a lot of years without seeing a game like this. We're going to respond to this and take care of business in the last few games of the year. Just a miserable night. This was so out of character. We have to move ahead quickly." — Seahawks coach Pete Carroll
"That game was on me. The great thing is that we play Thursday. We just have to move on. I thought we were really prepared and we had opportunities, we just missed them." —  Wilson
"Aaron Rodgers is a great quarterback. You lose and you regroup. Muhammad Ali lost fights. This is how the game goes sometimes." — Seahawks DE Michael Bennett.
"Any time you turn it over six times you are going to get your ass beat." — Seahawks OL Bradley Sowell
Noteworthy
With a win and an Arizona loss at Miami, the Seahawks would have clinched the NFC West, The Cardinals lost 26-23 . . . The Packers increased their lead in the all-time series to 10-7 . . . Hauschka extended to 91 the number of consecutive games in which he has scored, an on-going club record. Hauschka also hit a field goal in his 16th consecutive game, another club mark . . . Wilson's December record dropped to 16-4 . . . Seattle is 18-12-1 in its past 31 road games, but 2-4-1 this year.
Next
The Seahawks return to CenturyLink Field Thursday to face the Los Angeles Rams (5:25 p.m. PT on NBC and the NFL Network), who defeated Seattle 9-3 in Week 2 at the Los Angeles Coliseum, the Rams' only home win of the season. The Rams lost Sunday 42-14 to Atlanta to drop to 4-9 in their homecoming season.