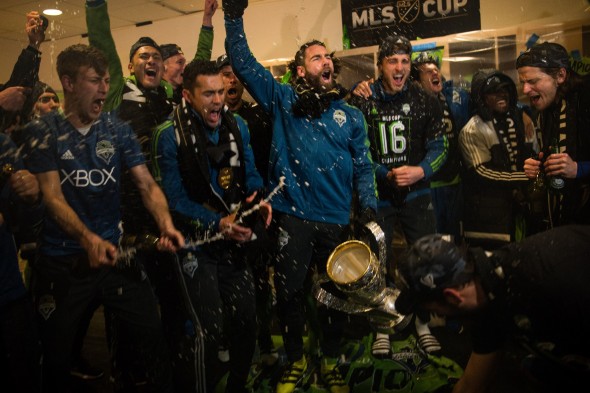 Two days after winning the MLS Cup and a day before the expansion draft, the Seattle Sounders exercised contract options on eight members of the  roster.The club also announced its list of protected players that new teams Minnesota United FC and Atlanta United FC can't touch.
The Sounders exercised options on GK Tyler Miller, D Roman Torres, D Oniel Fisher, D Tony Alfaro, D Joevin Jones, M Brad Evans, M Aaron Kovar and F Victor Mansaray.
The renewals, save for Evans and MLS Cup-hero Torres, largely focus on young players who show significant promise. Fisher, Miller, Kovar and Alfaro have all contributed to the first team this season, while 19-year-old Mansaray is regarded highly.
Eight additional players already had contracts that ran through the 2017 season: GK Stefan Frei, D Chad Marshall, M Osvaldo Alonso, M Nicolas Lodeiro, M Alvaro Fernandez, M Cristian Roldan, F Clint Dempsey and F Jordan Morris.
Seattle declined the options on 13 players:
GK Charlie Lyon, D Damion Lowe, D Tyrone Mears, D Jimmy Ockford, D Dylan Remick, M Nathan Sturgis, M Michael Farfan, M Erik Friberg, M Andreas Ivanschitz, F Darwin Jones, F Oalex Anderson, F Herculez Gomez, and F Nelson Valdez.
The expansion teams will each select five players from the league's existing clubs to kick-start their rosters for the 2017 season. Once an established team loses a player, the club is removed from the remaining rounds of the five-round draft.
The release of Lowe, Lyon, Ockford, Sturgis, Remick and Farfan are not that surprising. As depth players, the five played seldom. Friberg and Ivanschitz, while regular contributors to the first team, were ridden with injuries for long portions of the season, while Gomez's signing was for emergency depth after Obafemi Martins left for China just weeks before the season started.
Declining Nelson Valdez reflects the striker's poor return for value during his time in Seattle. While Valdez scored two critical goals in the playoff run, the $1.5 million per year striker scored just one regular-season goal in a year and a half.
Anderson had an injury in training the day before the MLS Cup and had to be carried off the field.
Players with declined contracts may be re-signed by their club by Thursday, after which they will be eligible for the MLS re-entry draft. If players go unselected during the draft and are over 28, they may enter free agency and negotiate a salary with another club.
The Sounders also announced that they spent 11 of their protection slots on 16 players under contract: Frei, Alfaro, Alonso, Dempsey, Joevin Jones, Lodeiro, Evans, Marshall, Miller, Roldan, Torres are unable to be selected in the expansion draft.
Additionally, Kovar, Mansaray and Morris may not be selected due to their protected status with Homegrown Player contracts. Darwin Jones, even with his declined contract option, is also still under protected status as a Homegrown Player.
Any Seattle player not listed by the club as protected is eligible to be selected in the expansion draft. For players under contract, includes just Fisher and Fernandez. Each club in the league may only lose one player in the expansion draft, including players not under contract.