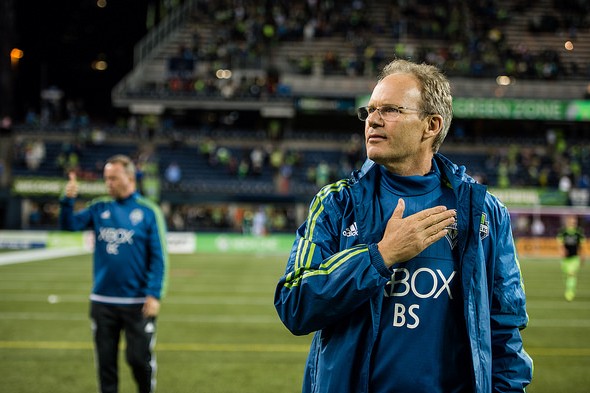 Major League Soccer Thursday released its full 2017 regular-season schedule, which calls for each of its 22 clubs to play 34 matches beginning March 4 and concluding Oct. 22. The league champion Sounders will play their home opener March 19 against the New York Red Bulls after playing a pair on the road, March 4 at Houston and March 11 at Montreal.
Seattle will play 12 games on national television (ESPN or FOX), beginning with the home opener against the Red Bulls.
The Sounders will host three of their six Cascadia Cup matches against Portland and Vancouver and play the LA Galaxy three times on national TV, including a Sunday night clash Sept. 10.
Eight of Seattle's final nine matches will be against Western Conference opponents, culminating with a pair of home matches to close out the season against 2016 postseason foes FC Dallas (Oct. 15) and Colorado (Oct. 22).
Additional schedule highlights include a rematch of the 2016 MLS Cup final between the Sounders and Toronto FC May 6 at CenturyLink Field. Seattle will also play both MLS expansion teams, Atlanta (Eastern Conference) and Minnesota (Western Conference).
Seattle hosts Atlanta March 31 and faces Minnesota twice in a 16-day span in August, beginning with a road contest Aug. 5.
A complete listing of Sounders FC's 2017 regional broadcast details will be announced later.
The "Final Push to the Playoffs," the final two weekends of the regular season, will feature more matches played on those dates than before. On the next-to-last weekend (Oct. 15), all Eastern Conference matches will kick off at 12 p.m., PT., while Western Conference matches will begin at 2 p.m., PT. On Decision Day (Oct. 22), all 11 matches will be played simultaneously.
As a prelude to the regular season, the Sounders will play a friendly against Portland Feb. 4 in Tucson, AZ. Seattle will also play in the Carolina Challenge Cup in Charleston, SC., against Charleston Battery (Feb. 18), Atlanta United (Feb. 22) and Columbus Crew (Feb. 25).
Sounders Regular-Season Schedule
| | | | |
| --- | --- | --- | --- |
| Day | Date | Opponent | KICKOFF (PT) / NATIONAL TV |
| Saturday | March 4 | at Houston Dynamo | 5:30 p.m. |
| Saturday | March 11 | at Montreal Impact | 4 p.m. |
| Sunday | March 19 | New York Red Bulls | 4 p.m. / FS1 |
| Friday | March 31 | Atlanta United FC | 7 p.m. / FS1 |
| Saturday | April 8 | at San Jose Earthquakes | 7:30 p.m. |
| Friday | April 14 | at Vancouver Whitecaps FC | TBD |
| Sunday | April 23 | at LA Galaxy | 1 p.m. / ESPN |
| Saturday | April 29 | New England Revolution | 7  p.m. |
| Saturday | May 6 | Toronto FC | 1 p.m. / ESPN |
| Saturday | May 13 | at Chicago Fire | 5:30 p.m. |
| Wednesday | May 17 | at Sporting Kansas City | 5:30 p.m. |
| Saturday | May 20 | Real Salt Lake | 2 p.m. |
| Saturday | May 27 | Portland Timbers | 12 p.m. / FOX |
| Wednesday | May 31 | at Columbus Crew SC | 4:30 p.m. |
| Sunday | June 4 | Houston Dynamo | 7 p.m. |
| Saturday | June 17 | at New York City FC | 10 a.m. / ESPN |
| Wednesday | June 21 | Orlando City SC | 7:30 p.m. |
| Sunday | June 25 | at Portland Timbers | 1 p.m. / ESPN |
| Tuesday | July 4 | at Colorado Rapids | 6 p.m. |
| Wednesday | July 19 | D.C. United | 7:30 p.m. |
| Sunday | July 23 | San Jose Earthquakes | 7 p.m. |
| Saturday | July 29 | at LA Galaxy | TBD / ESPN |
| Saturday | Aug. 5 | at Minnesota United FC | 5 p.m. |
| Saturday | Aug. 12 | Sporting Kansas City | 1 p.m. |
| Sunday | Aug. 20 | Minnesota United FC | 7 p.m. / FS1 |
| Wednesday | Aug. 23 | at Vancouver Whitecaps FC | TBD |
| Sunday | Aug. 27 | Portland Timbers | 6 p.m. / FS1 |
| Sunday | Sept. 10 | LA Galaxy | 6 p.m. / FS1 |
| Saturday | Sept. 16 | at FC Dallas | 5 p.m. |
| Saturday | Sept. 23 | at Real Salt Lake | 6:30 p.m. |
| Wednesday | Sept. 27 | Vancouver Whitecaps FC | TBD |
| Sunday | Oct. 1 | at Philadelphia Union | 10 a.m. / ESPN |
| Sunday | Oct. 15 | FC Dallas | 2 p.m. |
| Sunday | Oct. 22 | Colorado Rapids | 1 p.m. |