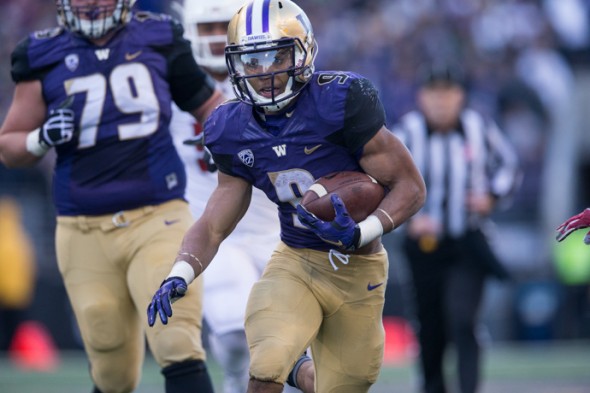 The University of Washington football team, which finished No. 4 in both major polls last season, will open its 2017 schedule on the road (Rutgers) but close by playing four of five at Husky Stadium. According to the full conference slate released by the Pac-12 Wednesday, Washington State has an equally favorable schedule with seven home games at Martin Stadium, including five in a row to open.
Washington launches Friday, Sept. 1 at Rutgers and follows with two more non-conference games, both at home, against Montana (Sept. 9) and Fresno State (Sept. 16). The Huskies then play three of four on the road between Sept. 23-Oct. 14.
The Huskies are on the road for two games to open conference play, Sept. 23 at Colorado and Sept. 30 at Oregon State.
Washington will play five conference games at Husky Stadium and four on the road, a reverse of last year. UW's bye week is Oct. 21.
Among the schedule highlights, Washington plays UCLA for the first time since 2014 (Oct. 28 in Seattle), plays two Friday games (Rutgers, Stanford), and won't play either USC or Arizona.
Also, the Apple Cup will be held Nov. 25, a Saturday, in Seattle. The annual rivalry game was on Friday after Thanksgiving in four of the past five years.
The Cougars launch their slate with five consecutive home games, beginning Saturday, Sept. 2 against Montana State, an opponent WSU has a 7-0 all-time mark against. The only other time the Cougars opened the season with more than three consecutive home games came in 1907, when they opened with four.
"The schedule is out of our control and we will make this a positive, having the opportunity to build momentum early in the year without having to put on a road jersey until Week 6," said WSU athletic director Bill Moos. "Ideally, we would like to have our home schedule more spread out, but playing seven home games for the second straight season gives our fans the chance to enjoy Martin Stadium at the best time of the year and get us off to a fast start."
Like Washington, Washington State plays two Friday games, Sept. 29 against Rose Bowl champion USC in Martin Stadium. The other is Friday, Oct. 13 at California.
The Cougars won't have their bye week until Nov. 18, the week before the Apple Cup.
The Pac-12 Conference Championship is either Dec. 1 or 2 at Levi's Stadium in Santa Clara, CA.
Washington's 2017 football schedule
Fri., Sept. 1 — at Rutgers
Sat., Sept. 9 — Montana
Sat., Sept. 16 — Fresno State
Sat., Sept. 23 — at Colorado
Sat., Sept. 30 — at Oregon State
Sat., Oct. 7 — California
Sat., Oct. 14 — at Arizona State
Sat., Oct. 21 — BYE
Sat., Oct. 28 — UCLA
Sat., Nov. 4 — Oregon
Fri., Nov. 10 — at Stanford
Sat., Nov. 18 — Utah
Sat., Nov. 25 — Washington State
Washington State's 2017 football dchedule
Sat., Sept. 2 — Montana State
Sat., Sept. 9 — Boise State
Sat., Sept. 16 — Oregon State
Sat., Sept. 23 — Nevada
Fri., Sept. 29 — USC
Sat., Oct. 7  — at Oregon
Fri., Oct. 13 – at California
Sat., Oct. 21 —  Colorado

Sat., Oct. 28 — at Arizona
Sat., Nov. 4 — Stanford

Sat., Nov. 11 — at Utah
Sat., Nov. 18  — BYE
Sat., Nov. 25 — at Washington