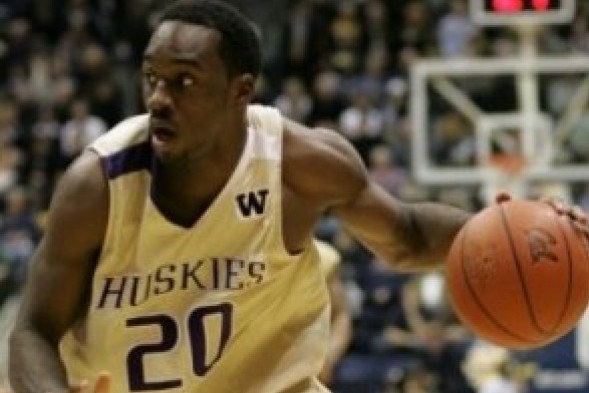 Former University of Washington basketball star Quincy Pondexter (2007-10), along with 11 others, Thursday was named to the Pac-12 Hall of Honor. Pondexter and the Class of 2016-17 will be formally inducted March 10 prior to the semifinals of the conference tournament in Las Vegas.
At the time he graduated, Pondexter ranked fifth in career scoring at Washington with 1,786 points. He recorded six 30-point games and 30 20-point games. Pondexter also reached double figures in scoring 75 times and totaled 15 double-doubles in his 136 career contests.
Pondexter posted 10 games with 20 points and 10 rebounds, second only to Jon Brockman, who preceded Pondexter in the Hall of Honor in 2015.
Pondexter helped UW to a 64-12 record at Alaska Airlines Arena during his career, equaling the most wins at home by a UW player. The Fresno, CA., native enjoyed a dominant senior season in 2009-10, leading the Huskies in scoring, rebounding and free throw percentage to earn first team All-Pac-10 and Pac-10 All-Tournament team honors.
At the time, his five Pac-10 Player of the Week honors were a conference record. Additionally, Pondexter was among the leaders in the Pac-10 in several statistical categories including points per game (19.3, third), rebounds per game (7.4, third), field goal percentage (52.8, sixth), free throw percentage (82.7, sixth) and offensive rebounds (3.0, third).
Pondexter was the No. 26 pick in the first round of the 2010 NBA Draft and has played 279 games for Memphis and New Orleans during his six-year career. He's averaged 5.3 ppg.
Elected to the Hall of Honor along with Pondexter: Bob Elliott (Arizona), Tarence Wheeler (Arizona State), Jerome Randle (California), Chauncey Billups (Colorado), Stu Jackson (Oregon), Ray Blume (Oregon State), Mike Montgomery (Stanford), David Greenwood (UCLA), Ralph Vaughn (USC), Andre Miller (Utah) and Carlos Daniel (Washington State).
The Honor Hall was established in 2002. Fourteen Huskies have been enshrined: Bob Houbregs (2002), Marv Harshman (2003), James Edwards (2004), Jack Nichols (2005), Steve Hawes (2006), Christian Welp (2007), Louie Nelson (2008), Detlef Schrempf (2009), Eldridge Recasner (2010), Todd MacCulloch (2011), George Irvine (2012), Nate Robinson (2013), Brandon Roy (2014) and Jon Brockman (2015).