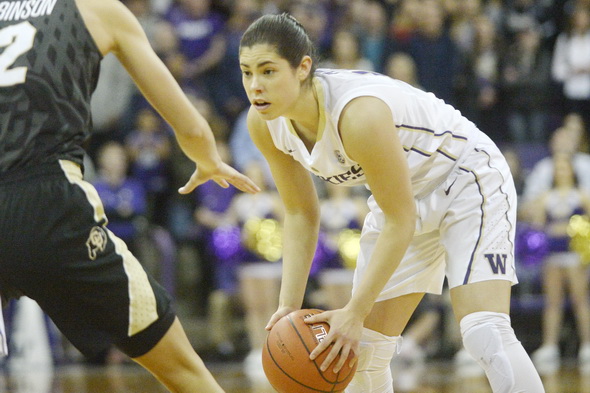 On the back of a 24-point, 20-rebound effort from senior center Chantel Osahor, the No. 11 Washington Huskies women's basketball team romped its way to a 79-46 win over Colorado Thursday at Hec Ede. A 25-point performance from senior guard Kelsey Plum brought her career total to 3,340, 53 shy of the NCAA record.
Osahor scored the first 10 points for Washington (26-4, 14-3 Pac-12), establishing her control of the floor early.
"(Osahor) almost did that against Kentucky," coach Mike Neighbors said. "Very similar, but not with that many people finding her. Kelsey finds her a couple times, Natalie (Romeo) finds her, (Aarion McDonald) finds her. Everybody realized: 'This is Chantel takeover mode, keep feeding her.'"
Osahor kept converting, 8-of-16 from the field and five-of-seven from the free-throw line to go along with five assists. Her rebounds broke her own single-season record, 436, an NCAA high.
Colorado (15-13, 5-12 Pac-12) mounted a brief comeback, closing within two at the end of the first quarter, but the Huskies opened the second frame on a nine-point run and never looked back.
It's another strong showing ahead of the Pac-12 tournament at KeyArena next week, followed by pursuit of a high seed in the NCAA tournament.
"I don't talk to (the players) at all about it, but I certainly look at it," Neighbors said. "We start looking at what the NCAA is doing with the reveal. I'll be 100 percent honest with you, I have no clue what they're finding important. We went from No. 6 to No. 12 in the course of two weeks and our only loss was to UCLA, who is also in the reveal.
"All four of our losses are to teams that are in the reveal, so I'm not exactly sure. All I know is that we can keep taking things off the table; make sure they don't have anything but positive things to talk about."
The Huskies have one home game left in the regular season against Utah (16-12, 5-12 Pac-12) at Hec Ed Saturday (2 p.m., Pac-12 Networks), before moving on to the conference tournament at KeyArena March 2-5.