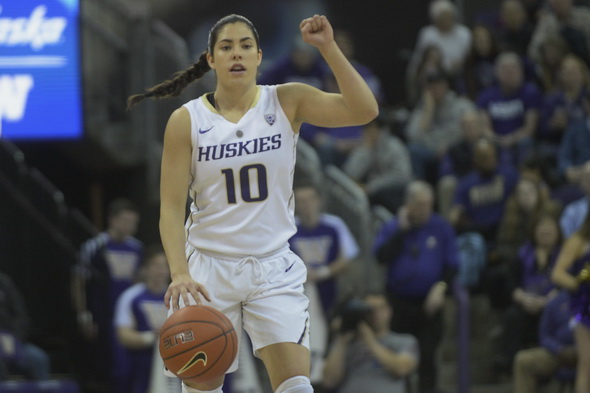 Kelsey Plum found a higher gear, and the move was rewarded with a women's basketball record. Needing 53 points to tie Jackie Stiles for the career points mark, the senior guard scored 57 in an 84-77 win over Utah Saturday afternoon at Hec Ed, her final regular-season home game.
In setting the Pac-12 Conference single-game mark, and missing the NCAA record by three points, Plum has 3,397 points over four years, topping the standard set by Stiles, of Missouri State, from 1998 to 2001.
Plum made 19 of 28 from the field, was 6 for 11 beyond the arc and 13 of 16 from the line. She banked in a running jumper from about 10 feet to break the record with 4:04 to play as the crowd of 6,775 erupted.
"You don't do something like this by yourself and I hopefully make that very clear," Plum said post-game. "This is an individual record but it's broken by a village of people. It's broken by every teammate that I've ever played for, every trainer, doctor, my parents, my sisters my brother. It's this university, it's the support I've been given. I'm very grateful, but it's not something I take on myself because it's not broken by just me."
Plum checked out with 44 seconds remaining to a standing ovation as Washington (27-4, 15-3 Pac-12) finished with seven wins in its final eight games. Next is the Pac-12 Tournament at KeyArena Thursday. The Huskies will draw a bye in the first round and will open Friday.