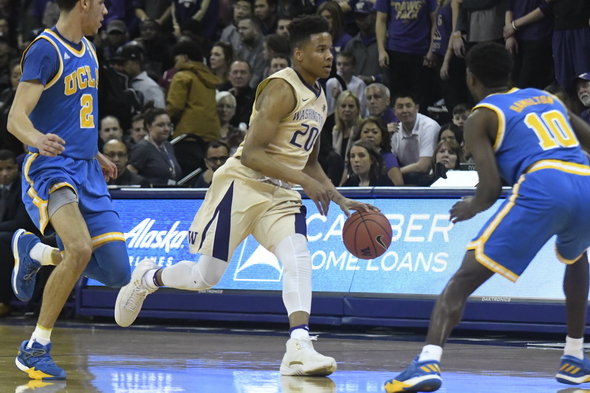 University of Washington freshman Markelle Fultz Monday was named to the Pac-12 All-Conference first team after leading the league in scoring, averaging 23.2 points, the highest per-game mark by a conference player since California's Ed Gray averaged 24.8 in 1996-97. Fultz, a Wooden award finalist, was also selected to the Pac-12's All-Freshman team.
Fultz, however, did not win the Pac-12 Freshman of the Year award. That went to UCLA's Lonzo Ball.
Not only did Fultz lead the Pac-12 in scoring, he is the nation's leading freshman scorer and ranks fifth overall. He is the first guard in 25 years to average 20 points, five assists and five rebounds per game while shooting 40 percent from 3-point range.
Fultz has recorded 10 games of at least 20 points, five rebounds and five assists this season, the most by a UW player under coach Lorenzo Romar. It is the most 20-5-5 games by a player in the NCAA this season.
Fultz is the first freshman to make the all-conference first team since Terrence Ross in 2012, and the second consecutive Washington player to lead the Pac-12 in scoring, following Andrew Andrews last year. Andrews, then a senior, also made first-team All-Pac-12.
The 11th-seeded Huskies (9-21, 2-16) open the Pac-12 Tournament against No. 6 seed USC  Wednesday at 8:30 p.m. (Pac-12 Networks).