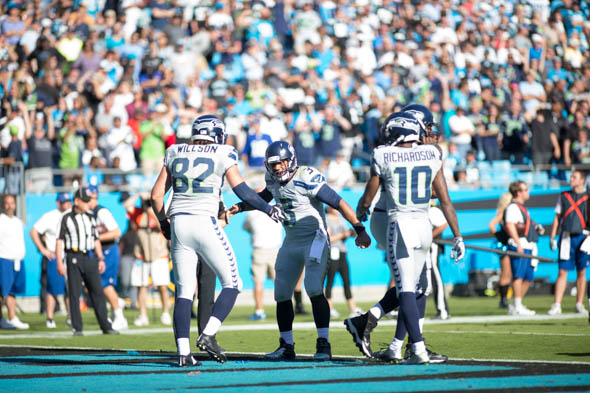 The Seahawks Friday reached agreements to re-sign two of their own unrestricted free agents, CB DeShawn Shead and TE Luke Willson. Seattle will bring both back on one-year deals with, Willson set to earn a reported a $3 million. Shead will make $1.5 million with $1 million guaranteed at signing.
Meanwhile, ESPN is reporting, via sources, that the Oakland Raiders are interested in talking RB Marshawn Lynch, 31 next month, out of retirement. His rights are still held by the Seahawks.
Lynch, who retired after the 2015 season, is an Oakland native with great affection for the hometown. He has two years remaining on his Seattle contract, under which he would earn $9 million in 2017 and $7 million, plus incentives, in 2018. Seattle could release Lynch from the contract or negotiate a trade, but likely would get only a low-round draft choice.
Lynch came to the Seahawks early in the 2010 season via a trade with Buffalo. During his time in Seattle, Lynch ran for 5,774 yards and 51 touchdowns, most in the NFL during his tenure with the team.
Despite ESPN's report, there is no evidence the Seahawks and Raiders have discussed Lynch, who operates a "Beast Mode" apparel store in Oakland. Seattle GM John Schneider and his Oakland counterpart, Reggie McKenzie, have a long-standing relationship and once worked together in the Green Bay Packers front office.
Pro Football Talk, also citing sources, said, "There is a very good chance Lynch, who turnes 31 next month, un-retires."
Shead, who visited the Buffalo Bills earlier this week, had an ACL injury during the divisional playoff loss to Atlanta. He is unlikely to be ready for the start of the 2017 season. Shead started 15 games last season, recorded 56 tackles and had one interception.
Willson, who became an unrestricted free agent when his rookie contract expired, played in 11 games last year, making six starts. He caught 15 passes for 129 yards and scored two touchdowns.
The Seahawks had a visit from free agent TE Jared Cook earlier this week, but he left Seattle without a deal.
Shead and Willson are the second and third of Seattle's unrestricted free agents to return to the team. Seattle re-signed CB Neiko Thorpe earlier this week on a two-year deal.
The Seahawks also lost an unrestricted free agent Friday when DT John Jenkins signed with the Chicago Bears.
SEAHAWKS FREE AGENT TRACKER
Unrestricted free agents signed

| Date | Player | Pos. | '16 Team | New Deal |
| --- | --- | --- | --- | --- |
| Mar 9 | Luke Joeckel | OL | Jaguars | 1 year, $8M, $7M guaranteed |
| Mar 14 | Eddie Lacy | RB | Packers | 1 year, $4.25M, $2.86M guaranteed |
| Mar 17 | Arthur Brown | LB | Jets | No contract details available yet |
| Mar 17 | Oday Aboshhi | OG | Texans | No contract details available yet |
Unrestricted free agents retained
| Date | Player | Pos. | '17 AAV | New Deal |
| --- | --- | --- | --- | --- |
| Mar 14 | Neiko Thorpe | CB | 675K | 2 years, $3.5M, $600K bonus |
| Mar 17 | DeShawn Shead | CB | $1.5M | 1 year, $1M guaranteed |
| Mar 17 | Luke Willson | TE | $3M | 1 year, up to $3 million |
Unrestricted free agents lost

| Date | Player | Pos. | '17 AAV | New Deal |
| --- | --- | --- | --- | --- |
| Mar 9 | Stephen Hauschka | PK | $2.95M | 3 years, $4M guaranteed |
| Mar 10 | Brock Coyle | LB | NA | 1 year, $775K base salary |
| Mar 17 | John Jenkins | DT | NA | Contract details not yet available |
Remaining unrestricted free agents
| Date | Player | Pos. | '16 AAV | 2015 Season/Skinny |
| --- | --- | --- | --- | --- |
| —– | Bradley Sowell | T | 1.0M | Signed last year, flopped |
| —– | Michael Morgan | LB | 1.0M | Started 6 games, 10 tackles, 1 INT |
| —– | Tony McDaniel | DT | 985K | Started 10 games, 41 tackles |
| —– | Marcel Reese | FB | 885K | Played in 4 late-season games |
| —– | Will Tukuafu | FB | 760K | Played in 7 games, made 1 start |
| —– | Jeron Johnson | SS | 760K | Played in 3 games, 3 tackles |
| —– | Kelcie McCray | SS | 717K | Started 7 games, 37 tackles |
| —– | Brandon Williams | TE | 675K | Played in 16 games, 1 start |
| —– | John Jenkins | DT | 675K | Played in 2 games, 3 tackles |
| —– | Steven Terrell | CB | 600K | Non-tendered as a RFA |
| —– | M. Seisay | DB | 525K | Made 6 starts, caught 2 TDs |
| —– | Devin Hester | WR | —- | Announced retirement |
Restricted free agents
| Date | Player | Pos. | '16 AAV | New Deal |
| --- | --- | --- | --- | --- |
| Mar 9 | Garry Gilliam | T | 1.79M | Tendered at $1.797M |