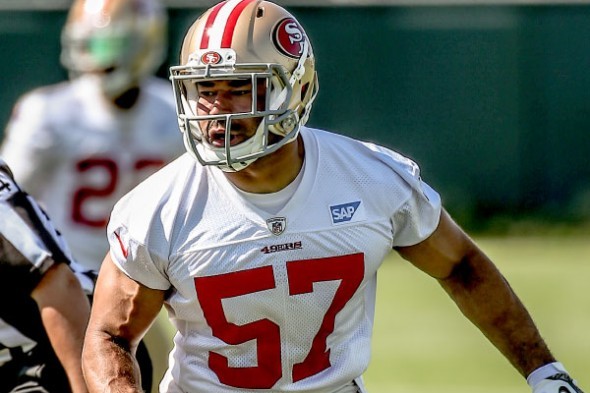 Former San Francisco starting inside LB Michael Wilhoite has agreed to sign with the Seahawks. Wilhoite, 30, would provide depth behind Bobby Wagner and/or K.J. Wright and be an upgrade over Brock Coyle, who signed with the 49ers after he was not offered a tender as a restricted free agent.
Shortly after that news became official, the NFL Network reported that the Seahawks will also sign free agent linebacker Terence Garvin, who visited Seattle last week.
Wilhoite will make $1.55 million and receive $500,000 signing bonus and $800,000 in salary for one year. No terms have been announced for Garvin.
"Bobby and K.J. played thousands of plays this year between the two of them and were extremely successful," Carroll said at his season-ending presser following the playoff loss to the Atlanta Falcons. "We need to address that. We didn't get anybody that really made a difference in the last couple of years to really fight to take those guys' jobs."
Wilhoite made 34 starts over the past three seasons. He went undrafted out of Division II Washburn (KS) University and first played professionally for the Omaha Knights of the now-defunct United Football League.
Wilhoite joined the 49ers in 2012 and became a starter in 2014 when NaVorro Bowman had a knee injury. He continued to see time after Patrick Willis retired. Last year, Wilhoite made six starts, had 46 tackles, a sack, two passes defended, a forced fumble and fumble recovery.
San Francisco had the league's last-ranked defense in opponents' yardage and scoring, while allowing the most yards rushing in franchise history. Kyle Shanahan replaced Chip Kelly has head coach.
Garvin, 27, entered the NFL as an undrafted free agent with Pittsburgh in 2013 after playing college ball at West Virginia. In 2015, he signed with the Washington Redskins. He played sparingly last year (57 defensive snaps) on defense, but saw considerable time on special teams. Garvin is 6-foot-3 and weighs 221 pounds.
SEAHAWKS FREE AGENT TRACKER
Unrestricted free agents signed

| Date | Player | Pos. | '16 Team | New Deal |
| --- | --- | --- | --- | --- |
| Mar 9 | Luke Joeckel | OL | Jaguars | 1 year, $8M, $7M guaranteed |
| Mar 14 | Eddie Lacy | RB | Packers | 1 year, $4.25M, $2.86M guaranteed |
| Mar 17 | Arthur Brown | LB | Jets | No contract details available yet |
| Mar 17 | Oday Aboushi | OG | Texans | $975K, $200K guaranteed |
| Mar 22 | Bradley McDougald | S | Bucs | 1 year, $1.8M, $750K bonus |
| Mar 23 | Michael Wilhoite | LB | 49ers | 1 year, $1.55M, $800K salary |
| Mar 24 | Terence Garvin | LB | Redskins | $855K, $755 salary, $60K bonus |
Unrestricted free agents retained
| Date | Player | Pos. | '17 AAV | New Deal |
| --- | --- | --- | --- | --- |
| Mar 14 | Neiko Thorpe | CB | 675K | 2 years, $3.5M, $600K bonus |
| Mar 17 | DeShawn Shead | CB | $1.5M | 1 year, $1M guaranteed |
| Mar 17 | Luke Willson | TE | $1.8M | 1 year, 1M guaranteed |
Unrestricted free agents lost

| Date | Player | Pos. | New Team | New Deal |
| --- | --- | --- | --- | --- |
| Mar 9 | Stephen Hauschka | PK | Buff | 3 years, $4M guaranteed |
| Mar 10 | Brock Coyle | LB | SF | 1 year, $775K base salary |
| Mar 17 | John Jenkins | DT | Chic | $900K, $100K guaranteed |
| Mar 19 | Brandon Williams | TE | Ind | $855K, $40K guaranteed |
Remaining unrestricted free agents
| Date | Player | Pos. | '16 AAV | 2015 Season/Skinny |
| --- | --- | --- | --- | --- |
| —– | Bradley Sowell | T | 1.0M | Signed last year, flopped |
| —– | Michael Morgan | LB | 1.0M | Started 6 games, 10 tackles, 1 INT |
| —– | Tony McDaniel | DT | 985K | Started 10 games, 41 tackles |
| —– | Marcel Reese | FB | 885K | Played in 4 late-season games |
| —– | Will Tukuafu | FB | 760K | Played in 7 games, made 1 start |
| —– | Jeron Johnson | SS | 760K | Played in 3 games, 3 tackles |
| —– | Kelcie McCray | SS | 717K | Started 7 games, 37 tackles |
| —– | Steven Terrell | CB | 600K | Non-tendered as a RFA |
| —– | M. Seisay | DB | 525K | Made 6 starts, caught 2 TDs |
| —– | Devin Hester | WR | —- | Announced retirement |
Restricted free agents
| Date | Player | Pos. | '16 AAV | New Deal |
| --- | --- | --- | --- | --- |
| Mar 9 | Garry Gilliam | T | 1.79M | Tendered at $1.797M |