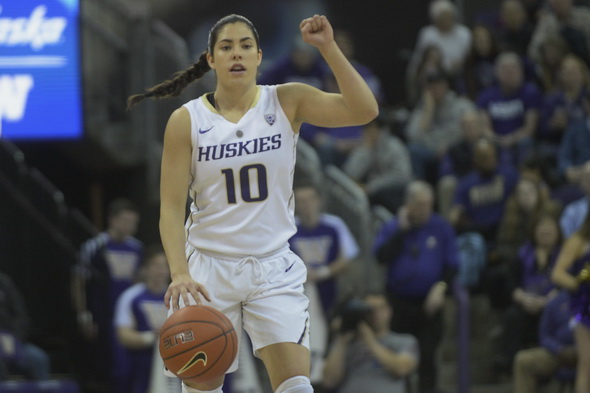 The University of Washington's Kelsey Plum, already in possession of seven major postseason awards, Tuesday was named the Honda Sport winner for women's college basketball, which has been presented annually by the Collegiate Women's Sports Awards (CWSA) for the past 41 years to the top female athletes in 12 NCAA-sanctioned sports.
By claiming the Honda ther award, Plum becomes a finalist for the Collegiate Woman Athlete of the Year and the 2017 Honda Cup, which will be presented June 26 in Los Angeles.
Plum, who swept the 2017 national player of the year honors, was chosen for the Honda by a vote of administrators from more than 1,000 NCAA member schools. Finalists included Napheesa Collier (Connecticut), A'ja Wilson (South Carolina) and Kelsey Mitchell (Ohio State).
Plum passed former Cup winner Jackie Stiles as the NCAA all-time scoring leader this past season, finishing with 3,527 points. She led the nation in scoring, averaging 31.7 points per game, while shooting 53.3 percent from the field, 42.9 percent from three and 88.8 percent from the foul line. She also became the first player in Pac-12 history, female or male, to score 3,000 career points and broke the NCAA single-season scoring record with 1,109 points.
In addition to her scoring prowess, Plum also led the Huskies in assists (168) and steals (52) while averaging 5.1 rebounds per game, which was tied for second-most on a Washington team that won a program-record 29 games.
"I am beyond excited for Kelsey," stated UW assistant coach Morgan Valley. "All she has accomplished in her career, both on and off the floor, she has earned. She is one of those special players and people we come across in this game."
Basketball has produced the most Cup winners with 16, including last year's winner, Breanna Stewart of Connecticut, now a member of the Seattle Storm.
In addition to the Honda, Plum won five trophies for the top player: Associated Press, Naismith, Wade, Ann Meyers Drysdale and Wooden, plus two awards reserved exclusively for guards, named in honor of Nancy Lieberman and Dawn Staley.