This story also appears at crosscut.com
Although much in their plans will get thoroughly nibbled and pecked until decision day June 30, two nationally recognized arena developers Wednesday succeeded in rocking Seattle's entertainment world: They hit the deadline for submitting plans, worth a combined $1 billion, to turn KeyArena from frump to siren.
On their nickels. Under the old roof. In the heart of a city that is always one traffic accident away from Donner Pass immobility. The developers may be nuts. But that's their problem.
Dazzling as is the shiny-object portion of the rollouts, don't lose site of the fact that Oak View Group and Anschutz Entertainment Group are about making money. Both of them think they will make some, despite the impressive cost — $546 million in OVG's bid, and $520 million for AEG.
That is nearly twice the cost estimated in a report commissioned in 2015 by a Seattle City Council increasingly skeptical about an arena plan by Chris Hansen in Sodo. The figure of $285 million for that remodel was laughably low. But it persuaded the council and Mayor Ed Murray, up for re-election in November, that maybe the dowager queen of Lower Queen Anne could be fixed with some spackle and Bondo.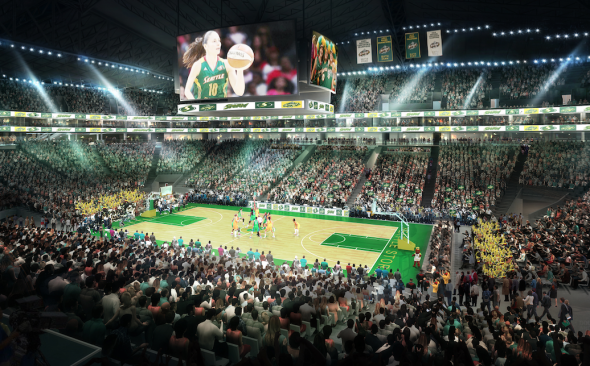 So the city whipped up a request for proposals in January and discovered two heavily backed companies, experienced in arena developmen that saw more of Seattle's upside than the downside of building on spec.
Neither bidder has a commitment from the NBA or NHL to bring a team, although both bidders are counting on the irresistability of Seattle's growth and wealth to charm the team owners into sharing some of the fruits of their monopoly operations.
"It is amazing in this day and age that Seattle doesn't have a world class arena for concerts and winter sports," Tim Leiweke, OVG's chief executive officer, told ESPN 710 radio Wednesday. "There's no guarantee that in 10 years we won't be sitting here with no team. But there's no risk in this proposal to the taxpayer. I'll take the risk, because it's a good risk for us."
Murray, who could use a little cheering up these days — a Seattle Times editorial called for him to drop his re-election bid after it disclosed that he was being sued for child sexual abuse for episodes 30 years ago — issued a statement of delight that his wild swing hit something.
"Today is an important day in our goal of bringing the Sonics home and the NHL to Seattle," he said. "Two well-known organizations submitted proposals to redevelop KeyArena, totaling more than $1 billion in investments between them. Their interest shows how Seattle has become one of the most desirable cities in America for sports and entertainment."
According to its executive summary here, OVC will expand the current building's 338,000 square feet — the smallest in the NBA before the Sonics abandoned the barn for Oklahoma City in 2008 — to 660,000 by digging the seating bowl 15 feet deeper and putting many seats below grade.
The configuration will allow an unobstructed view of the NHL ice sheet, which KeyArena does not. Included is a plan for an 850-car parking garage and multiple loading bays for the biggest concerts.
Seating for hockey is 17,100, for basketball 18,350 and about 19,100 for concerts, which are Leiweke's planned moneymakers. Sixteen event-level "bunker" suites will be on the floor and 40 sideline suites are above the main concourse.
The arena exterior will feature atrium entrances whose ceilings extend horizontally from the roof's dripline that will create roomier entrance angles for the 9,000 seats in the lower bowl.
OVG proposes a lease of 35 years at $1 million a year, with increases if revenue thresholds are met. In the first year, it anticipates net revenues of $18.5 million, which will cover debt service and leave some profit. Leiweke is counting on naming rights and corporate sponsorships, which will be part of an "alliance" network of arenas around the country, currently numbering 26, to be major revenue streams.
The financial might of his company comes from partnerships with entertainment mogul Irving Azoff and Madison Square Garden, owned by James Dolan, semi-notorious owner of the NBA Knicks and NHL Rangers. They have agreed that OVG will privately finance the construction with equity and construction loans and also fund ongoing operations and capital improvements for the arena, while the city will own the building and the land.
The much larger AEG, where Leiweke worked until two years ago, busted a business move ahead of its RFP submission. It has entered into a joint venture with real estate firm Hudson Pacific Properties, whose owner, Victor Coleman, tried unsuccessfully two years ago create something similar with Hansen and his Sodo arena project.
Hudson Pacific owns Seattle-area buildings and properties worth $750 million. Coleman, from Vancouver, B.C., and a big hockey fan, was seen as a possible owner of a Seattle NHL franchise if one were sold or relocated. But he and Hansen reportedly had differences about the financial commitment involved in buying a team as well as a half-interest in the arena project, which Hansen pegged at $490 million five years ago.
While nothing is being said about potential team ownership, Coleman likely sees an opportunity if AEG, which has managed KeyArena for the last several years, wins the bid.
AEG has adopted the name Seattle Partners for the project and is emphasizing its connection with Seattle businesses in its executive summary here. It is less specific than the OVG summary, but promised a return to the city of $144 million in "surplus revenue."
AEG will invest $5 million to "accelerate existing transportation strategies" and create a "shared mobility hub" adjacent to the area.  But AEG made no mention of the Monorail, a topic near to Leiweke's heart.
The World's Fair-legacy, one-mile tram from Westlake Center to Seattle Center is cited as an undervalued option by OVG to get people to and from an arena that is increasingly surrounded by an urban village that seems to get more dense every week. The inclusion of the 1962 leftover to help solve traffic problems in 2020 made it the object of social media and talk-radio ridicule.
Even if both projects have figured out a way to fit a hockey rink and a basketball floor under the current roof, transportation and parking will be the topics receiving the most scrutiny. With the new SR 99 tunnel opening in 2019, at least a year ahead of the optimistic arena opening in 2020, much will change regarding Seattle Center traffic, for good and ill.
The city will host an open house with the proposers and the public May 11 at KEXP from 5 to 8 p.m. The city's Office of Economic Development has an advisory panel appointed by Murray to help with the scrutiny.
By June 30, the city will decide which of the bids to accept. It's possible that the city could choose neither, should they find them fatally flawed.
In that event, Hansen is standing by, behind Door No. 3 with $125 million in Sodo property waiting for the city to grant him a two-block vacancy of Occidental Avenue so he can make his project shovel ready for the first available team.
For a city that not long ago had no winter-sports team and no options, things have changed. Perhaps the biggest change is that the taxpayer is not seeing the bony fingers of pro sports owners creeping into the public exchequer.