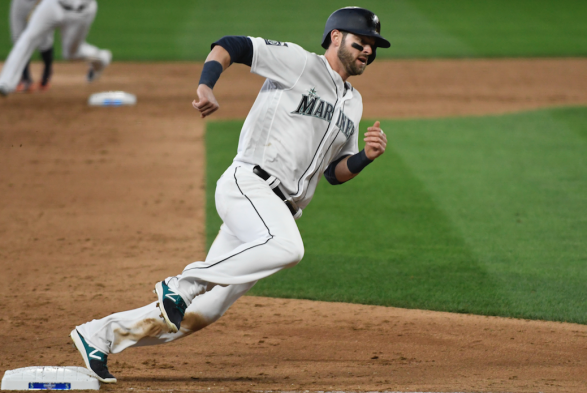 The arrival of Ichiro among the visiting Miami Marlins this week was coincidentally timed with the unveiling of the statue of Ken Griffey Jr. in front of Safeco Field's main entrance. The intersection of the Mariners' two greatest players inspired some conversation that included the inevitable questions:
Does Ichiro get the next statue? Or does Edgar Martinez? How about Felix Hernandez?
The answer was easy: Mitch Haniger.
If baseball is about the here and now — and with 162 games, how can it not be? — there's no doubt that the rookie right fielder deserves an immediate bronze casting. Wednesday afternoon, he had a double, two singles, a walk and four RBIs in a 10-5 triumph that concluded a 2-1 series victory and a 6-3 homestand.
He's the single biggest reason the 7-9 Mariners have demonstrated the resiliency to come back from a 2-8 seasonal start, as well as leading the biggest run production of the young season 15 hours following the worst production — a 5-0 loss Tuesday night in which they had a single hit. By who else? Haniger.
He leads the team in average (.324), runs (15), home runs (four), RBIs (15) and walks (11), and has a 13-game hitting streak in which he's hit .380.
So Felix Hernandez, how would you pitch him?
"I'd walk him," he said, grinning.
The way Hernandez began the game against Miami, a walk would have been a blessing. By his count he gave up five hits in his first six pitches. Manager Scott Servais claimed four in seven. Whatever it was, the Mariners were down 2-0 and that modest disadvantage was only because LF Jarrod Dyson caught a fly for one out and threw a bullet home for a tag-out and a 7-2 double play.
The start resembled another of the King's fall-off-the-earth outings that spoiled his 2016 season.
"You look up in the first inning and wonder how we're going to get through this," Servais said.
Said Hernandez of his near-disaster: "I have no idea."
Whatever it was, it didn't last.
Hernandez endured into the seventh inning in part because the offense took off against Marlins starter Edinson Volquez, who was 5-0 with a 2.66 ERA in eight career games against the Mariners. Seattle scored once in the first, twice in the second, once in the third and four times in the fourth.
Servais's flop sweats were decidedly premature.
"Felix has been through this; I trust him," he said. "He's got a pretty long leash. He hung in there until our offense got going (with) really good at-bats. We walked 10 times today, which says a lot. It's what we have to get back to."
Then he allowed himself to gush about Haniger.
"Outstanding," he said. "Can't say enough about him. The at-bats, the walks, the big hits, getting ahead in the count, understanding situations . . . he's been huge for us.
"He's grinding through his at-bats. The guy in Anaheim (Mike Trout) was pretty good too when he came up. (Haniger) understands who he is, his swing, where he is on the team, and he's going out and having fun.
"All of our guys are relaxing a little, allowing the talent to come out."
A guy who preceded him in Seattle's right field, Ichiro, might have finally relaxed too. Entering the game 1-for-15 as the Marlins fourth outfielder, the 43-year-old singled in the second inning off his former teammate, Hernandez, then topped it in the ninth.
The Safeco Field crowd of 27,147 came to its feet as Ichiro strode to the plate for what everyone sensed could be his final at-bat in Seattle in his almost certain Hall of Fame career. They serenaded him: "Ee-chee-ro! Ee-chee-ro!"
Off reliever Evan Marshall, Ichiro stroked a first-pitch fastball that went deep into the right field stands. Since the Mariners were up 10-4, the 115th home run of his U.S. career received the heartiest cheer perhaps ever given an opponent.
"He's unbelievable," said Hernandez. "He's been blessed. He gets a hit and a homer on his bobblehead night. Really good. I was impressed."
So too was Haniger: "That was impressive. He's an icon. I watched him growing up."
Now the race is on to see who gets the next statue.
"I think Edgar," said Hernandez, "because Ichiro is going to keep playing."
If Haniger carries the Mariners into the playoffs for the first time in 16 years, maybe he beats them both.