The Mariners had three chances in the past week to climb above .500 for the first time in 2017, but failed each time before losing to Toronto 4-0 Sunday at Safeco Field (box). Seattle was 3-3 over the past seven days but 7-4 for the homestand and 31-33 for the season — not great, but not that bad, considering the injuries.
While Seattle gained no ground against Houston in the AL West, they are one of nine teams within 2.5 games of an AL wild card spot. Plus, the club activated rookie OF Mitch Haniger (.338 BA) Sunday and Felix Hernandez is only a week or so away from returning from a long injury absence.
The week
Tuesday (Mariners 12, Twins 3): 2B Robinson Cano and 3B Kyle Seager each hit three-run homers and James Paxton was effective for five innings to run his record to 5-0. The Mariners (29-30) won for the eighth time in nine games.
Wednesday (Mariners 6, Twins 5): C Mike Zunino hit his second homer of the game with two outs in the ninth, a two-run, walk-off that gave the Mariners a season-high fifth consecutive victory. Seager and DH Carlos Ruiz also homered.
Thursday (Twins 2, Mariners 1): The Twins took advantage of two errors by Cano on the same play that helped snap Seattle's five-game winning streak. With two out in the fifth and a runner on second, Cano misplayed Joe Mauer's slow grounder, compounding the gaffe by trying to catch Ehire Adrianza at third. His throw was low, skipped past Seager and allowed Adrianza to score what proved to be the winning run.
Friday (Mariners 4, Blue Jays 2): CF Jarrod Dyson followed up a key defensive play in the top of the seventh with a go-ahead, RBI single in the bottom as the Mariners rallied past Toronto for their 10th win in 12 games, and the first over the Jays.
Saturday (Blue Jays 4, Mariners 2): Kendrys Morales, Ezequiel Carrera and Justin Smoak, all former members of the Mariners organization, hit home runs in Toronto's victory. After Morales homered in the fourth, Carrera led off the eighth to break a 2-2 tie and Smoak followed with another long ball in the ninth.
Sunday (Blue Jays 4, Mariners 0): Donaldson hit a two-run homer and drove in three runs and ex-Mariner J.A. Happ tossed six shutout innings as Toronto beat Paxton (5-1, 2.25), who threw only four innings for his first loss of the season. Emilio Pagan pitched four innings of relief and gave up only a walk.
Takeaways
Toronto (32-33) entered the weekend series at Safeco Field as the last-place team in the AL East but defeated the Mariners two out of three. Toronto also won the season series 6-1, a development that wouldn't have happened if four ex-Mariners — Morales, Carrera, Smoak and Happ — hadn't come up big.
Saturday: Morales, who played for Seattle in 2013-14, hit a home run. Carrera, a farmhand in 2009-10, had an eighth-inning long ball to give Toronto the lead. Smoak drilled a ninth-inning homer as Toronto won.
Sunday: Happ, 0-4, 5.33 heading into Sunday, struck out eight and Smoak and Morales had hits as the Blue Jays finished the season series with a 31-12 scoring advantage.
Smoak, who played 496 games for Seattle between 2010 and 2014 and is second in the AL with 18 homers (his career high is 20 in 2013), went 10-for-23 (.434) with three homers and seven RBIs in the series. Morales had two homers and had an RBI single Sunday. Carrera hit .375 in the series and nearly homered off Paxton Sunday.
Innings of the week
Mariners 4th Tuesday: Seager's three-run shot capped a seven-run fourth that made it 12-2. 1B Danny Valencia had a three-run double in the frame and the Mariners recorded six hits, their highest total in an inning this season. The seven runs tied the season high (also May 6 vs. Texas).
Mariners 7th Friday: In the top of the inning, Dyson's diving attempt at Donaldson's liner came up short, but Dyson knocked the ball down and kept it from rolling to the wall. Dyson threw a perfect relay to SS Taylor Motter, whose throw home to Zunino easily beat Kevin Pillar trying to score from first. In the bottom seventh, after Cano scored the tying run, Dyson followed with a liner to center that scored Seager for a 3-2 lead.
Good week/bad week
Good: Ben Gamel, who moved into the starting lineup when Mitch Haniger (activated Sunday) went on the disabled list, extended his hitting streak to a career-high 10 games Wednesday, had a sac fly in a 2-1 loss to Minnesota Thursday, went 2-for-4 with an RBI Friday and had three hits Sunday. Gamel has hit safely in 13 of 14 games since May 28, batting .408. Bad: Mariners fans, out-yelled for three consecutive games by Blue Jays fans who overwhelmed Safeco Field, including the biggest crowd of the season Saturday and a sellout (45,480).
Not in the box score
When the Mariners ran their winning streak to four games Tuesday, they scored 40 runs in that span (12-4, 9-2, 7-1 and 12-3). That marked the first time since they moved to Safeco Field in mid-1999 that the Mariners had won four consecutive games while scoring at least 40 runs.
Zunino's home run in the bottom of the ninth Wednesday, his second of the game, made him the fifth Seattle catcher to hit a walk-off home run, joining Donnie Scott (1985 vs. Milwaukee), Scott Bradley (1988 vs. Texas), Tom Lampkin (1999 vs. Toronto), and Chris Iannetta (2016 vs. Tampa Bay). Zunino and Scott are the only two who also homered prior to the walk-off.
Zunino's walk-off shot was the first such hit by a Mariner since Leonys Martin beat the Chicago White Sox 6-5 July 20 and the first game-winner for Zunino since his 15th-inning sacrifice fly toppled Detroit 6-5 Aug. 9.
Cano's two-error game Thursday was the fifth of his career, his first with the Mariners, and his first since Aug. 23, 2009 against the Red Sox while playing for the Yankees.
Saturday's attendance of 45,480 was the first sellout and highest of the season (previous 44,856 in the opener vs. Houston) and also the highest at Safeco Field since 45,618 for a game against the Angels Aug. 8.
In his second rehab start with AAA Tacoma Sunday, Felix Hernandez allowed one run on one hit in 5.1 innings. Out since since April 25 with right shoulder inflammation, Hernandez took a no-hitter into the fifth inning, but gave up a two-out walk and a double. He was expected to throw about 65 pitches and he threw 64, 39 for strikes.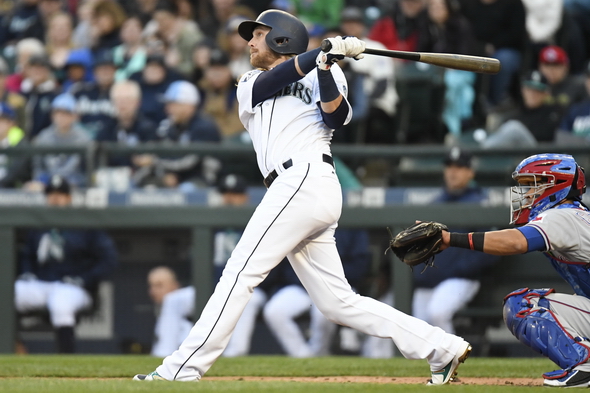 Words
"A big, big night for our offense. Great to see. We're on a nice little roll right now. It's different guys chipping in." – Manager Scott Servais after the win over Minnesota Tuesday
"Really excited for Mike Zunino. Everybody knows the ability he has. He's worked his tail off. He's bought into kind of the new swing mechanics. He should, because he's getting great results right now." – Servais, after Zunino's walk-off home run
"My best chance was trying to lay out and trap it. I was able to keep the ball close to my body and flicked it to Motter and he threw a strike to Zunino and finished the play." – Dyson, on his seventh-inning play Friday that prevented a Minnesota run
"That's a game right there you can build off of. I like the atmosphere we're playing in right now and I like where the team is playing." – Dyson Friday
"That's something different. That's something I've never really seen before on our side. We've had some guys that run before, but not to the extent that he can. He's pretty special and really dynamic." — Seager on Dyson singling in the seventh Saturday, stealing second, reaching third on a bad throw on the steal and scoring after CF Kevin Pillar whiffed on retrieving the bad throw
"We just haven't been able to get a whole lot going against the Blue Jays this season. Getting that big hit has been tough. We competed well, but we really cooled down the past couple of days." — Servais, after the Mariners went 0-for-10 with runners in scoring position Sunday
"I didn't have rhythm or timing. I didn't have my full game going today." — Paxton Sunday
Transactions/DL
Monday: Outrighted OF Andrew Alpin, who had cleared waivers, to AAA Tacoma.
Wednesday: Signed SS Jean Segura to a five-year contract extension covering 2018-22 with a club option for 2023, worth a reported $70 million.
Saturday: Recalled RHP Emilio Pagan from Tacoma, optioned RHP Tyler Cloyd to the Rainiers.
Sunday: Activated OF Mitch Haniger from the 10-day disabled list, optioned OF Boog Powell to Tacoma.
Next
The Mariners begin a four-game series at Minnesota Monday and continue a seven-game road trip with three at Texas starting Friday. RHP Yovani Gallardo (2-6, 6.26) will throw for Seattle Monday at 5:10 p.m. PT opposite LHP Adalberto Mejia (1-1, 4.18).