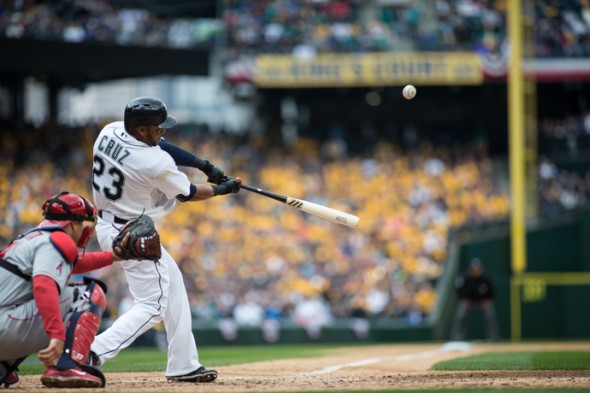 The Mariners came out of the All-Star break knowing they would need more effective starting pitching in order to remain wild-card worthy. Except for Sunday, when they fell into a 5-0 hole after three innings against the White Sox, yet rallied to win 7-6 (box), making for a rare sweep in Chicago and a hot start to the second half.
The Week
Tuesday All-Star Game (American League 2, National League 1): Robinson Cano drove an 81 mph Wade Davis breaking ball over the fence in right, giving the AL a 10th-inning victory. Cano, who made the All-Star team as an injury replacement for New York's Starlin Castro, became the third Seattle player to win the game's MVP award, joining Ken Griffey Jr. (1992) and Ichiro (2007). Seattle's other All-Star rep, Nelson Cruz, went 0-for-2.
Friday (Mariners 4, White Sox 2): Cano hit a three-run shot in the third inning, helping James Paxton open the second half with a road victory. Paxton (8-3) struck out nine without a walk while pitching six effective innings in his third consecutive victory.
Saturday (Mariners 4, White Sox 3): Cruz and Kyle Seager homered in support of Felix Hernandez. Seattle played one of its sloppiest contests of the season with three errors. Hernandez also plunked Jose Abreu twice and threw a wild pitch.

Sunday (Mariners 7, White Sox 6): Cruz lined a 3-0 pitch from Chris Beck over the fence in left in the 10th inning, giving Seattle (46-47) its fourth consecutive victory. Trailing 5-0, they worked their way back with homers from Kyle Seager and Danny Valencia (three-run shot) before Cruz decided it.

Takeaway
The fact that they won a series there at all is noteworthy. Seattle had not taken a series against the White Sox in the Windy City since Aug. 10-12, 2007, when it won two of three. The Mariners then went 0-10-1 before the sweep, Seattle's first in Chicago since 2003.
Innings of the week
Mariners 3rd Friday: Cano, who went deep in the 10th inning of the American League's 2-1 All-Star victory, walked on four pitches in the first. He came up again with two on and one out in the third and belted James Shields' first pitch for his 18th homer, giving the Mariners a 3-1 lead.
White Sox 3rd & 5th Saturday: Chicago loaded the bases with no outs in both frames and came away with one run in each, helping Hernandez to his fifth victory. Chicago went 1-for-13 with runners in scoring position and stranded nine.
Mariners 5th Sunday: With the White Sox leading 5-2 after earlier leading 5-0, Jean Segura scored Ben Gamel with sacrifice fly. After Mike Zunino singled and Taylor Motter reached on a fielder's choice, Danny Valencia hit a three-run homer to tie.
Good week/bad week

Good: Cano won the All-Star MVP award with a 10th-inning homer Tuesday and blasted a three-run shot Friday  . . . Jean Segura reached the necessary number of plate appearances to qualify for hitting leaderboards. With four hits in Chicago, he moved into second place in the AL batting race with a .348 average (Houston's Jose Altuve, .350) . . . Diaz recorded three saves, notching his 16th Sunday by striking out the side in the 10th inning on 12 pitches . . . Bad: Rookie starter Andrew Moore was rocked for five earned runs on eight hits Sunday in three innings, but avoided a loss when the Mariners rallied.

Not in the box score
Cano became the fourth player in All-Star history to hit an extra-inning home run. The others, all game winners as well, were by Red Schoendienst in 1950, Stan Musial in 1955 (walkoff) and Tony Perez in 1967.
Cano became the fifth Mariner to hit an All-Star home run, joining Griffey (1992, off Greg Maddux), Edgar Martinez (1997, off Maddux), Alex Rodriguez (1998, off Andy Ashby) and Ichiro (2007, off Chris Young).
Cano came back Friday with a three-run jolt off James Shields. According to Elias, in the past decade the only other All-Star MVP to homer in his first game coming out of the break was Mike Trout in 2015.
Cano increased his career hit total to 38 off Shields, breaking a tie with Ichiro for the most hits by any active batter off any active pitcher. Ichiro has 37 hits against John Lackey.
Paxton struck out nine and walked none Friday. That marked the third time in his career that Paxton had fanned a many as nine without issuing a walk. He had 10 strikeouts and no walks Sept. 24, 2013 against Kansas City and nine K's and no BBs against Minnesota Sept. 23, 2016.
Paxton (9), Tony Zych (2), Nick Vincent (2) and Edwin Diaz (2) combined for 15 strikeouts and no walks Friday. That marked the fourth time in club history that Seattle had 15 or more K's and no BBs in the same game. Also: May 10, 1988 at Toronto (Mark Langston 16 K's); June 14, 1993 vs. Kansas City (Randy Johnson 15, Norm Charlton 2), and June 24, 1997 vs. Oakland (Randy Johnson 19).
The Mariners are 19-25 on the road this season but 11-5 in their past 16 games.
Cruz's 10th-inning home run Sunday was the first for Seattle in 2017 on a 3-and-0 count.
Words
"It's always good to be able to accomplish something great, especially in front of my family. As a kid, you watch Ken Griffey and all those guys come to the All-Star Game and win MVPs, and you want to get that feeling." – Cano
"When you get good pitching, you don't have to score that many runs, like we've been doing the last couple days." — Cruz Saturday
"It was a battle the whole game. Couldn't find my rhythm. I was all over the place."– Hernandez
"We know we can score runs and are never truly out of a game. (Derek Holland) threw one up in the zone." — Danny Valencia, after hitting a three-run homer Sunday
"We're down 5-0 early in the game, but the guys just kept hanging in there and our bullpen was outstanding. That was probably the best we've seen of Eddie Diaz all year." — Manager Scott Servais Sunday
Transactions/DL
Friday: Promoted Nasusel Cabrera to interim bullpen coach, replacing Mike Hampton, who resigned.
Next
The Mariners play three at Houston Monday through Wednesday before returning to Safeco Field Thursday to host the New York Yankees in a four-game set to begin 10-game home stand. LHP Ariel Miranda (7-4, 4.15) will throw the series opener against the Astros opposite RHP Lance McCullers (7-2, 3.05).