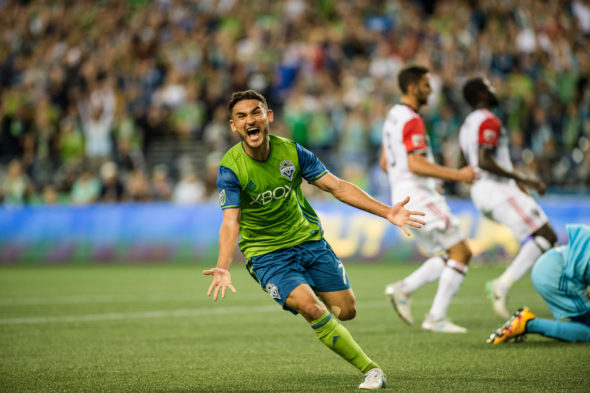 The Seattle Sounders yanked four rabbits out of a hat Wednesday night, becoming the first team in MLS history to overcome a 3-0 deficit to win a game in regulation. Despite an anemic first half, a critical second-half goal and a savvy double substitution from coach Brian Schmetzer provided what was needed to complete the stunner against DC United.
In the 51st minute, after Will Bruin headed in a Joevin Jones cross at the near post, Schmetzer began preparation to bring on outside backs Nouhou Tolo and Kelvin Leerdam, the latter for his club debut. They replaced midfielders Harry Shipp and Aaron Kovar in the 54th minute, allowing Jones to roam up the left wing and Evans to play further up the right.
Schmetzer explained his changes:
"We needed to get more attacking movements up the field. Nouhou and Joevin on that left side make a potent combination. I was just trying to get some energy and some more dynamic attacking movements out wide, because they were defending inside out (to protect the lead)."
Within eight minutes, the shift was rewarded. Jones received a ball from Tolo left of the net, scooping in a cross with the outside of his left foot to find the head of Evans, who found the near post to pull Seattle (7-7-6, 27 points) within a goal.
Gustav Svensson scored his first league goal since 2015 in stylish fashion with a volleyed flick from a low Nicolas Lodeiro corner kick that beat DC United (5-12-3, 18 points) keeper Travis Worra to the upper corner at the near post. The Clink gathering of  42,714 erupted in celebration of Seattle's second three-goal comeback at home this season.
Asked about the 10th goal in his 12-year career, the Swede smiled.
"Well, when you are used to scoring like I am, it's easy," Svensson said. "I'm not normally that kind of guy who scores a lot. I'm trying to help on defense, so it's always nice when you score. It's a good feeling. I couldn't miss that one, it would be too bad for (Lodeiro's service)."
The tremors caused by Svensson's strike proved to be a foreshock. Cristian Roldan, recently returned from national team duty, provided the final shake.
In the 78th minute, Roldan picked up a short pass from Bruin and flicked it past center back Steven Birnbaum. Roldan chased his own through ball into the penalty area, striking a shot with his second touch that went cleanly through the legs of a charging Worra to make history.
Not that it needed it, but the game finished with more drama. Referee Kevin Stott showed Lodeiro a straight red card in the 89th minute after Lodeiro lashed out with his leg at DC's Marcelo after absorbing a foul from the Brazilian.
Schmetzer did not defend Lodeiro's actions, but did say that he felt his star midfielder did not receive adequate protection from referees after the Uruguayan was on the receiving end of six DC fouls.
While the comeback was historic, the lethargic performance that dug Seattle into the pit will need to be addressed. Some of the back line's confusion was generated by the use of backup goalkeeper Tyler Miller over Stefan Frei, who sat with a hip flexor strain two days after being named to the MLS All-Star team.
Miller, 24, did not seem to show the same mastery of command of his defenders, who themselves seemed half asleep. Two turnovers sent Seattle into the locker room down 2-0 down at halftime, thanks to goals from Deshorn Brown and Ian Harkes.
After conceding a third goal to a wide-open Lloyd Sam in the 50th minute, the Sounders punched in a goal to ignite the rally.
Lodeiro's absence will complicate a Sunday home match (7:30 p.m., JoeTV) against the San Jose Earthquakes (7-8-5).  Seattle will be without Clint Dempsey, who was called to national team duty as the USMNT faces Costa Rica in the CONCACAF Gold Cup semifinal Saturday (7 p.m., FS1).
After an emotional night, Schmetzer provided the final reflection:
"I think the guys are relieved like I was. They put their heart and soul into this match. Had the result gone not our way, I would have been proud of the effort they showed in the second half. Getting the victory should and will buoy them going into the San Jose game.
"Overall, I felt this could be a defining moment for this season. I thought it was tremendous."