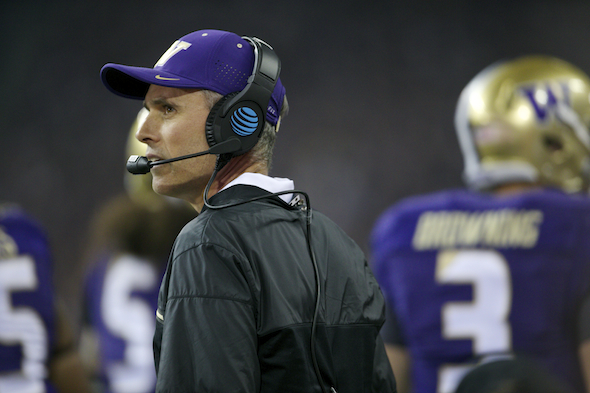 The USC Trojans Wednesday were selected as the favorite to win the 2017 Pac-12 Conference football championship in a vote of 52 media members who regularly cover the league. The Trojans received 28 votes to earn the preseason favorite pick over defending conference champion Washington, which received 22 votes.
Both the Trojans and Huskies garnered 49 first-place votes and 309 points to hold down the top spots in their respective divisions.
Stanford is the No. 2 choice in the North Division while Washington State is third and Oregon fourth. In the South, Utah was chosen over UCLA and Colorado to finish second behind the Trojans.
Washington and USC do not meet during the regular season. Last year, the Trojans handed the Huskies their only regular-season loss, 26-13 at Husky Stadium. UW completed a 12-2 season with a 24-7 loss to Alabama in a national semifinal (Peach Bowl).
The media has correctly selected the conference champion in 29 of 56 previous polls, but only twice in the last 10. Following are the results of Wednesday's preseason poll (points 6-5-4-3-2-1, first-place votes in parentheses):
PAC-12 TITLE GAME CHAMPION: USC (28 votes); others receiving votes: Washington (22), Oregon (1), Utah (1).
The 2017 Pac-12 title game is Dec. 1 (ESPN) at Levi's Stadium in Santa Clara, CA.
Washington opens the 2017 season Sept. 1 at Rutgers (5 p.m., PT). The Huskies defeated Rutgers  48-13 last year in Seattle and went on to average 41.8 points per game. Washington returns nine offensive starters, including junior QB Jake Browning, who finished sixth in Heisman Trophy voting after setting seven UW passing records, including touchdowns in a season (43) and TDs in a game (six, twice).
Gone from that offense is WR John Ross, selected ninth in the NFL draft by the Cincinnati Bengals. Browning is also coming off right shoulder surgery.
"The shoulder feels good, I feel good," Browning said Wednesday during a brief interview at the annual Pac-12 media evernt in Los Angeles. "It feels like I had the surgery a long time ago. It hasn't held me back from anything for months now, so I'm good and all ready to go."
Browning, 19-7 as a UW starter, didn't address what expectations he might have for the Huskies this season, but did say, "Offensively, we've got a lot of guys coming back, and we've got some young guys who are ready to step up. I think they're pretty excited about it."
Washington's defense held opponents to a 17.7-point scoring average while recording 33 takeaways (19 interceptions, 14 fumble recoveries), most in the nation. The major task is replacing secondary starters Budda Baker, Sidney Jones and Kevin King, all second-round draft picks last spring.
With Taylor Rapp, JoJo McIntosh and Ezekiel Turner returning as a formidable combination at safety, the Huskies enter the season with no experienced corners, a fact that doesn't seem to bother senior LB Keishawn Bierria, who accompanied Browning to Los Angeles for the media event.
"We always seem to find the most competitive guys," said Bierria, whose five fumble recoveries last season led FBS. "From what I've seen from our young guys, our freshmen, we've got a lot of hungry players coming up."
"The trick with good coaching," said coach Chris Petersen, "is how fast we can bring them along and get them where we need them to be."
Petersen said Wednesday that he hasn't spent much time reflecting on 2016, when his Huskies made the national playoffs for the first time and finished No. 4 in the national polls.
"We probably don't take enough time to reflect, we just kind of move on to the next thing," Petersen said. "We enjoyed the team last year, especially the journey and the process. We like our process, and I hope we can just stick to it.
"Whether expectations are high or low, I think if we work hard on paying attention to process, we'll be fine. If you pay too much attention to expectations, whether people are saying good things or bad things, it takes the joy out of what we do."