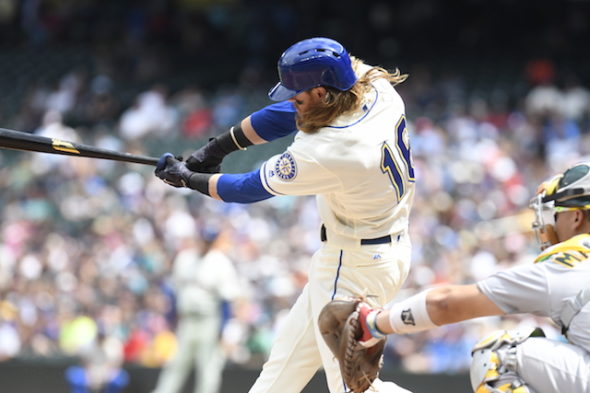 James Paxton won twice during the week, becoming the most successful pitcher in franchise history for a calendar month, and rookie OF Ben Gamel extended his hitting streak to 16 games Sunday in a 9-1 romp over the New York Mets (box), Despite those superlatives, the Mariners did nothing over the past seven days to improve their position in the American League wild card race.
They opened the week 49-51 and ended it 53-53, thanks to Paxton, but remained 2.5 games away from a wild card spot as the schedule shortens.
The week
Monday (Mariners 4, Red Sox 0): Paxton allowed four singles over seven innings to win his fifth consecutive July start and Kyle Seager homered to pace the Mariners, who provided Paxton with his 10th win.
Tuesday (Mariners 6, Red Sox 5): Guillermo Heredia raced from first to third on a wild pitch and came home on Jean Segura's walk-off infield single in the 13th inning to cap a two-run rally. Ben Gamel scored Seattle' first run of the 13th on the wild pitch by former Mariner Doug Fister.
Wednesday (Red Sox 4, Mariners 0): Chris Sale pitched seven innings of three-hit ball with 11 strikeouts that featured a home run by 20-year-old Rafael Devers, the youngest Red Sox player to homer in more than 50 years. Sale's counterpart, Andrew Moore, delivered a solid outing, but gave up a two-out, two-run homer to Sandy Leon in the fourth inning, in addition to the shot by Devers.
Friday (Mets 7, Mariners 5): Michael Conforto returned to his hometown and hit a pair of solo home runs, Neil Walker and Curtis Granderson had two-out RBI singles in the eighth after the Mariners wasted a four-run lead. A native of Redmond, Conforto homered in the third off Ariel Miranda and again in the eighth off lefty reliever Marc Rzepczynski,
Saturday (Mariners 3, Mets 2): Yovani Gallardo, banished to the bullpen in mid-June, allowed one run and five hits in 5.2 innings in his second outing since returning to the rotation and the Mariners held on. Jarrod Dyson's bases-loaded single in the second proved to be the difference.
Sunday (Mariners 9, Mets 1): Paxton (11-3) fanned eight over six innings, scattered  six hits, and Nelson Cruz blasted a three-run homer (444 feet). Cruz increased his AL RBI lead to 78.

Takeaway
The Mariners' inability to make substantial moves ahead of the 1 p.m. PT Monday non-waiver trade deadline was underscored Sunday when the club, 2.5 games out of a wild card spot, designated INF D.J. Peterson, 25, for assignment. The Mariners selected Peterson with the 12th pick in the 2013 draft, when the New Mexico native was considered among baseball's top 100 prospects.
However, Peterson's glovework at third was never strong and his bat has stalled at the AAA level. In parts of three seasons in Tacoma, Peterson produced a .260/.316/.418 batting line — not terrible, but inadequate for a former No. 1 pick who will turn 26 this winter.
Innings of the week
Mariners 2nd Monday: Seager started a three-run frame (all Paxton would need) with his 14th home run, lining a 2-1 pitch to straightaway center. With one out, Gamel tripled and scored on Heredia's fielder's choice. Heredia scored from first on Segura's double into the right-center gap.
Mariners 13th Tuesday: The Mariners 5-4 when Mitch Haniger drew a one-out walk. After Gamel hit into a force that erased Haniger at second, Heredia singled to right, sending Gamel to third. Gamel scored on a wild pitch by Fister and, on the play, Heredia went from first to third, allowing him to score on Segura's infield single to shortstop.
Mets 8th Friday: After a four-run fifth for a 5-4 lead, the Mariners gave it all back – and more – when Conforto hit his second solo homer of the game and Walker and Granderson followed with two-out RBI singles off David Phelps.
Mariners 2nd Saturday: In one of the wilder innings of the year, Cruz scorched a single that glanced off Jacob deGrom's foot and caromed into right field. Seager followed with a double to right-center. After Danny Valencia struck out, Haniger was hit in the face by a 95 mph fastball from deGrom. Heredia ran for Haniger to load the bases and Dyson blooped a single into shallow right center for two runs.

Mariners 1st Sunday: After new leadoff hitter Gamel grounded to second, Segura and Robinson Cano singled, setting up Cruz for a three-run homer, all the runs Paxton required for his 11th victory.
Good week/bad week
Good: Paxton became the first Seattle starting pitcher this season to win twice in a calendar week. He retired the first 13 Red Sox hitters he saw Monday en route to a 4-0 victory, and fanned eight without a walk in a 6-0 triumph over the Mets Sunday. In six July starts, all wins, Paxton did not allow a home run. Bad: Haniger's 95 mph fastball to the face lacerated his lip and put him on the 10-day disabled list.
Not in the box score
During the week Paxton won twice, his fifth and sixth victories during July without a defeat. Paxton is the first pitcher in franchise history to record a 6-0 calendar month. Erik Hanson in 1990 and Felix Hernandez in 2009 both had 6-0 records in September/October, but in both cases win No. 6 came in October. Two things: the last Seattle starter to go 5-0 in a calendar month was Jason Vargas in July, 2012; the record for most wins in a calendar month is eight, by Baltimore's Pat Dobson (8-0, 1.13 ERA) in July, 1971. He threw three shutouts.
The Tuesday win over Boston gave the Mariners their sixth walk-off win, their 23rd comeback win and seventh come-from-behind win of the second half. Seven of Seattle's 10 wins since the All-Star break have been comebackers.
By losing Wednesday, the Mariners missed an opportunity to sweep the Red Sox in a series of at least three games for the fifth time in club history. Seattle last swept Boston Aug. 22-24, 2014 at Fenway Park and last broomed the Bosox at Safeco Field June 25-27, 2007.
When the Mariners acquired RHP Erasmo Ramirez Friday from Tampa, he became, according to the club's official count, the 41st player to have two stints with the franchise, and the first since Tom Wilhelmsen (2011-15, 2016). Ramirez threw for Seattle from 2012-14.
With a third-inning single Saturday, Gamel extended his hitting streak to 15 games, his second 15-game streak of the season (also June 9-24). Gamel, who took the streak to 16 Sunday with a triple, is the fifth player in franchise history with multiple 15-game hitting streaks in a season, joining Joey Cora (1998), Ichiro (2001, 2004, 2006, 2007, 2008), Adrian Beltre (2006) and Seager (2013). In 2001, Ichiro had three hitting streaks of 15 games or longer.
The win Saturday was the first in 30 games when scoring three or fewer runs. The Mariners' 29-game losing streak in games with three or fewer runs scored was the second-longest active streak in the majors behind Detroit's 36-game skid. It was also the second-longest skid in Mariners history. Seattle lost 33 consecutive games with three or fewer runs scored in 1978.
Seattle's win Saturday marked its 200th victory in interleague play. The Mariners are the eighth team to win 200 interleague games.
Words
"My arm just felt really good today. Had the big fastball and it was just coming out easy today. I wasn't thinking about going out there and throwing 98, 99. That was just what was coming out." – Paxton Monday
"The biggest play in the game was him going from first to third on the wild pitch, keeping his up head up there and taking the extra base, which allowed him to score the winning run." – Mariners manager Scott Servais, after Heredia went from first to third on a wild pitch Tuesday
"Obviously, I didn't know right away. I was aggressive on the play. Once I looked back at the catcher, he was a little careless on it. I took off for third." – Heredia
"He's learning. Certainly, I like his competitiveness. He just didn't have that pitch to finish them today and the home run ball got him. I do like the way he's able to make adjustments in-game. – Servais after Andrew Moore allowed four earned runs in six innings Wednesday
"Obviously when something like that happens, it's scary. He's got no fractures, his teeth are OK, and he's got a pretty severe laceration on his upper lip. He's getting some work done on that now."– Servais, after Haniger took a 95 mph fastball to the face
"He looks like he went about 10 rounds with Mike Tyson. He's doing OK. His spirits are good. He knows he's lucky. It could have been a lot worse."– Servais
Noteworthy
Former Mariner 3B Adrian Beltre (2005-09) doubled in the Texas fourth Sunday on a 3-0 pitch, becoming the 31st member of the 3,000-hit club. Three other members of the 3,000-hit club, Alex Rodriguez (3,115), Ichiro (3,060) and Rickey Henderson (3,055) spent time with the Mariners, who face Beltre's Rangers Monday in Arlington, TX.
The Mariners issued a statement Sunday following Beltre's historic hit:
"On behalf of the Seattle Mariners ownership, the entire organization and the fans of the Northwest, we would like to congratulate Adrian Beltre on his 3,000th hit in Major League Baseball. It is another historic achievement in his great career, as he becomes only the 31st player to reach the milestone. We are proud that Adrian played a part of his record-setting career here in Seattle and appreciate his contributions to our franchise. In his five seasons with the Mariners, Adrian was a Gold Glove third baseman and collected over a quarter (751) of those 3,000 hits, including 172 doubles and 103 home runs. He demonstrated on a daily basis how to play the game with joy and grit."
With two future members of the 3,000-hit club on their roster from 2005-09 (Ichiro and Beltre), the Mariners finished last in the four-team AL West three times, a combined 98 games out of first place and 48 under .500 at 381-429.
Transactions/DL
Monday: Optioned INF Taylor Motter to AAA Tacoma, signed INF Danny Espinosa, who had been released by the Angels, and transferred RHP Hisashi Iwkuma to the 60-day disabled list (right shoulder inflammation).
Friday: Acquired RHP Erasmo Ramirez from Tampa Bay in exchange for RHP Steve Cishek and cash considerations; recalled RHPs Casey Lawrence and Cody Martin from Tacoma, optioned RHP Andrew Moore to the Rainiers, designated INF Tyler Smith for assignment.
Sunday: Selected OF Leonys Martin from AAA Tacoma, added RHP Erasmo Ramirez to the active roster, placedHaniger on the 10-day DL with a facial laceration, optioned RHP Cody Martin to the Rainiers, designated INF D.J. Peterson for assignment; announced that Smith had been claimed off waivers by Texas.
Next

The Mariners begin a nine-game road trip with the first of three at Texas Monday night. Seattle then plays four in Kansas City and two in Oakland before returning to Safeco Field Aug. 10 to face the Los Angeles Angels. Felix Hernandez (5-4, 4.08) will throw the series opener at Texas opposite LHP Cole Hamels (5-1, 3.97).