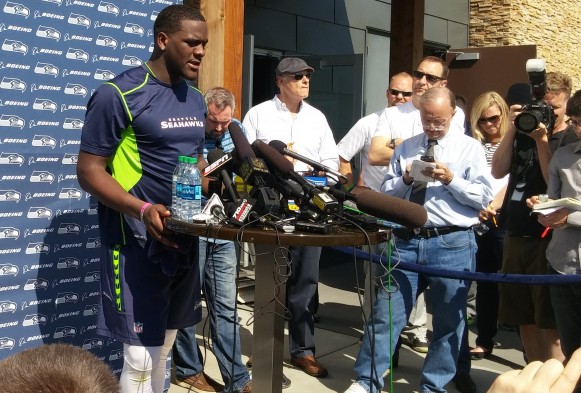 A team perennially short on solid offensive linemen lost one temporarily Thursday when presumptive starting RT Germain Ifedi was struck in the face during a practice melee that resulted in the ejection of his assailant, DE Frank Clark, who was escorted off the VMAC field.
This was not one of the standard training camp scuffles where the scolding is followed by winks and nudges. Coach Pete Carroll was genuinely irked, mostly because Clark recklessly clobbered a teammate who was not wearing a helmet. Ifedi was prone on the ground for a time and left the field bleeding into a towel.
"I'm really disappointed it happened on day four here," he said. "We had a couple guys get after it today and there's no room for fighting in football. It's not supposed to be part of this game. We frown upon that very heavily. I'm real disappointed that happened today."
Of Ifedi's condition, Carroll said after practice, "I don't know. He's all right."
The episode follows the news Sunday that Seahawks top draftee DT Malik McDowell was injured a couple of weeks earlier in an ATV accident that seems to have put some of his first season in jeopardy.
Even though McDowell showed up to camp Tuesday for the first time to be assessed by team doctors, Carroll had no details to share,except to use the D-word again.
"It's very disappointing," he said. "There's nothing we can do about it right now but take time to assess and figure out what this all means."
Carroll said McDowell, a 6-6, 295-pounder from Michigan State taken with the 35th pick in the April draft, had multiple medical appointments and exams. Carroll wouldn't confirm that the accident was on an ATV, only that it was "vehicular," nor would he offer a time for recovery.
"I don't know that, I really don't," he said. "I don't know what the deal with it is."
But after being asked whether the injuries were a long-term thing, he said, "Yes."
Regarding the fight, it followed a pass-rush drill when one D-lineman is matched against a blocker. According to the Seattle Times, backup linemen Will Pericak and Rodney Coe tangled after the whistle and tumbled over a cooler. Teammates rushed in to separate them. As the sides separated, DE Michael Bennett kept talking, Ifedi moved toward the defensive side and Clark unloaded, prompting another mass tangle.
Clark was the object of much scrutiny after his draft two years ago out of Michigan. He was kicked off the Wolverines team over an episode of domestic violence against his then-girlfriend in an Ohio hotel room.
Clark reached a plea deal for persistent disorderly conduct and completed a 25-week course on domestic violence and paid a small fine of court costs.
At the least, Clark now has an episode of football-disorderly conduct.
"Can't do it in the game or you will get ejected – that's what you saw happen (today)," Carroll said. "Somebody can get hurt – which you saw it happen. So we take a big stance against it."
Bennett, who tangled with Ifedi during camp a year ago, said the Thursday episode was more serious because of the injury.
"I know fighting, to the point where you're hurting each other, that's the line I think we draw,'' he said. "I think the line is to respect your teammates and to know that at the end of the day, this is practice, and it's not a game.
"You have to set that tone, but I'm just as guilty as the next person. If I get too heated, I jump in there too. I make mistakes just like any other player. But it's about learning from your mistakes and coming in and trying to rebuild that camaraderie again after something like that happens."
Bennett was asked what he would tell Clark.
"You just tell him to go apologize to the guy," he said. "You try and figure out how you can apologize. Basically, it's about apologizing and being vulnerable. Sometimes in life, you don't want to be vulnerable because it doesn't show that you're a man. But, in this case, it's important to be vulnerable and let him know you made a mistake and that you'll never cross that line again."
It remains to be seen whether Clark knows the line. Football-practice violence isn't the same thing as domestic violence, but both demonstrate a critical lack of impulse control that has hurt others. The Seahawks have to consider this strike two.