What started off as a good week — the Mariners swept a two-game series in Oakland — ended embarrassingly with four consecutive losses to the Los Angeles Angels at Safeco Field, including Sunday's 4-1 setback (box). Seattle rose to a season-high three games above .500 (59-56) and held sole possession of the AL's second wild card at mid-week, but ended it underwater (59-60) after dropping the quartet to the Halos.
Worse, the Mariners lost ace James Paxton for three weeks and learned that Felix Hernandez could miss up to a month. That forced GM Jerry Dipoto into several acts of transaction desperation, such as signing a 31-year-old career minor league pitcher — just in case. How it unfolded:
The week
Tuesday (Mariners 7, Athletics 6): Leonys Martin homered in the top of the 10th as the Mariners overcame a four-run deficit. Martin hit an arcing shot to right off a 94 mph fastball from Josh Smith with two outs. His second homer of the season pushed Seattle's road trip record to 5-3. Oakland committed three errors that led to two unearned runs.
Wednesday (Mariners 6, Athletics 3): Kyle Seager hit a three-run homer in the first inning and Nelson Cruz followed with a pair of 400-foot blasts to move a season-high three games above .500. Seattle won for the fourth time in five games.
Thursday (Angels 6, Mariners 3): Mike Trout looped a three-run double off closer Edwin Diaz with two outs in the ninth. Trout's hit came after the Mariners staged a three-run rally in the eighth to tie. In the seventh, the Mariners lost starter James Paxton to a strained pectoral muscle.
Friday (Angels 6, Mariners 5): Trout walked three times and scored the go-ahead run from second base on Jean Segura's error in the top of the ninth as the Angels made up a 5-1 deficit.
Saturday (Angels 6, Mariners 3): Luis Valbuena's two-run homer in the seventh pulled Los Angeles even, Pujols added a two-run double in the eighth and the Angels rallied to hand the Mariners a third consecutive defeat on a night when the club retired Edgar Martinez's No. 11 jersey.
Sunday, Aug. 13 (Angels 4, Mariners 2): The Angels pounced on Seattle starter Ariel Miranda for three runs in the fifth inning, blunted a rally in the ninth and swept the series.

Takeaway
With Hernandez declared out for maybe a month, the one thing the Mariners couldn't afford was another injury to Paxton, their best pitcher. After losing Paxton, the one thing the Mariners couldn't afford was to have their bullpen fall apart. But the pen allowed a ghastly 13 runs in three consecutive losses to the Angels.
Although Seattle is only two games out of the second AL wild card with 43 left to play, it will rank as one of the great astonishers in Seattle's pro sports history if the Mariners make the playoffs with such a compromised pitching staff.
Innings of the week
Athletics 10th Tuesday: With Seattle leading 7-6, the Athletics placed runners at first and second with one out. But Tony Zych struck out Chad Pinder swinging and got Matt Chapman to fly out to right.
Mariners 1st Wednesday: After Segura singled to right and Robinson Cano followed with a single to center, Seager hit a 420-foot, three-run homer off Jharel Cotton.
Angels 9th Thursday: Tied at 3, the Angels took advantage of major control problems from Diaz, who walked three batters, including Cameron Maybin on a 3-2 pitch, to bring Trout to the plate. The reigning MVP pulled a 1-1 breaking ball and kept it fair, clearing the bases.
Angels 7th Friday: Los Angeles scored four times, most of the damage coming with two outs. Seattle reliever Andrew Moore gave up a two-out infield single to Maybin and walked Trout to load the bases. Pujols delivered a two-run single, C.J. Cron added an RBI single, and Andrelton Simmons capped the rally with an RBI double that tied the game at 5-5.
Angels 5th Sunday: Tied at 1, Simmons hit a sac fly that scored Trout. James Pazos replaced Miranda and walked Kole Calhoun, loading the bases. Pazos gave up a two-run single. Three walks, all of them scoring, aided the Angels' cause.
Good week/bad week
Good: During a week in which the Mariners struggled to score (they were 1-for-8 Sunday with runners in scoring position), Cruz came through with a 10–for-23 effort (.434) that included three multi-hit contests, four home runs and 10 RBIs. Cruz has six homers in his last eight games, eight in his last 13, and leads the American League with 94 RBIs. Bad: In three losses from Thursday through Saturday, Seattle's bullpen coughed up 13 runs.

Not in the box score
When Diaz notched his 12th save of the second half Wednesday in Oakland (most in the majors), he also lowered his second-half ERA to 1.29. In franchise history, the only other reliever with 12 or more saves and an ERA of less than 1.50 post All-Star break was David Aardsma (15 saves, 0.84 ERA) in 2010.
By hitting two home runs Wednesday, his 25th and 26th of the year, Cruz increased his RBI total against Oakland this season to 22 in 13 games, a single-season Seattle record against the Athletics.
Partly due to injury, Paxton took a no-decision Thursday, missing a chance to set a franchise record for earning a win in eight consecutive starts. He also missed out on becoming the first American League pitcher to win eight consecutive starts since Chris Sale in 2016.
When the Angels rallied from a four-run deficit to beat the Mariners Friday night, it marked the second time this season that they trailed Seattle by four or more runs and came back to win. On April 9, the Halos scored seven runs in the bottom of the ninth to beat the Mariners 10-9.
The four-game broom job by the Angels was their first at Safeco Field since May 24-27, 2012. The Mariners are 4-9 against LA this season.
After scoring two runs Sunday, the Mariners are 4-41 this season when scoring three or fewer.
Before taking the loss Sunday against the Angels, Miranda had been 4-0 with a 2.61 ERA against LA in five career starts.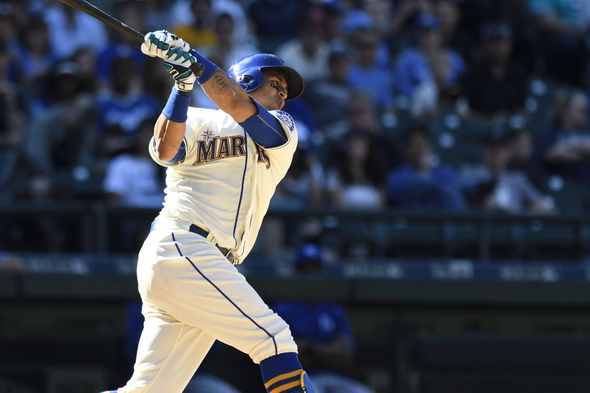 Words
"I didn't try to hit a homer. I was trying to put a good swing on it. That's a great team win, great comeback." – Martin Tuesday at Oakland
"It's cool being on deck when he gets hold of one, because he can do stuff not a lot of guys can. He's a lot of fun to watch, and you certainly want him on your team. He's incredible." – Seager, after Cruz hit two homers Wednesday
"It hurts. He's been our guy. He's been awesome. He really has. Don't want to get too far ahead of i,t but fingers are crossed that he doesn't miss too much time."– Scott Servais, after Paxton left Thursday's gamr
"Where we are at right now, pitching-wise, is going to be a challenge. There's going to be some nights it works out great, there's going to be other nights it's a bit tough."– Servais
"The story of our season is that we've been up and down. We were on a really good high here. We played great on the road trip, but coming back home where our bullpen has been so good the majority of the year, we stubbed our toe.". – Servais, after the bullpen allowed five runs Saturday
"It wasn't a good weekend, no doubt. The Angels played better than we did. We have to get this going in all facets, which we will. But a disappointing weekend, no excuses." — Servais
Transactions/DL
Tuesday: Activated INF Yonder Alonso; placed RHP David Phelps on the 10-day disabled list with an impingement in his right elbow; announced that RHP Felix Hernandez would miss 3-4 weeks with right shoulder bursitis; acquired RHP Ernesto Frieri from the Texas Rangers for cash and assigned him to AAA Tacoma.
Wednesday: Outrighted RHP Cody Martin to Tacoma.
Thursday: Outrighted C Tuffy Gosewisch to Tacoma.
Friday: Placed Paxton on the 10-day disabled list; recalled RHP Andrew Moore from Tacoma; acquired LHP Andrew Albers from the Atlanta Braves for cash and assigned him to Tacoma.
Saturday: Recalled RHP Christian Bergman from Tacoma; optioned RHP Andrew Moore to the Rainiers.
Next
The Mariners conclude the home stand with a three-game set against the Baltimore Oriole starting Monday. After a Thursday off-day, they play a three-game series at Tampa Bay to kick off a 12-game road trip. RHP Yovani Gallardo (5-7, 5.38) will throw the first game of the Baltimore series opposite RHP Kevin Gausman (8-8, 5.21). Nine of Seattle's next 15 are against the AL East.