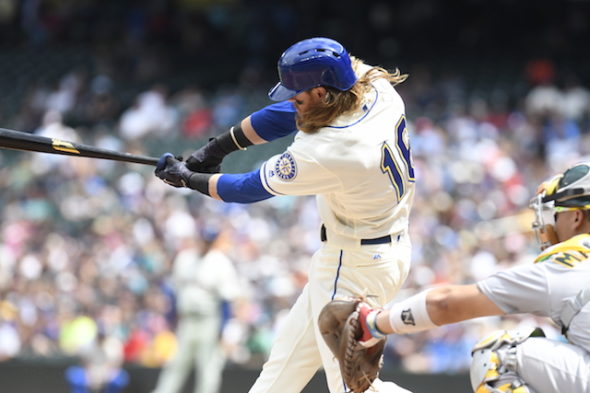 The Mariners opened the week with a brutal loss and ended it with a lame one, falling to Tampa Bay 3-0 Sunday at Tropicana Field (box). In between, they strung together four impressive victories as Nelson Cruz continued his almost-daily assault on the franchise record book and newcomers Andrew Albers, Yonder Alonso and Erasmo Ramirez helped keep Seattle in the AL wild card race.
The Week
Monday (Orioles 11, Mariners 3): Tim Beckham knocked Yovani Gallardo's first pitch of the game for a home run, Manny Machado cracked the sixth grand slam of his career an inning later, and the Orioles routed the Mariners, who lost their fifth consecutive game.
Tuesday (Mariners 3, Orioles 1): Albers earned his first major league win in four years, pitching five effective innings, as the Mariners snapped the losing streak. The 31-year-old Albers, just acquired in a minor league trade from Atlanta, settled down after giving up Jonathan Schoop's 26th home run in the first inning. He allowed six hits for his first win since Aug. 12, 2013, when he went 2-5 in 10 starts with Minnesota.
Wednesday (Mariners 7, Orioles 6): Alonso, acquired to provide lefty power for a playoff push, hit his first homer and drove in three runs, and Marc Rzepczynski struck out Chris Davis with the bases loaded to end the win. The Mariners (61-61) again reached .500 as Alonso added two singles to his home run.
Friday (Mariners 7, Rays 1): Cruz hit the longest home run ever at Tropicana Field – 482 feet – and Ramirez won his first game for Seattle since April 1, 2014 by allowing one run on two hits over six innings.
Saturday (Mariners 7, Rays 6): Mitch Haniger hit a third-inning grand slam hours after his return from the disabled list. Cruz followed an inning later with a two-run shot to provide the difference for a fourth consecutive win.
Sunday (Rays 3, Mariners 0): Kevin Kiermaier and Adeiny Hechavarria homered off Gallardo and the Mariners (63-62) managed three hits. Their first blanking since July 26 was mostly by Seattle native Blake Snell, a Shorewood High graduate and Tampa's No. 1 pick in 2011. He allowed two hits over seven innings with eight strikeouts.
Takeaway
The Mariners had an opportunity to close to within one-half game of the second American League wild card slot Sunday, but the Angels defeated the Baltimore Orioles 5-4 at Camden Yards. That leaves Seattle 1.5 games in arrears with 37 to play, including nine in a row on the road during the current 12-game odyssey away from Safeco Field. Despite a 4-2 mark, the Mariners didn't enjoy much progress. They were two games out at the end of last week.
Key to the final 37: Starting pitching. Only one starter, Ariel Miranda, has pitched nine innings in a game this season. Only two, James Paxton and Andrew Moore, neither currently on the active roster, pitched eigh. Only three, Miranda, Christian Bergman and Felix Hernandez (just Miranda on the active roster) reached the eighth. In only 14 other games — or 21 of 125 — did the starter get into the seventh.
Innings of the week
Mariners 1st Monday: After scoring with Alonso's RBI double, the Mariners placed runners on second and third with no outs. But Kevin Gausman struck out Cruz and Kyle Seager back-to-back and got a ground-out from Guillermo Heredia.
Orioles 2nd Monday: With the score 1-1, Baltimore ripped into Gallardo for six runs, highlighted by Machado's grand slam, a ball hit an estimated 430 feet.
Orioles 9th Wednesday: With Seattle leading 7-4, closer Edwin Diaz walked the first three hitters. Machado followed with a sacrifice fly to make it 7-5, but Leonys Martin prevented an extra-base hit with a sensational diving catch in right field. After Diaz struck out Jonathan Schoop, he hit both Trey Mancini and Mark Trumbo to force in another run. Rzepczynski relieved and fanned Davis on three pitches for his first 2017 save, and the second in his career.
Mariners 1st Friday: Hits by Robinson Cano, Cruz, Danny Valencia and Ben Gamel helped the Mariners score three runs off Rays starter Austin Pruitt, all Seattle would.
Mariners 2nd and 3rd Saturday: Trailing Tampa 1-0, the Mariners loaded the bases against Jake Odorizzi with one out, but couldn't punch in run when Jean Segura fanned and Alonso flew out to left. But an inning later, Haniger hit his first career grand slam.
Good week/bad week
Good: Cruz extended his hitting streak to 12 games (singled Sunday) and delivered one of his most notable performances of the year Friday with his 482-foot home run, added two doubles and scored three times. Bad: Gallardo dropped both of his starts. In the loss to the Orioles Monday, Gallardo allowed eight earned runs on nine hits in four innings. Although he pitched more effectively Sunday (three runs on five hits), he still absorbed the loss.
Not in the Box Score
When the Mariners lost Monday, they tied their longest losing streak of the season. They also dropped five in a row from May 19-24.
Cano's 25th double gave him 13 consecutive seasons with 25 or more, most by a second baseman. Jeff Kent and Ray Durham both had 12 such seasons while Rogers Hornsby had 10 and Charlie Gehringer nine.
When Albers started for the Mariners Tuesday, Seattle became the first MLB team to use 16 starting pitchers in a season since the 2006 Kansas City Royals. The Mariners used 15 in 2016. The franchise record is 17, by the 1977 expansion club. That's well short of the MLB mark of 24 by the 1915 Philadelphia Athletics.
Albers (8 batters faced), Emilio Pagan (6), Rzepczynski (1), Nick Vincent (2) and Díaz (3) combined to retire the final 20 Baltimore hitters Tuesday. According to Stats LLC, the last time the Mariners retired the final 20 batters came in Felix Hernandez's perfect game against Tampa Bay Aug. 15, 2012.
The Mariners have used 37 pitchers, tied with the 2002 Padres and 2015 Braves for the second-most in an MLB season, dating to 1901. The record of 40 was set by the 2014 Rangers, who finished 67-95.
When Seager collected an RBI in the first inning Friday, he became the 10th player in franchise history with at least 500 RBIs as a Mariner. He joined Edgar Martinez (1,261), Ken Griffey Jr. (1,216), Jay Buhner (951), Alvin Davis (667), Ichiro (633), Raul Ibanez (612), Alex Rodriguez (595), Bret Boone (535) and Dan Wilson (508).
Ramirez Friday became the 21st pitcher to record at least one win for the 2017 Mariners. That tied a club record set in 2016.
Haniger's grand slam Saturday was Seattle's fifth of the season and first since Cano belted one against Detroit June 22. Taylor Motter remains the only Mariner with two, April 23 at Oakland and June 2 vs. the Rays.
Cruz hit his 31st homer and drove in two runs Saturday, reaching 100 RBIs for the season. He became the fifth player in club history with at least 30 home runs and 100 RBIs in back-to-back years, joining Jay Buhner (1995-97), Ken Griffey Jr. (1996-99), Alex Rodriguez (1998-2000) and Richie Sexson (2005-06).
Cruz also became the first Mariner since Ibanez to post back-to-back 100 RBI seasons. Ibanez did it in three consecutive years from 2006-2008. Cruz's 100th RBI came in his 118th game. The last Mariner to reach 100 RBIs in fewer games were Bret Boone (106 games) and Edgar Martinez (108) in 2001.
The Mariners are in the midst of a four-city, 12-game road trip, hardly the longest odyssey in franchise history. The Mariners had an 18-game trek from July 25-Aug. 10, 1980 through Toronto, Cleveland, Detroit, California and Oakland. Seattle also played 20 in a row away from home in 1994, but 13 of those contests resulted from the closure of the Kingdome due to falling ceiling tiles.
Words
"I look where we're at now and where we were at five days ago or six days ago, it's like wow, you can't believe it's the same club. But it is baseball and we'll turn around and get going back in the right direction, but it needs to start happening here pretty soon." – Manager Scott Servais, after the Mariners lost their fifth consecutive game Monday
"You come up that first time and you think this probably isn't going to be the last. All of a sudden you go a couple-three years without (a win) happening, and you certainly appreciate the opportunities more as they become fewer and fewer. Whether I get the W or somebody else gets the W, it really doesn't matter. Coming in here and getting to be part of a pennant race or wild-card race, that's pretty awesome." — Albers, after beating Baltimore Tuesday for his first major league win since 2013
"I've come in with the bases loaded and two outs plenty of times, but never in the ninth with the game on the line. One other career save, and it was a four-out save, so it was a little different." — Rzepczynski
"Cool. Do they give a prize for that?" – Cruz after hitting a 482-foot home run
"I think every single game from here on out is going to be a huge game for us, so we're just looking to capitalize on every opportunity." – Mitch Haniger, after hitting his first career grand slam
"Snell is a tough young pitcher with really good stuff. Give a lot of credit to him. Gallardo kept us in the game and we won the series. But we just got shut down offensively today." — Servais on Tampa starter Blake Snell
Noteworthy
Monday: Thyago Vieira, 24, made his MLB debut in the ninth inning and pitched a perfect frame while hitting triple digits on the Safeco Field radar gun. Vieira became the 36th pitcher used by the Mariners, extending the club record (old mark: 32 in 2016).
Tuesday: Jarrod Dyson prevented a run in the third inning vs. Baltimore, grabbing Adam Jones' sinking liner to center and throwing out Machado, who was attempting to tag up and score from third. Dyson's perfect throw home was his 11th outfield assist, tops in the majors.
Wednesday: Before Alonso produced three hits, including his first home run for Seattle, and three RBIs against Baltimore, he'd hit .192 in his first seven games with the Mariners.
Saturday: Ariel Miranda's win Saturday was his first in nine starts since June 30. He allowed three runs on five hits while striking out five in five innings.
Saturday: Mike Zunino banged into the first catwalk double play in the history of Tropicana Field. With Heredia on first in the seventh inning, Zunino hit a popup that changed direction as it caromed off a catwalk and dropped into left-center field. Rays SS Adeiny Hechevarria dived to catch it. Heredia saw no one covering second, tagged up and beat Hechavarria's throw but overslid the bag and was tagged out.
Transactions/DL
Monday: Selected Vieira from AAA Tacoma; optioned RHP Christian Bergman to the Rainiers.
Tuesday: Recalled Albers and RHP Sam Gaviglio from Tacoma; optioned RHPs Casey Lawrence and Vieira to the Rainiers; designated Bergman for assignment.
Wednesday: Outrighted Bergman to Tacoma.
Saturday: Activated Haniger from the disabled list; recalled Lawrence from Tacoma; placed Dyson on the 10-day DL with a right groin strain; optioned Gaviglio to the Rainiers.
Sunday: Recalled INF Taylor Motter from Tacoma; released INF Danny Espinosa.
Next
The Mariners continue their 12-game trip Monday with the start of a three-game set in Atlanta, followed by another three-game series at Yankee Stadium in New York. Albers (1-0, 1.80) will pitch the first game of the Braves series opposite RHP Mike Foltynewicz (10-8, 4.75). Seattle is 7-6 all-time vs. the Braves, including 3-2 in Atlanta. The clubs last met in 2014, when the Mariners had a pair of 2-0 sweeps.