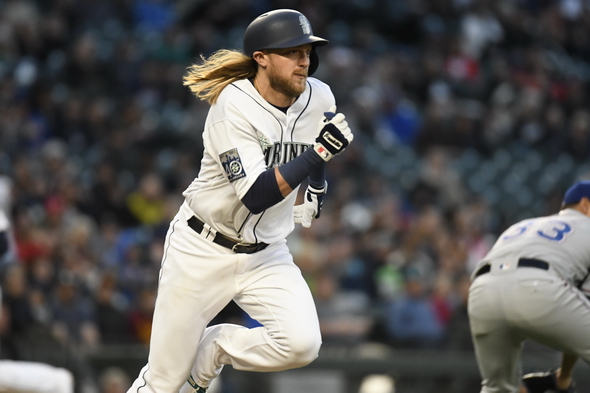 The Mariners (66-65) twice had an opportunity during the week to take possession of the American League's second wild card slot. But consecutive losses, including Sunday's embarrassing, error-gorged 10-1 setback to the New York Yankees (box), coupled with Minnesota's 7-2 win at Toronto, knocked Seattle 1.5 games behind.
The Week
Monday (Mariners 6, Braves 5): Newcomer Andrew Albers recorded his second win in less than a week and collected the first hit and first RBI of his career.  Albers, 31, acquired from Atlanta for cash Aug. 11, allowed three earned runs in five-plus innings and was backed primarily by another newcomer, Yonder Alonso, who went 3-for-5 with three RBIs and two runs scored.
Tuesday (Braves 4, Mariners 0): Rookie Lucas Sims pitched three-hit ball over six innings and the Braves scored on a crazy play that involved three rundowns. Two Seattle runners reached as far as second base against the 23-year-old right-hander. After committing four errors in the series opener, the Mariners made two more defensive miscues.
Wednesday (Mariners 9, Braves 6): Taylor Motter replaced the injured Robinson Cano (left hamstring) and came through with a two-run single in the eighth that lifted the Mariners to a series win. Motter, just summoned from AAA Tacoma, had two hits, including a double.
Friday (Mariners 2, Yankees 1): Alonso homered on a 101-mph fastball from Aroldis Chapman in the 11th inning to break a 1-1 tie. Mike Zunino homered and had three hits and starter Ariel Miranda and the bullpen doused the Yankees offense.
Saturday (Yankees 6, Mariners 3): Jacoby Ellsbury homered and drove in four runs and Greg Bird singled, walked twice and scored. Backup C Carlos Ruiz homered in the third and had two of Seattle's three hits off New York starter Sonny Gray.
Sunday (Yankees 10, Mariners 1): Fueled by a record five Seattle errors that led to six runs in the first, the Yankees, sitting in the top wild-card spot, routed the Mariners to take the series. Albers allowed eight runs, only three earned. A trio of gaffes by SS Jean Segura and single miscues by Ben Gamel and Kyle Seager staked New York to a 6-1 lead.

Takeaways
With a series win Sunday in New York, the Mariners would have extended to nine the number of consecutive road series either won or tied. That would have tied for the second-longest such streak in franchise history (also April 4-6 to June 1-2, 2016), a considerable feat despite numerous injuries, especially to their pitching staff.
But a club record five errors in the first inning — most in a frame by a Seattle team since the club began tracking such dubiousness in 1984 (in other words, worst half-inning by the Mariners in 33 years, which is saying something) — helped snap the series streak and cost Albers a chance to win his third consecutive start.
Although the Mariners have dropped their last two road contests, consider:
Seattle started the season 8-20 on the road (April 3-May 27). In their last 36, the Mariners are 24-13 (.648). In their last 28, the Mariners are 19-9 (.678). Only the Dodgers have been better on the road.
The Mariners still have three to play on their 12-game road trip, Monday through Wednesday at Baltimore.
Innings of the week
Braves 6th Monday: With Atlanta trailing 6-2, a catcher's interference call on Zunino sparked a three-run rally. Ozzie Albies hit a two-run triple past CF Leonys Martin and scored on Dansby Swanson's sacrifice fly. PH Lane Adams reached on an infield single, stole second and raced for home when Cano bobbled a dribbler. Cano retrieved the ball and threw home to get Adams. The Braves challenged the call, and it looked as though Adams got a toe on the plate before he was tagged. But the replays weren't definitive enough to overturn. The Braves didn't score again.
Braves 5th Tuesday: 3B Kyle Seager dropped a throw during a rundown, allowing Albies to race home. Seattle made five throws on the play, ending when 1B Alonso cut across the diamond with the ball chasing one runner, then tossing to Zunino for a tag between second and third.
Mariners 8th Wednesday: With Seattle trailing Atlanta 5-4, Motter came through with a two-run single and Seager followed with a three-run homer.
Yankees 8th Friday: With Seattle leading 1-0, David Phelps walked three and allowed a double, but New York's only score came on a misplayed ball by LF Guillermo Heredia. After containing the damage, the Mariners' winning run came in the 11th on Alonso's solo homer.
Yankees 1st Sunday: The Mariners made five errors in the following order: LF Gamel misplayed a two-hopper in left, SS Segura failed to catch a pop up and 3B Seager misplayed a ground ball at third. On the same play, Segura failed to catch a relay throw, then threw poorly to home. That led to six runs.
Good week/bad week

Good: Alonso went 3-for-5 with a homer and three RBIs Monday, and hit the game-winning homer in New York Friday. He collected hits in four of Seattle's six contests. Bad: Veteran RHP Yovani Gallardo lost his third consecutive start Saturday, falling to 5-10 with a 5.78 ERA, as he gave up four runs on four hits and five walks in 5.2 innings.
Not in the box score
When Alonso extended his hitting streak to eight games Monday, he became the fourth player to join the Mariners at midseason and produce a hitting streak of eight or more through the first 15 games with the team. Ken Griffey Sr. had a 12-game hitting streak after joining Seattle from Cincinnati in 1990, Mark Whiten produced a nine-game streak after coming over from Atlanta in 1996, and Brian Hunter had a nine-game streak after arriving from Detroit in 1999.
Seattle's 5-0 loss at Atlanta Tuesday marked the 10th time this season the Mariners were blanked. In 2016, they were shut out six times.
Before departing Wednesday's game with tightness in his left hamstring, Cano produced a pair of doubles, Nos. 506 and 507 in his career. He passed Babe Ruth for 57th on the all-time doubles list.
RHP Erasmo Ramirez had the first two hits of his career Wednesday. He became the third Seattle pitcher to get two hits in a game, following Freddy Garcia (twice),July 18, 2000 vs. Arizona and June 19, 2002 vs. Cincinnati, and Hector Noesi June 24, 2012 vs. San Diego.
By closing out the Yankees Friday in New York, Edwin Díaz became the ninth pitcher in club history, and the first since Fernando Rodney in 2014, to notch 30 saves in a season.
Friday,the Yankees went 0-for-12 with runners in scoring position. According to Elias, only two teams this season finished a game with no RISP hits in 12 or more at-bats. The Mariners had two such contests (0-for-13 April 5 and 0-for-12 May 5), and the Cardinals had one (0-for-14 April 22).
Seattle's five errors in the first inning Sunday were the most in an inning in franchise history and two shy of the single-game mark of seven, set June 25, 1978 against the Milwaukee Brewers. The errors also tied for the most by one team in a game this season, by the Red Sox vs. Baltimore Friday and by the Brewers against the Yankees July 7. According to Elias, the Mariners are the first team to commit five errors in an inning since the Cubs in a 10-3 loss to the Cardinals July 2, 1977 at Busch Stadium.
Words
"He's been huge for us. We've used a ton of guys this year." – Zunino, after Andrew Albers defeated Atlanta
"It was a crazy game and a crazy play in the game. The runner came around third, and Segura did a nice job to throw behind, and we had them in a rundown. Zunino executed fine, but we just didn't finish the play."– Manager Scott Servais, after Atlanta scored a run Tuesday on a rundown that featured five throws by the Mariners
"Seager had a huge home run. That was the game that wasn't going to be decided by one run. We needed to get the add-on runs, and he put a really nice swing on the ball and got it out of here." – Servais after Seager hit a three-run homer in the eighth inning Wednesday
"I'm just trying not to strike out, to be honest with you. He's as tough as it gets, no question about it. He's got electric stuff." – Alonso, after hitting a game-winning home run off Aroldis Chapman Friday
"We just didn't get much going offensively and a lot had to do with Sonny Gray." – Servais after Gray allowed three hits over seven innings and fanned nine
"A lot of unforced errors there. We weren't ready to get after it in the first inning. I credit (Andrew) Albers, who kept throwing strikes. But we did nothing to help him. We've got to get back on the right track in Baltimore. Obviously, that was the worst inning we've had all year. Embarrassing." — Servais, after a record five errors in the first inning Sunday
Noteworthy
Tuesday: Ex-Mariner Ichiro Suzuki of the Marlins came off the bench in a 12-8 win over Philadelphia to slug a three-run homer. At 43, Ichiro became the second-oldest player to hit a pinch home run, behind Julio Franco, who hit four after turning 44.
Transactions/DL
Tuesday: Recalled RHP Dan Altavilla from AAA Tacoma; placed RHP Tony Zych on the 10-day disabled list with a right elbow flexor bundle strain.
Wednesday: Activated RHP David Phelps from the 10-day DL; designated OF Leonys Martin for assignment.
Friday: Outrighted Martin, designated for assignment two days earlier, to Tacoma.
Next
The Mariners conclude their 12-game road trip with a three-game set at Camden Yards in Baltimore starting Monday. After taking Thursday off, the Mariners begin a three-game series with Oakland Friday at Safeco Field.
LHP Marco Gonzales (0-1, 6-23) will throw for Seattle Monday opposite former Seattle farmhand Chris Tillman (1-7, 7.75).