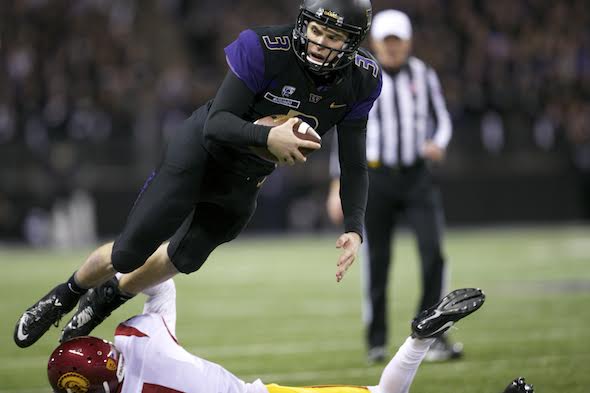 After perhaps the hardest hit he absorbed in his Huskies career, QB Jake Browning came up for air and into the face of coach Chris Petersen.
"First thing he said to me was, 'I was up in two seconds,'" Petersen reported Monday. "He's a tough guy.
"He's fine."
Even though he didn't miss a play following the strip-sack fumble in the first quarter of Washington's 30-14 win at Rutgers Friday, Browning's head-snapping throw-down by unblocked rusher Darnell Davis was severe enough that Huskies fans feared bone breakage or organ rearrangement.
It also was the nadir moment of a slow start against a team it beat 48-13 a year earlier. Browning and the Huskies obviously recovered, but it wasn't the overwhelming display expected from the eighth-ranked team in the country.
That expectation may be unveiled at Husky Stadium starting at 5 p.m. Saturday, when for some reason — likely large cash — the University of Montana agreed to resume the rivalry with Washington after a tidy 66-year hiatus.
The Big Sky Conference Grizzlies, 1-1-16 against UW, are FCS cannon fodder for the Huskies. But only if they no longer leave their prized QB naked before the whirlwind.
"That was a tough hit," Petersen said. "You don't want to see those. He didn't see that coming."
Petersen explained that the outcome was not an assignment bust but a coaching error that did not alert Browning to shift the pass protection to cover the rusher on his right. Browning did not help his cause by taking the snap and staring left for a receiver. He had no chance to tuck the ball and avert the nine-yard loss that could have been a larger problem if teammate Caleb McGary hadn't recovered the fumble.
The stunning play helped keep the Washington offense touchdown-free in the first half that they led 10-7, thanks to a 61-yard punt return touchdown by Dante Pettis.
Petersen was asked if that was the worst hit Browning has taken.
"Sometimes you take some subtle hits that hurt even worse than that," he said. "He's been hit in three years. He's done a pretty good job. We haven't had too many blindside hits like that, but he's had a couple. That's going to happen at that position."
He took another forceful hit, this one to his throwing shoulder, on the first play of the fourth quarter, but the timing was much better. The hit was a half-second after he released a pass from the Rutgers 18-yard line toward RB Myles Gaskin, who slipped out of the backfield toward the far corner of the end zone.
"That was as accurate as you can throw the ball," Petersen said, marveling at the parabola that finished on the only spot that would create a touchdown. "Coverage was good, and for a running back to make a catch over his outside shoulder, where Jake put it while getting hit, was as impressive a play as I've seen in a while.
"That's real football."
Real enough that it counted for a 27-7 lead that removed the threat of upset by a team that was 2-10 a year ago and winless in the Big Ten Conference.
Browning finished 17 of 30 for 284 yards in a semi-jittery UW shakedown cruise whose nature is getting familiar to Huskies followers. Friday was the fourth consecutive road opener in which the Huskies struggled under Petersen.
Last season, they needed overtime to beat a mediocre Arizona team, 35-28. In 2015, they lost at Boise State 16-13 in Petersen's return to his previous coaching job. In his first season, they barely won at Hawaii, 17-16.
"I don't know that there is a common thread (other than) away from home," he said. "Hawaii is always an awful place, and couple that with (it being) our first year, as much as anything.
"At Boise, we had a bunch of young guys. At Rutgers, there was a lot of good football played. I think their strategy was good to slow it down and keep it close."
Knocking Browning out of the game was also a strong tactic. Except for the part about it not working.