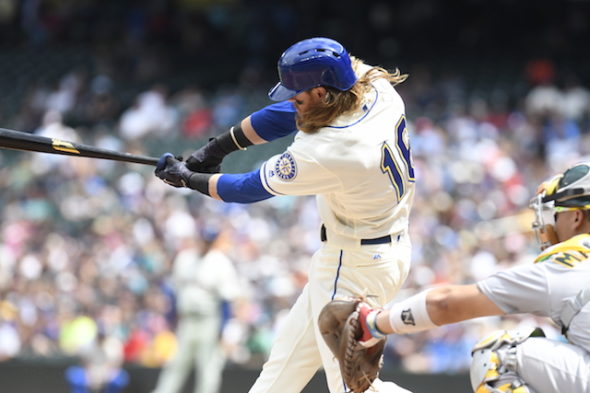 The Mariners did nothing to help themselves in the American League playoff race by losing four of six, including all three to AL West leader Houston. The 5-3 defeat to the Los Angeles Angels Sunday (box) leaves Seattle at 71-72, fourth in the West and in a nearly impossible position (see below) to reach the playoffs for the first time since 2001.
The week
Monday (Astros 6, Mariners 2): Alex Bregman hit a tiebreaking two-run double in Houston's four-run seventh and ace Dallas Keuchel pitched into the eighth as the AL West-leading Astros snapped Seattle's three-game winning streak.
Tuesday (Astros 3, Mariners 1): Making his first start for Houston, Justin Verlander allowed six hits and struck out seven and fellow newcomer Cameron Maybin hit a two-run homer in the seventh. The Seattle run came on a Kyle Seager homer in the fourth inning.
Wednesday (Astros 5, Mariners 3): Maybin hit a two-run homer off Edwin Diaz in the ninth.
Friday (Mariners 4, Angels 3): Ben Gamel hit a three-run homer to give Seattle an early lead, Mike Leake overcame some first-inning problems, and the Mariners snapped a three-game losing streak. Leake allowed three consecutive hits to start, settled down to retire the next 13 batters, and won his second as a Mariner.
Saturday (Mariners 8, Angels 1): Nelson Cruz hit a three-run homer, Mitch Haniger finished a double short of the cycle and Andrew Albers pitched six scoreless innings.
Sunday (Angels 5, Mariners 3): Justin Upton cracked  a two-run double in the eighth inning to help Los Angeles avoid a sweep, a win that moved the Angels one game out of the AL's second wild card slot.
Takeaway
On Aug. 11, and again on Aug. 30, GM Jerry Dipoto completed deals that seemed to offer little upside. Dipoto plucked 31-year-old lefty Andrew Albers out of Atlanta's minor league system. Albers had a 12-3 record with AAA Gwinnett, but hadn't won a major league game in more than four years. Next, Dipoto traded a minor league outfielder to St. Louis in exchange for RHP Mike Leake, who had gone 7-12, 4.21 in 26 starts.
For obvious reasons, Dipoto's moves were not expected to compensate Seattle much for the injury losses of rotation icons Felix Hernandez and James Paxton, among others.
But in a combined seven starts, Albers and Leake are 6-1. Albers allowed three earned runs or fewer in each of his five outings and yielded only one earned run in his last 14 innings. His ERA is 2.67. Leake won both of his starts and has a 2.77 ERA.
Leake beat the Angels Friday and Albers stopped the Halos Saturday to keep Seattle on the fringes of the race. Without the pair, the Mariners might be eliminated by now. Even with the pair, they almost are anyway.
The Mariners have 71 wins with 19 left. To match the 2015 Houston Astros, who had the worst record of any second wild card team (86-76), Seattle needs to finish 15-4 (.789) — that from a team that hasn't been more than three games above .500 all season.

Innings of the week
Astros 7th Monday: After starter Erasmo Ramirez limited the Astros to four hits through six innings, Houston broke through against Marc Rzepcynski (2-1) and Nick Vincent for four runs, turning a 2-2 tie into a 6-2 lead. Vincent allowed the key blow, a two-run double to Bregman.
Astros 9th Wednesday: With the score 3-3, Diaz entered and immediately gave up a double to Carlos Beltran. Two batters later, Diaz served up a 100 mph fastball that Maybin knocked just inside the right-field foul pole.
Mariners 2nd Friday: Gamel's big blow, his eighth, came with two outs in the second on a 1-2 pitch from starter Ricky Nolasco. The three-run shot staked Seattle to a 3-2 lead.
Mariners 4th Saturday: With Seattle up 2-0, Guillermo Heredia doubled and scored on Jean Segura's one-out infield single. Haniger's single loaded the bases, and Carlos Ruiz scored on a passed ball to make it 4-0. Robinson Cano followed with an RBI single and Cruz lined an 0-2 pitch over the left-center wall, giving him an AL-high 107 RBIs.
Good week / bad week
Good: Haniger, who missed 18 games from July 30 to Aug. 18 after getting hit in the face by a 95 mph fastball from Mets ace Jacob deGrom, is hitting .486 over his last nine games: Three doubles, a triple, three homers and nine RBIs. In the week, he went 11-for-32 (.343). Bad: Yonder Alonso had a 2-for-21 week (.095) and is having a 4-for-23 (.173) September.
Not in the box score
Seager's 20th home run Monday gave him six consecutive years of 20 or more. He is the third Mariner to do so, joining Jay Buhner (7, 1991-97) and Edgar Martinez (7, 1995-01).
The Astros won Tuesday despite collecting two hits. That marked the 11th time in franchise history, and first since April 4, 2016 at Texas, that Seattle held an opponent to two or fewer hits and lost.
Diaz gave up his 10th homer of the season Wednesday (to Maybin). That was the 10th long ball surrendered by the closer in 59.1 innings. In 2016, Diaz allowed only five home runs in 51.2 innings.
Seager homered in all games of the Houston series, marking the second time this season (also July 15-17) he has d0ne so. But Seager did not hit a home run Friday, missing a chance to join Seth Smith as the only Seattle left-handed batter since 1998 to homer in four consecutive. Smith did it from June 30-July 3, 2016.
.Gamel entered Friday having posted a .200 slugging percentage in 105 at bats since Aug. 1 – the lowest, according to Elias, since that date among players with at least 100 at-bats.
Haniger Saturday homered in the first, tripled in the third and singled in the fourth. He grounded out in the sixth and was on deck when the eighth ended. The Mariners have not had a cycle hitter since Adrian Beltre Sept. 1, 2008 at Texas.
Cano's third-inning double Saturday was his 30th, and enabled him to join Hall of Famer Stan Musial as the only players with 30 or more doubles in 13 consecutive seasons. Cano is the only player to do it in the first 13 seasons of his career.
The Mariners have used 60 players this season, most in club history (previous 54 in 2016), including a club-record 40 pitchers (previous 32, also in 2016). Of the 40, 17 have made at least one start, tied for the most in club history (also 1977).
Words
"You have to give credit to Keuchel. He was really good today. Fourteen outs on the ground. Double play balls certainly squashed a couple rallies. He's an accomplished left-handed starter with a good sinker, and he got it done against us." – Manager Scott Servais, after Kuechel allowed two runs on seven hits Monday
"I thought Miranda pitched his heart out tonight. He tweaked his ankle early in the game and he hung in there." – Servais, after Ariel Miranda threw six hitless innings that included six walks Tuesday
"Unfortunately, it took a few hitters to get going, but once I'm able to get into a rhythm, it's nice to work with (catcher) Mike (Zunino). He's very creative and fun to work with." – Leake
"He was outstanding. I can't say enough about the job he's done since he's come in here, his ability to just attack the strike zone. He's doing it consistently. He's giving us a chance to win, getting deep in ballgames." – Servais on Albers
"I'd be lying if I said I wasn't relishing this right now. It's been a great experience so far .It's been a lot of fun. I'm very appreciative of the place that I'm at right now. I took a weird route to get here, but so happy to be contributing." – Albers
Transactions/DL
Monday: Claimed OF Jacob Hannemann and RHP Seth Frankoff off waivers from the Chicago Cubs; transferred RHP David Phelps to the 60-day disabled list with a right elbow impingement; designated LHP Zac Curtis for assignment.
Tuesday: Activated Hannemann; recalled INF Daniel Vogelbach from AAA Tacoma; placed RHP Evan Scribner on waivers for the purpose of giving him his unconditional release.
Wednesday: Outrighted Shawn O'Malley to Tacoma.
Next

The Mariners begin a seven-game road trip through Texas and Houston. Seattle plays the first of four against the Rangers Monday and complete the trip with three against the Astros. Seattle returns to Safeco Field Sept. 19 for the final home stand – three against Texas and three vs. Cleveland. Miranda (8-6, 4.72) will throw for Seattle Monday at 5:05 p.m. opposite LHP Cole Hamels (9-3, 4.03).