After taking three in a row at Texas, the Mariners were broomed out of Minute Maid Park in Houston Sunday (box), losing the series finale 7-1 as Justin Verlander beat them for the second time in 12 days. The only good news for Seattle, which dropped six consecutive games to the Astros and 14 of 19 for the season, is that it doesn't have to play the AL West champions again. Not that it matters much: The Mariners fell 4.5 games behind Minnesota for the second AL wild card with 12 to play.
The week
Monday (Rangers 5, Mariners 3): Delino DeShields scored from first on a two-run double by Shin-Soo Choo in the first inning and crushed a solo homer in the fourth. Kyle Seager and Mitch Haniger homered for Seattle.
Tuesday (Mariners 10, Rangers 3): Seager and Ben Gamel blasted three-run homers. Marco Gonzales (1-1), traded from St. Louis to Seattle July 21, earned his first victory in six starts.
Wednesday (Mariners 8, Rangers 1): Mike Zunino hit two home runs, including the longest of his career — 470 feet. Mike Leake (3-0) allowed one run and struck out five to win his third consecutive start.
Thursday (Mariners 10, Rangers 4): Nelson Cruz went 4 for 4 with a home run and Seager blasted a two-run homer. Felix Hernandez made his first start since being put on the disabled list with right shoulder bursitis Aug. 5. He was on a pitch count and threw 54, allowing three hits and striking out three in 3.2 innings.
Friday (Astros 5, Mariners 2): Carlos Correa and Evan Gattis had two hits each to help ruin James Paxton's return from the disabled list. The Astros got to an out-of-sync Paxton for three runs in the first.
Saturday (Astros 8, Mariners 6): Houston raced to a 7-1 lead and withstood a four-run Seattle assault in the eighth inning. The Astros pounced on Erasmo Ramirez for four runs in the second; Seattle's starter made it through only four.
Sunday (Astros 7, Mariners 1): Verlander struck out 10 and the Astros had four home runs to complete the sweep and clinch the AL West (99-58). Verlander (13-8) retired his first seven batters before Gamel homered into the right-center bullpen in the third. Seattle starter Andrew Moore allowed three runs and seven hits in 4.2 innings and is 0-4 in seven starts and two relief appearances since June 22.

Takeaway
Even with Hernandez and Paxton returning, the Mariners have to win at least nine of their final 12 and hope that Minnesota and the Los Angeles Angels succumb to meltdowns.
"We're going to be as aggressive as we can be and see what happens," manager Scott Servais said.
It's not impossible for the Mariners to make up 4.5 games over the span of 12. In 1995, the Mariners made up four in a seven-game span from Sept 12-22.
But that year, the Mariners had only the Angels to overcome. This year, they have to leap ahead of the Twins and Angels. Probably not going to happen, meaning that Seattle's streak of years of missing the postseason will reach 16.
Innings of the week
Mariners 1st Tuesday: After Zunino's RBI single staked Seattle to a 1-0 lead, Gamel ripped 372-foot home run to right.
Mariners 5th Wednesday: For his big shot, Zunino whacked a curve ball from Martin Perez. Three batters later, Jean Segura hit a two-run shot to left to stake Seattle a 3-0 lead.
Mariners 6th Thursday: The Mariners stretched a 5-1 lead into a 9-1 advantage by sending 10 batters to the plate in a half inning that lasted 34 minutes and featured 50 pitches.
Astros 1st Friday: Paxton walked leadoff hitter George Springer and everything went downhill. He gave up three hits and two wild pitches.
Astros 2nd Saturday: The Astros got to Ramirez for four runs and two walks and took a 4-0 lead. Ramirez allowed six earned runs.
Good week/bad week
Good: Haniger went 3-for-4 with two RBIs Monday, finishing a triple shy of the cycle; went 2-for-5 and scored twice Tuesday; went 2-for-5 and scored a run Wednesday, and went 2-for-5 and homered Saturday. Bad: In three innings last week, starters Ariel Miranda (1.2 Monday) and Paxton (1.1 Friday), combined to allow seven runs on 10 hits with five walks and two wild pitches.
Not in the box score
Marco Gonzales Tuesday became the 10th Mariner to make at least 10 starts in 2017. This marks the fourth time in club history when at least 10 pitchers made six or more starts. The 2009 club had 12 make six or more while the 1996 and 1977 clubs had 10 each. With Gonalez's start at Texas, the Mariners also became the first team in the majors this season to reach double digits in pitchers with six-plus starts. Gonzales joined Miranda (29), Yovani Gallardo (22), Paxton (20), Hernandez (13), Sam Gaviglio (11), Christian Bergman (8), Ramirez (8), Andrew Moore and Hisashi Iwakuma (6) in making six-plus starts.
When Seager hit his 150th career homer Tuesday, he became the third player to reach 150 with Seattle before turning 30, joining Alex Rodriguez (696 career homers) and Hall of Famer Ken Griffey Jr. (630).
Crack research by the Mariners: Seager is the fifth third baseman in AL history to record at least 200 doubles and 150 home runs prior to turning 30. Last week, he joined Harlond Clift, 1934-42 (283 2B, 167 HR); Gary Gaetti, 1981-88 (214 2B, 166 HR); Eric Chavez, 1998-2007 (266 2B, 227 HR) and Evan Longoria, 2008-15 (261 2B, 205 HR) in that feat.
Gamel and Seager each hit three-run homers Tuesday night. That marked the fourth time this season that the Mariners hit at least two homers with multiple men on base in the same game (the others were April 23 at Oakland, June 2 vs. Tampa Bay and June 6 vs. Minnesota). The Astros are the only other team has done that four times.
Zunino's two homers Wednesday marked the third time he hit multiple homers (also June 7 vs. Minnesota and June 19 vs. Detroit). That's the most in a single season by a Mariners catcher and tied Gary Sanchez and Wllson Contreras for the most multiple-homer games by a catcher in the majors this season.
In the seventh inning Wednesday, Robinson Cano was ejected from a game for the first time in his MLB career. Plate umpire Vic Carapazza tossed Cano after the second baseman questioned Carapazza's judgment on a called check-swing strike.
Haniger opened in right field Thursday, marking his 80th start. He joined Gamel and Guillermo Heredia as one of three rookies to make at least 80 outfield starts. This is not only the first time in franchise history that three rookies have made 80 or more outfield starts, it's one of only three times since 1913, according to the Mariners. Before Seattle, the last team with three rookies making 80-plus outfield starts was Kansas City in 1969 with Lou Piniella (125 starts), Pat Kelly (106) and Bob Oliver (89). The other team was the 1954 Philadelphia Athletics with Bill Renna (113), Vic Power (97) and Bill Wilson (91).
Gamel (22) and Haniger (21) have 20-plus doubles (Haniger had three in the week just ended), making them the second duo of Mariner rookies to record 20-plus in a season, joining Ken Griffey Jr. (23) and Greg Briley (22) in 1989.
Seager's two-run home run in the second inning Thursday was his 25th long ball, marking the fourth consecutive season he has hit at least 25. Only two other Mariners hit 25 or more in four consecutive seasons: Edgar Martinez (4, 1995-98) and Ken Griffey Jr. (4, 1996-99).
In his return from the disabled list, Paxton got only five outs and was charged with three runs and four hits, snapping a seven-game winning streak. It tied the shortest outing of his career and was his first loss since June 27. Paxton allowed three runs in the first.
Miranda made his first relief appearance in the sixth inning Saturday after 29 starts. He struck out one in a scoreless inning in his first relief appearance since Aug. 9, 2016.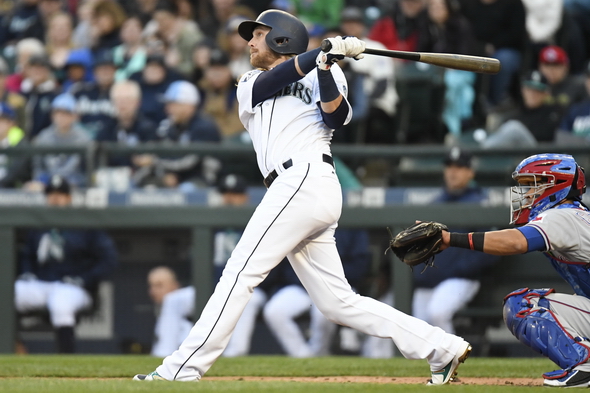 Words
"Miranda has taken the ball every time out there for us. He just didn't have much in the tank at all tonight. He's running on fumes right now. Again, I appreciate how he competes and how he goes out there." – Manager Scott Servais, after Miranda lasted only 1.2 innings Monday
"We've been in some tight ball games, and haven't quite been able to get over the hump. So it's nice to get a bunch of runs early." – Seager, after the Mariners scored seven runs in the first two innings Tuesday
"There's always that urgency that sets in. Obviously, we're running out of time." – Zunino, after hitting two home runs Wednesday
"Guys have busted their tails all year to put themselves in this position, to play meaningful games. We want to stay after it and be aggressive." – Servais Wednesday
"It was good, man. It was fun. Didn't try to do too much, trying to get through 50 pitches, out there as long as I can." – Felix Hernandez after working 3.2 innings Thursday
"I was out of whack on the mound. I was just watching some video, and my front side was going early, so I had nothing to throw against. I felt like I went to throw the ball, and there was nothing there." – Paxton on his 50-pitch outing Friday
Noteworthy
For only the second time in the past 10 years, the Mariners will open a season at home. The Mariners face Cleveland on Opening Day 2018 at 7:10 p.m. Thursday, March 29. It is the third time Seattle and Cleveland have opened against each other, with the Indians winning both previous meetings in 1994 and 1998.
Interleague play in 2018 matches the AL West with the NL West. Seattle's first two interleague series at home are against the Rockies July 6-8 and Giants July 24-25. The Dodgers come to Safeco Field for a three-game weekend series Aug. 17-19, and the Padres will be in Seattle Sept. 11-12.
Transactions/DL
Monday: Outrighted RHP Ryan Weber to AAA Tacoma; LHP Zac Curtis was claimed off waivers by Philadelphia.
Thursday: Activated Hernandez from the disabled list.
Friday: Activated Paxton from the disabled list.
Next
After a day off Monday, the Mariners begin the final home stand of the season Tuesday with three against the Texas Rangers, followed by three against the Cleveland Indians, recent winners of an American League-record 22 consecutive games. Leake (3-0, 2.41) will throw the first game of the Texas series opposite LHP Martin Perez (12-11, 4.82).