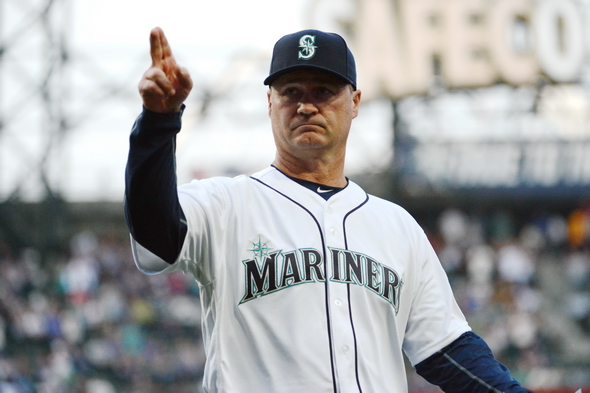 One week ago, the Mariners resided on the fringes of contention for the second American League wild card slot. But a 1-5 meltdown in the season's final home stand, including Sunday's 4-2 loss to Cleveland (box), officially eliminated Seattle (75-81) from the postseason for the 16th consecutive season. The Mariners play out the string to great yawns next week in Oakland and Anaheim.
The week
Tuesday (Rangers 3, Mariners 1): Carlos Gomez's leadoff double in the eighth started a two-run rally off Nick Vincent that lifted Texas. Shin-Soo Choo's sacrifice fly broke a one-all tie, and Elvis Andrus followed with an RBI single as the Rangers handed Seattle (74-77) its fourth consecutive loss.
Wednesday (Rangers 8, Mariners 6): Rougned Odor capped a seven-run fourth inning with a grand slam off Andrew Albers, and Alex Claudio earned a six-out save. Seattle trailed 7-1 early as Felix Hernandez was roughed up, pulled to within 8-5 in the seventh on Robinson Cano's two-run single, but then left the bases loaded, nixing a late rally.
Thursday (Rangers 4, Mariners 2): Cole Hamels dominated for eight innings, ex-Mariners Adrian Beltre and Choo hit home runs and the Rangers handed Seattle its sixth consecutive defeat, the longest losing streak of the season.
Friday (Mariners 3, Indians 1): Nelson Cruz hit a two-run, walk-off home run off Cleveland closer Cody Allen in the ninth inning as the Mariners snapped a season-high six-game losing streak. Cleveland's loss ended its franchise-record 14-game road winning streak.
Saturday (Indians 11, Mariners 4): Francisco Lindor led off the game with a home run and Jose Ramirez and Jan Gomes followed with long balls and drove in four runs apiece. Seattle lost for the seventh time in eight games.
Sunday (Indians 4, Mariners 2): Corey Kluber allowed six hits and struck out 10. Ben Gamel hit a two-run homer for Seattle in the fifth inning.

Takeaway

The Mariners were in the middle of the wild card race until the past 10 days. Since then, they were swept by the Astros in Houston, broomed at home by Texas and then dropped two out of three vs. Cleveland.
With the loss Sunday, the Mariners fell seven games behind the Minnesota Twins with six left to play, ensuring their playoff ouster.
The Mariners have not reached the playoffs since 2001. Among all major professional sports franchises (MLB, NFL, NBA, NHL), only the NFL's Buffalo Bills have been absent from the postseason longer (1999).
In MLB's era of divisional play since 1969, Seattle is the only franchise to have two streaks of 15 years or longer without a playoff appearance. In addition to the current streak, the Mariners went 18 seasons, from 1977 through 1994, without reaching the postseason.
Innings of the week
Mariners 7th Tuesday: With one out and runners at the corners in a 1-1 tie, Yonder Alonso was caught too far off third base as Guillermo Heredia pulled back on a bunt attempt. Alonso was easily thrown out by C Robinson Chirinos. Heredia eventually singled against Tony Barnette (2-1), but Gamel popped out to end the threat.
Rangers 4th Wednesday: After Hernandez retired his first nine batters, the former ace fell victim to a rash of walks, errors and two big hits, including Nomar Mazara's two-run single. After Albers came on, Odor ripped a grand slam.
Rangers 1st Thursday: Ex-Mariners Choo and Beltre led an early hit parade against James Paxton, who also yielded a two-run double to Gomez. That was enough to hand Paxton, pitching for the second time since coming off the disabled his, his fifth loss.
Mariners 9th Friday: With the score 1-1, Cano opened with a single. Cruz then lined a 2-1 pitch from closer Allen to deep right-center.
Good week/bad week
Good: Cruz homered in four consecutive games from Wednesday through Saturday, a season high. Cruz also recorded his AL-leading 115th RBI Saturday, extending his career high (previous 108 in 2014 with Baltimore). Bad: Making his second start Wednesday since coming off the disabled list, Hernandez allowed six runs — five earned — on two hits and three walks in 3.1 innings. Paxton made it through 3.2 innings Thursday and allowed two runs.
Not in the box score
When Odor hit a grand slam Wednesday, he had the following history with the bases loaded: Four hits – none for extra bases – in 26 at-bats since the start of the 2015 season. His .154 slugging percentage was the third lowest among the 151 players with at least 25 at-bats over the last three seasons, ahead of Hernan Perez (.147) and ex-Mariner Leonys Martin (.148).
Cruz hit his 35th home run Thursday, becoming the fourth player in MLB history to hit 35 or more in at least four consecutive seasons at age 33 or older. Cruz joined Babe Ruth (1928-32), Rafael Palmeiro (1998-03) and Barry Bonds (2000-04).
Cano hit his 300th career homer Thursday and joined Willie Horton (1979), Ken Griffey Jr. (1998), Jay Buhner (2000), Edgar Martinez (2004), Richie Sexson (2008), Raul Ibanez (2013) and Cruz (2017) as one of eight players to hit his 300th career homer wearing a Seattle uniform.
While Cruz has three game-ending hits this season, Friday's walk-off against Cleveland was the first time he homered to end a game since Sept. 10, 2010, when he played for Texas. It marked the fifth time in his career that Cruz ended a game with a long ball. Over the last eight seasons (since 2010), Cruz's 10 walk-off RBIs are tied for the most in the majors (Jay Bruce, Josh Donaldson, Justin Upton and Joey Votto).
Seattle 's walk-off win Friday was the eighth in 2017.
Erasmo Ramirez didn't get the win Friday against Cleveland, but he tied a career high by working eight innings, getting there for the first time since Sept. 18, 2012 during his first stint with the Mariners. Ramirez also matched a career high with 10 strikeouts. He retired his final 18 batters after Giovanny's Urshela's homer in the third inning. Ramirez became the first Seattle pitcher to last eight innings since Andrew Moore July 3.
When Cruz reached 115 RBIs Saturday, he became the ninth Mariner and first since Ibanez (123) in 2006 to drive in that many.
When Gamel notched his 25th double Saturday, he became the eighth Mariner rookie with at least 25 in a single season and the first since catcher Kenji Johjima had 25 in 2006.
Seattle committed five errors — Mike Zunino (throw), Yonder Alonso 2 (bobble, ground ball), Marco Gonzalez (ground ball), Cano (ground ball) – in an 11-4 loss to Cleveland Saturday. That matched the season high (also Aug. 26 at New York). Single-game record for errors is seven, set June 25, 1978 at Milwaukee.
Words
"Disappointing night, obviously. A chance to gain ground in this race and you lose another day." – Manager Scott Servais, after the Mariners extended their losing streak to four Tuesday
"The first three innings, I was going after hitters. I was throwing a lot of strikes. That was the difference from the first three (innings) and the fourth." – Hernandez, after retiring his first nine batters before getting shelled in a seven-run Texas fourth Wednesday
"(Our players) hurt, there's no question about it. It definitely hurts. I think everybody feels it in our clubhouse. We have to play better baseball. You're not going to the playoffs if you continue to make errors and don't execute in critical situations, and pitches." – Servais after the Mariners fell behind Texas 7-1 and lost 8-6 Wednesday
"It means a lot. In a humble way, it's something that makes me proud of myself, proud of my family and the way they raised me to help me get to this level." – Cano, after hitting his 300th career home run
"He's been one of the best, productive bats in the league for a while now and it doesn't seem to be going with age. He seems to be every bit as good as he ever was." – Cleveland manager Terry Francona after Cruz hit a walk-off homer in the ninth inning Friday
"I'm disappointed. We just didn't respond today. It was about catching the baseball and doing things right fundamentally. We haven't done that. We've struggled with that." — Servais, after the Mariners committed five errors in an 11-4 loss to Cleveland Saturday
"We faced some really good pitching the last couple weeks. I'm proud of our guys and the way they fought all year. It's disappointing with the expectations we had on ourselves and this ballclub. I think when you battle so long like that, you kind of run out of gas. You can only go so far."– Servais, after the Mariners were eliminated
Noteworthy
The Seattle chapter of the Baseball Writers Association of America Friday honored Cruz, starter Paxton and reliever Vincent with team MVP, Pitcher of the Year and Unsung Hero awards.
In Arizona's 13-11 win over the Marlins Friday, former Seattle catcher Chris Iannetta went 3-for-4 with two home runs and eight RBIs. The only other catcher with at least eight RBIs in a game over the last 10 years is Yasmani Grandal of the Dodgers on May 7, 2015 at Milwaukee (4-for-4, two home runs, eight RBIs).
Next
The Mariners play the final six games of the regular season starting Monday with the first of three in Oakland. The Mariners take Thursday off before beginning a three-game, season-ending set against the Angels in Anaheim. Hernandez (5-5, 4.57) pitches the first game in Oakland opposite RHP Daniel Gossett (4-9, 5.38).