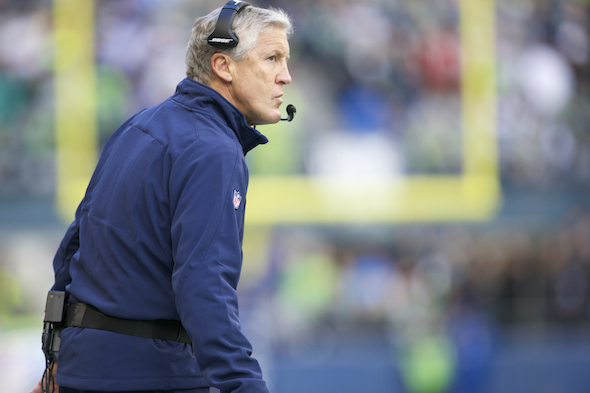 One of the odd aspects in the continuing fallout over President Trump's denigration of the NFL's anthem protestors is that there has been little coverage of responses from players who didn't want to be a part of any protest. Understandably, some players are reluctant to be quoted for pragmatic reasons, like not wanting to damage their NFL futures.
And then there are the Trump supporters. Yes, it's true, Seahawks fans. They walk among the blues.
So I asked coach Pete Carroll Monday, following the 33-27 loss in Tennessee that dropped the Seahawks to 1-2, what he said to those players during the tense meetings Saturday at the team hotel when players and coaches discussed responses to the insults from the White House.
His answer was so Carroll.
"Directly, what I did is I hugged them," he said.  "I talked to them, and expressed that I appreciate where they're coming from, and what they feel with no other thought but to accept them."
That response explains why lots of players enjoy playing for Carroll. It's called empathy — a respectful sensitivity to another's feelings, as well as the ability to listen without judgment. It's a rare capacity in any leadership post, and much more elusive in an industry where manhood is often defined by the sort of faux-macho bluster often exhibited by the president.
The approach was probably important in persuading Trump supporters — or the merely fearful — to set aside their reluctance to create at least a public unanimity. Or, in old-school parlance, take one for the team.
"They have every right in the world to feel the way they feel," he said. "They had a choice to make, to do what they wanted to do. They decided to stay with the team. That was a hard decision for a few guys, and I totally understand that."
Carroll talked about how athletes in team sports are schooled in the acceptance of individual sacrifice.
"They know there are times you're acting on the good of the group rather than what is fit for you personally," he said. "That's about the sacrifice you make for the good of the group. I think it was powerful, probably more so than anything. They were willing to do that.
"Loved them up and hugged them up and were grateful for them and their perspective."
The explanation means a couple of things: Don't mistake an entire team's absence from a sideline as an expression of unanimity, and don't underestimate Carroll's ability to use his empathy skills to keep a team from fracturing.
Was he concerned someone would break ranks?
"To some extent, yes," he said. "That's why there was a long discussion and a lot of conversation and a lot of emotion shared. Did you ask if I was worried about it? No, I was just concerned for their own being.
"I wanted them to feel connected to what was going on, in the way that maybe they had to make the sacrifice of their thought. It's a powerful statement, maybe more so for those guys than for the majority of those guys that felt differently."
Carroll acknowledged that he had not been in a situation like this one.
"It was unique because the subject matter is unique," he said. "We've been in these discussions (about national racial politics) before here. By design, we have delved into the topics a long time ago. I was practicing how to get in discussions of different issues because it gives us a chance to find out who we are as individuals as we belong to a team.
" The crunch of time was an issue (referring to Trump's Friday rant before a Sunday game). You could feel a sense of urgency that I wish we didn't have to deal with, so we could take all the time we needed. But we weren't afforded that. So you have to deal with what you've got."
Carroll wouldn't say whether the depth and intensity of the Saturday meetings made an impact on Sunday's outcome, which featured a lot of Seahawks play Carroll called uncharacteristic.
"I think it's relative, and (all NFL teams) had to handle it the way they did; I don't know," he said, mentioning he talked by phone with Titans coach Mike Mularkey Sunday morning. "He wanted to know what we were doing. He said great, and they were going to do the same thing.
"I don't know if they were going to do the same thing before that phone call or after it. I know that some of our players had been talking to (Titans players), so they had shared some ideas."

Carroll lamented that critics of the player protests are missing the point.
"I think they don't understand why people are willing to stand up and try to speak out," he said. "I don't think they are recognizing the courage that that takes and what they may be jeopardizing.
"I think this is such an important moment. I don't think we should miss it. We need new empathy skills. Maybe we will find some new teachers and we will come to understand how to move forward. It's an exciting potential. I hope it happens.''
If this whole pro football coaching gig doesn't work out for Carroll, he may have a shot at a fresh career.
Of all things . . . Seahawks messed up snaps too
Carroll said part of the offense's problems early in Sunday's game were four failures to get the snap between C Justin Britt and QB Russell Wilson.
"It wasn't one thing," he said. "If it was that, it would have been easy to fix. They were all different.
"We had a low snap. We had a snap under center that we mishandled. We had a snap in a silent-count situation that was off-timed. There was a low ball that Russell didn't catch that he usually gets, and it just got away from him. It's four huge opportunities. So it's hard to take those." . . .  Carroll had no news to report on the groin strain with WR Doug Baldwin that kept him out of the final drive in Tennessee.