Shortly after the mid-July All-Star break, the Mariners published a blurb in their game notes titled "Transactions in Bulk." It noted that GM Jerry Dipoto had, since Opening Day, made 122 roster moves, averaging one transaction every 19 hours and five minutes, his major frenzy occurring May 9-23 when he made 32 moves.
Dipoto didn't ease up in the second half. From July 17 through last week, he made another 78 deals, almost all aimed at placing the club in the best possible position to reach the playoffs for the first time since 2001.
Not only did the Mariners fail in that mission for the 16th consecutive year, Dipoto's transaction mania couldn't even prevent a losing season as the club finished 78-84, an eight-game game slide from last year's 86-76, including Sunday's gag in which three Seattle pitchers coughed up six runs in a horrid seventh inning in what became a 6-2 loss to the Angels (box).
The Mariners certainly gave 2017 a go, remaining in the wild card race until Sept. 14, after they took three of four from Texas. But over the next nine days, they dropped eight games to Houston, Texas and Cleveland, underscoring their status as the most playoff-resistant franchise in the American League over the past four decades.
The Mariners Sunday completed their 41st season and still have only four playoff appearances (1995, 1997, 2000, 2001) to show for all that time. That leaves 37 years of futility, most by an AL team since Seattle's 1977 inaugural year. Most years missing the playoffs since then:
| Franchise | Lg. | Years | Skinny |
| --- | --- | --- | --- |
| Mariners | AL | 37 | Also went from 1977-94 (18 years) with no playoffs |
| Expos/Nats | NL | 37 | Nationals four playoff appearances since 2012 |
| Brewers | NL | 37 | Last playoff 2011; started as 1969 Seattle Pilots |
| White Sox | AL | 36 | Last playoff in 2008; won World Series in 2005 |
| Padres | NL | 36 | No playoff since 2006; lost World Series in 1998 |
| Reds | NL | 35 | Three playoffs since 2010: 2010, 2012, 2013 |
Reasons abound for the 2017 mediocrity: Too many injuries (15 players on the disabled list, several of them twice), especially to the rotation; an offense that took weeks off at a time; a defense that committed 103 errors, making Seattle the fourth-sloppiest team in the league.
For all his many deals, Dipoto delivered a sub.-.500 team — no different, really, than most of the 37 other Mariner teams that spoiled summer. Although this one went nowhere again, it didn't lack for history-making moments:
MVP
Nelson Cruz led the club in home runs (39), runs scored (91) and RBIs (119), which also led the AL (fourth Mariner to win the RBI crown). He also led the Mariners in OBP (.375), slugging (.549) and OPS (.924). Only two other Mariners led in all those categories in a single season: Leon Roberts (1978) and Ken Griffey Jr. (1993, 1994).
Top pitcher
James Paxton (12-5, 2.98) might have been a 20-game winner had he not spent two stints on the DL. Consider July when he went 6-0, 1.37 ERA. That made him the first pitcher in franchise history to win six games in a calendar month. Paxton was also the only pitcher in either league with two streaks of 20-plus scoreless innings (23 from April 5-20 and 21 from July 19-Aug. 4). To underscore what might have been, in Sunday's season ender in Anaheim, he dominated, scattering three hits in six innings, fanning nine and walking none in a no-decision.
Most impressive win
The Mariners produced 35 comeback wins, none better than May 9 in Philadelphia when they twice erased four-run deficits (4-0 and 9-5) to win 10-9. The only other time the Mariners twice recovered from four-run deficits occurred June 12, 1997. The Mariners trailed Colorado 6-1 and 10-6 before winning 12-11 in the Kingdome.
Oddest win
Felix Hernandez worked 6.1 innings against Miami April 19 and won 10-5 despite allowing 12 hits. Tom House holds the franchise mark of 13 hits allowed in a win, a 7-2 triumph at Minnesota April 16, 1978 in the second game of a doubleheader. In the first game, Dick Pole allowed 12 hits and won 8-5.
Ugliest loss (tie)

a) The Mariners entered the bottom ninth April 9 at Anaheim leading 9-3. Relievers Casey Fien and Edwin Diaz combined to cough up seven runs, giving the Angels a 10-9 win. That marked the first time since April 10, 1998 at Boston that the Mariners allowed seven runs in the ninth for a walk-off loss.
b) The Mariners dropped a 20-7 decision to the Twins June 13 in which five Seattle pitchers, including backup catcher Carlos Ruiz, combined to allow a franchise-record 28 hits. The Twins batted around twice (seven-run third, seven-run seventh).
Monthly moments
April: Ichiro homers against Seattle
May: Mike Zunino's 463-foot homer
June: Robinson Cano's big slam
July: Mitch Haniger plunked
August: Mariners honor Edgar Martinez
September: Nelson Cruz's walk-off
Hitters
Fast start: Rookie Mitch Haniger reached base safely via hit or walk in 25 consecutive games to begin the season, the fourth-longest on-base streak to begin a year in club history. Haniger also scored 20 runs and walked 13 times in April, both Seattle rookie records for that month.
Joining A-Rod: Taylor Motter's five April homers were the most by a Seattle shortstop in that month since Alex Rodriguez hit eight in 2000. Motter had a grand slam April 23 at Oakland and another June 2 vs. Tampa, joining A-Rod (1996 and 1999) as the only Seattle shortstops with two slams in a season.
Rookie exclusives: When Ben Gamel produced four hits, including a homer, drove in four and scored three times May 9 at Philadelphia, he became the third Seattle rookie to accomplish that feat, joining Danny Tartabull (1986) and Mickey Brantley (1987).
Bipolar: The 2017 Mariners season in brief — they scored 21 runs on 32 hits in two road wins at Philadelphia May 9-10. From May 11-14 at Toronto, they stranded 32 runners, going 4-for-35 (.114 BA) with RISP, in four consecutive losses to the last-place team in the AL East.
Wear it: On May 16 at Safeco Field against Oakland, Jarrod Dyson became the first Seattle batter in franchise history to get hit by a pitch three times in one game.
42 hits in June: Gamel became the second Seattle rookie to exceed 40 hits in a month, following Ichiro in 2001. Gamel also hit .393 in May. The only other rookie to exceed .390 in a month was Ichiro, who did it twice in 2001 (Gamel hit .161 in August. Go figure).
40-40: Gamel's 42 hits in June followed Jean Segura's 43 in May. That marked the first year since 2008 that two Mariners produced 40-hit months. That year, Raul Ibanez (44) and Ichiro (43) had 40-hit months in August.
Count 'em down: In a 12-4 win over Tampa June 2, Seattle's 6-7-8-9 hitters drove in 12 runs, starting with Valencia, who knocked in five from the sixth slot. The only other MLB game since 1920 in which the 6-7-8-9 hitters drove in 12 or more runs occurred Aug. 10, 1986 in a Kansas City win at Yankee Stadium.
Number 9: With hits in nine consecutive at-bats against Tampa June 2-4, Valencia tied the franchise mark for same set by Ibanez in September, 2004.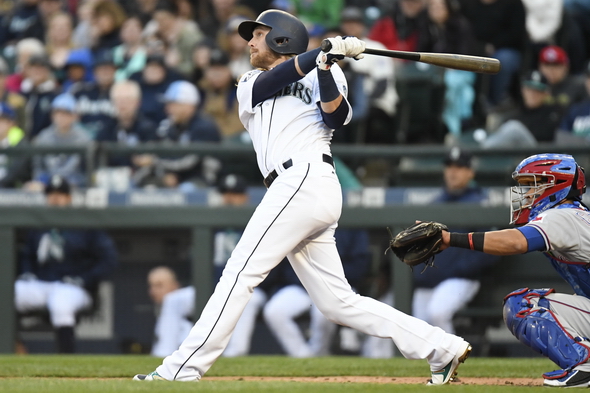 7 RBIs: After spending two weeks in Tacoma to work on his stroke, Zunino came through June 3 with a career-high seven RBIs in a 9-2 win over Tampa. Zunino hit a two-run double in the second, an RBI single in the fourth and capped a five-run fifth with a grand slam.
Ultimate No. 9 hitter: In Seattle's 20-7 loss at Minnesota June 13, Eddie Rosario hit three homers and knocked in five runs for the greatest batting effort ever by a No. 9 hitter against the Mariners. Only two other No. 9 hitters had as many home runs and RBIs in a game: Dale Sveum of the Brewers in 1987 vs. the Angels and Trot Nixon of the Red Sox in 1999 at Detroit.
Triple double: Kyle Seager recorded three RBI doubles June 28 against Texas, making him the third player in franchise history with a trio of RBI two-baggers in the same game (Steve Henderson, May 27, 1983, and Alvin Davis, April 18, 1984).
June boon: Zunino had 31 RBIs in June, a total that led the majors. The total also tied for the most in June by an American League catcher since 1920. New York's Bill Dickey had 31 in June 1937 and Detroit's Rudy York 31 in June 1938.
ASG HR: Cano became the fourth player in All-Star history to hit an extra-inning (10th, off Wade Davis) home run, joining Red Schoendienst (1950), Stan Musial (1955) and Tony Perez (1967).
Streaker: Gamel had a 15-game hitting streak from June 9-24 and a 16-gamer from July 14-30. Gamel became the fifth player in franchise history with multiple 15-game hitting streaks in a season, joining Joey Cora (1998), Ichiro (2001, 2004, 2006, 2007, 2008), Adrian Beltre (2006) and Seager (2013). In 2001, Ichiro had three streaks of 15 games or longer.
500th double: Cano notched it Aug. 5 in Kansas City, joining Albert Pujols, Beltre, Carlos Beltran and Miguel Cabrera as the only active players in the 500-double club.
Bunt single: Baltimore's Dylan Bundy threw a complete-game one-hitter against Seattle Aug. 29 at Camden Yards, allowing only a bunt single to Seager. Before Bundy, the previous pitcher to throw a complete-game one-hitter where the only hit allowed was a bunt was Bobby Witt of the Athletics June 23, 1994. Greg Gagne bunted safely with one out in the sixth.
Extras: Haniger went 3-for-4 (home run, two doubles), scored twice and drove in three runs Aug. 30 at Baltimore, making him the seventh Seattle rookie with three extra-base hits and three RBIs in a game. He joined Ruppert Jones, Alvin Davis, Danny Tartabull, Griffey Jr., Kenji Johjima and Jesus Montero.
Walk-off wild pitch: When Segura raced home from third with two outs in the ninth Sept. 2 vs. Oakland, he became the first Mariner to score on a walk-off wild pitch since Jay Buhner in the 14th inning June 23, 1993 against Oakland in the Kingdome.
35th homer: When Cruz hit it Sept. 21 at Texas, he became the fourth player in history to hit 35 or more in at least four consecutive seasons at age 33 or older. Cruz joined Babe Ruth (1928-32), Rafael Palmeiro (1998-03) and Barry Bonds (2000-04).
300th home run: Cano hit it Sept. 21 and joined Willie Horton (1979), Griffey Jr. (1998), Jay Buhner (2000), Edgar Martinez (2004), Richie Sexson (2008) and Raul Ibanez (2013) and Cruz (2017) as one of eight players to hit No. 300 wearing a Seattle uniform.
Doubling up: Gamel (27) and Haniger (22) both finished with 20-plus doubles, making them the second pair of Mariner rookies to record 20-plus in a season, joining Griffey Jr. (23) and Greg Briley (22) in 1989.
Alpha/omega: Valencia tied for the team lead in four-hit games (4) and led the AL in errors by a first baseman (11).
5-hitter: When Haniger collected five hits against the Angels Sept. 30, he became the only Seattle rookie since Ichiro in 2001 with that many in a game.
Pitchers
23 scoreless: Paxton's streak of 23 consecutive scoreless innings (April 5-20) set a club mark and tied for the fifth-longest season-opening run over the past five years (Oakland's Brad Ziegler had 39 consecutive in 2008).
Ultimate leadoff: In the 13th inning April 5 in Houston, George Springer became the first MLB leadoff hitter to cap a five-RBI game with an extra-inning, walk-off homer (off Chase DeJong) since Pepper Martin of the Cardinals in 1933.
Windy City battering: In 3.2 innings at Chicago May 20, Yovani Gallardo allowed nine earned runs on nine hits in a 16-1 loss.
9 hits, 4th inning: On May 24, the Nationals raked Christian Bergman for 14 hits in four innings, including nine hits and eight runs in the fourth inning alone. Seven of the runs scored with two outs.
9 K's: Casey Lawrence pitched five innings in relief of Gallardo June 1 vs. Colorado and set a club record of nine strikeouts by a relief pitcher. The previous mark was eight, done eight times, but not since Julio Mateo Aug. 1, 2003.
Only CG: Ariel Miranda threw Seattle's only complete game of 2017 June 4, a 7-1 win over Tampa Bay. He allowed four hits and fanned nine.
The parlay: On June 13 at Target Field, Bergman gave up nine runs on nine hits in 2.2 innings, and reliever Lawrence six runs in 3.2 innings in a 20-7 loss to Minnesota.
15 K's, 0 walks: Paxton (9), Tony Zych (2), Nick Vincent (2) and Edwin Diaz (2) combined for 15 strikeouts and no walks July 7 vs. Oakland. That marked the fourth time in club history that Seattle had 15 or more K's and no BBs in the same game and the first time since June 14, 1997 when Randy Johnson fanned 19 and walked none.
4-for-4: Diaz (34 total saves) recorded saves in four consecutive games from July 14-17 (he was the AL reliever of the month for July) against the White Sox and Astros, becoming the first closer in club history to do that.
Seven in a row: When Paxton defeated Kansas City 5-2 Aug. 4, he extended to seven his consecutive starts with a win. That tied the club record set by Scott Bankhead from June 18-July 20, 1989. and matched by Jamie Moyer from May 6-June 8, 2003.
2,500 innings: By logging six innings at Oakland Sept. 25, Hernandez became the fifth active pitcher to log more than 2,500 innings with one team. Prior to Hernandez, the most recent pitcher with that many: Justin Verlander (2,511 with Detroit from 2005-17).
Long time coming: When Erasmo Ramirez worked eight innings against Cleveland Sept. 22 (no decision), he became the first Seattle pitcher to last eight innings since Andrew Moore July 3.
17 starters: The Mariners used 17 starting pitchers, tying the club mark for most used in a season (also 1977). Seattle used 15 in 2016.
Called for holding: Vincent recorded 28 holds (T2, majors), second-most in Mariner history (Arthur Rhodes 32 in 2001).
Numbers
2: Walk-off home runs in 2017, by Zunino June 7 vs. Minnesota and Cruz Sept. 22 vs. Cleveland.
2: Player of the week awards won by Paxton, making him the only pitcher in club history to win the award twice (April 10-16, July 24-30) in one year.
3: Cano became the third Mariner, following Griffey (1992) and Ichiro (2007), to win the All-Star Game MVP award after hitting a 10th-inning home run at Marlins Park in Miami.
4: The Mariners had a four-game winning streak from June 4-6 in which they won 12-4, 9-2, 7-1 and 12-3 over Tampa and Minnesota. That marked the first time since the Mariners moved to Safeco Field in mid-1999 that they won four consecutive games while scoring at least 40 runs.
5: The Mariners committed five errors Aug. 27 in New York and again on Sept. 23 vs. Cleveland. In the Aug. 27 game, all five were in the first inning, most in a frame since the club began tracking such dubiousness in 1984. Segura made three, including two on one play, as New York turned the bobbles into five unearned runs.
6: Seattle's longest winning streak lasted six games (June 18-23) and so did its longest losing streak (Sept. 15-21).
11: Times that the Mariners were shut out in 2017. In 2016, they suffered six blankings.
14, 20: The Mariners scored 14 runs on a season-high 19 hits at Minnesota June 12 and allowed 20 on a franchise-record 28 hits at Minnesota the next day. The 14 they scored were the most in a game in 2017 and the 20 were the most they allowed.
17: Segura produced a 17-game hitting streak from April 30-May 18, longest by a Mariner in 2017.
28: Minnesota's 28 hits June 13 were the most in any MLB game since the Rangers had 29 in a 30-3 win over Baltimore Aug. 22, 2007.
35: In their 35 comeback wins, the Mariners twice overcame five-run deficits. Down 6-1 to Texas April 16, the Mariners rallied for an 8-7 win. Down 5-0 July 16 to the White Sox in Chicago, Seattle won 7-6.
43: Games lost by the Mariners after holding a lead. Not only did the Angels tally seven times in the ninth April 9 to beat the Mariners 10-9, they rallied from a four-run deficit (5-1) Aug. 11 to win 6-5 and came back from another four-run deficit (5-1) Sept. 29 to also win 6-5.
61, 40: The Mariners used a team record 61 players, including a team-record 40 pitchers in 2017. Forty pitchers used tied the MLB record set by the 2014 Texas Rangers.

Ex-M's wreak havoc
Choo's 5 RBIs: Shin-Soo Choo, a Mariner in 2005-06, had five RBIs against the Mariners in an 8-7 Texas win April 16. During the season against Seattle, Choo homered three times, hit .314 and drove in 13 runs.
Ichiro goes yard: Playing for Miami April 19, Ichiro knocked Evan Marshall's first pitch in the ninth for a home run, his first road homer since May 10, 2013.
Smoak joins Tartabull: In Toronto's 7-2 win May 11, Smoak, a Mariner from 2010-14, went 3-for-3 with a homer and drove in four runs. Only one other ex-Mariner had a better batting line against Seattle. On Sept. 20, 1988, Danny Tartabull went 4-for-4 with a grand slam.
3 Ex-M's go deep: In Toronto's 4-2 win over Seattle June 10, Kendrys Morales, Ezequiel Carrera and Smoak all homered.
Happ, not hapless: A day after three ex-Mariners all went deep, J.A. Happ struck out eight Mariners in a 4-0 Toronto romp. Happ pitched for Seattle in 2015.