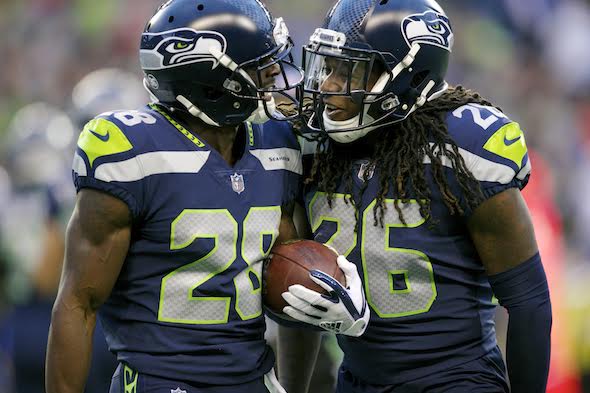 Takeaway
Two defensive touchdowns — a 28-yard interception return by CB Justin Coleman in the second quarter and a 21-yard fumble return by LB Bobby Wagner in the third — helped the Seahawks turn a clumsy affair into a rout of the Indianapolis Colts, 46-18, Sunday night at CenturyLink Field. Trailing 15-10 at halftime, Seattle roared back to square its record at 2-2 with a 22-point third period full of explosive plays.
QB  Russell Wilson ran 23 yards for a score, threw a six-yard TD to TE Luke Willson and a 27-yarder to RB J.D. McKissic, who also tallied on a 30-yard run.
After a Blair Walsh field goal staked Seattle to a 3-0 lead, the Colts recorded a safety when Wilson was sacked in the end zone. As the Seahawks returned to their familiar early sluggishness, the Colts piled up 205 yards of offense in the first half to give the 13-point underdogs the five-point lead.
Seattle owned the rest of the game, overwhelming the Colts 36-3 while amassing 337 yards to 24 for Indy in the second half. The points after intermission set a franchise record and the 46 points were the most by the Seahawks since they beat the Buffalo Bills 50-17 in 2012.
Offense
Wilson completed 21 of 26 for 295 yards for a passer rating of 107.5 — highest of the season. His first two interceptions of the season were deflected off TE Jimmy Graham's clutches.
After Wilson finished the first drive of the third quarter with a 23-yard scramble score, giving Seattle a 16-15 lead, he teamed with WR Doug Baldwin on a two-point conversion. Wilson had been 1-for-8 on two-point attempts in his career.
Inactive for the first three games, McKissic rushed four times for 38 yards and had 27 in receptions. He played Sunday because C.J. Prosise was out with an injury and Thomas Rawls was a healthy inactive. McKissic may have advanced to Seattle's lead back after a ankle injury to RB Chris Carson late in the game that coach Pete Carroll called significant.
Eddie Lacy, inactive for two games, led Seattle with 52 rushing yards, most of which came after rookie Carson (42 yards on 12 carries) went down.
Tyler Lockett led Seattle's receivers with four catches on five targets for 67 yards. Paul Richardson caught three balls on three targets for 65 and Graham four balls on six targets for 61.
The Seahawks finished with 477 yards to 237 for the Colts and outrushed Indianapolis 194 yards to 98.
Defense
Coleman's INT return for a TD was the first for the Seahawks since Bruce Irvin returned a pick 49 yards against St. Louis Dec. 28, 2014.
Wagner's fumble return for a touchdown was the first for the Seahawks since Oct. 30, 2016 when Earl Thomas returned a fumble 34 yards for a TD against the New Orleans Saints.
Thomas led the Seahawks with seven tackles (four solo) while Wagner had six (four solo) and half a sack. DE Marcus Smith recorded 1.5 sacks, including the hit on QB Jacoby Brissett that turned into Wagner's score.
RB Robert Turbin, who played for the Seahawks from 2012-14, tallied the Colts' first TD on a one-yard run in the second quarter.
The Seahawks held Brissett, filling in for the injured Andrew Luck, to 157 yards and a 67.7 passer rating, and RB Frank Gore to 46 yards on 12 carries.
Noteworthy
The Seahawks snapped a two-game losing streak to the Colts and sliced Indy's overall lead in the series to 7-5 . . . The Seahawks improved to 52-28-1 all-time in prime-time games. They are 7-2-1 in Sunday night game under Carroll and 13-1 in prime time games at home since 2010 . . . Under Carroll, Seattle is 20-3-1 in all prime-time contests . . . Wilson has quarterbacked 58 regular-season wins. Record for most in the first six seasons of a player's career is 62 by Joe Flacco of the Ravens . . . DT Cliff Avril left the game with a neck injury in the first half and did not return . . .  LT Rees Odhiambo was struck in the chest during an interception return that didn't keep him from finishing the game. But in the locker room after the game, Odhiambo had difficulty breathing and was taken by emergency medical personnel to a hospital. Carroll described the the move as precautionary.
Next
The Seahawks travel to Los Angeles Sunday (1:05 p.m., CBS) to meet the Rams for the first time this season. The Rams are 3-1 and lead the NFC West after defeating the Cowboys 35-30 Sunday in Dallas.