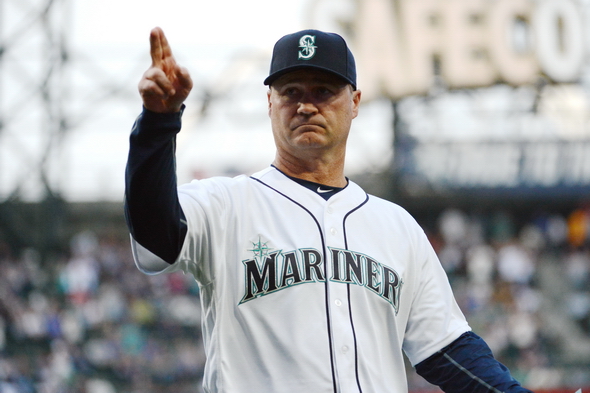 As Mariners fans know, and as the club steadily reminded them throughout the season, the cavalcade of injuries in 2017 was historic in producing roster churn — 61 players used, including an MLB-record-tying 40 pitchers, of which a club-record 17 were starters.
Less known and less recorded was how many times Mariners baserunners were doubled up when they strayed off second base on line drives hit to the left side of the infield.  Those outs weren't injury-related, unless attention-deficit disorder is considered an injury.
The Mariners may have led baseball in an unofficial category that is nevertheless the best acronym in sports: TOOTBLAN (Thrown Out On The Bases Like A Nincompoop).
Injuries can do nothing but heal on their own. Nincompoopery is a voluntary habit that can be broken.
Manager Scott Servais Tuesday declared a search-and-destroy mission for spring training on the Mariners' TOOTBLAN-ery.
"How we play the game fundamentally — the attention to detail — really has to get better, and it starts with me," he said.  "It's the (absence of) fundamentals that drive teams, coaching staffs and fans crazy. I get it.
"You'll see us do things in spring training that you've never seen before. You may see days when we don't take batting practice and (instead) we run the bases. It needs to be stressed how important it is."
How a team of major league players with a payroll of $170 million cannot know that already remains a mystery. But eradication of TOOTBLAN is a priority because Servais's boss, general manager Jerry Dipoto, made unusually clear the depth of the Mariners' competitive travail:
"We have a long way to go to bridge the gap from where we are today to where the Houston Astros are."
The candor was at once commendable, accurate and sad. Servais and Dipoto thought they were taking the Mariners places this spring after an 86-win start to their Mariners careers in 2016. Instead, they regressed to 78 wins while the Astros won 101 and the American League West title. Calling that merely a gap is like saying the moon is a plane ticket away.
Meeting with reporters Tuesday for a post-mortem in Safeco Field's interview room, Dipoto and Servais brought their honesty with them as they assessed the disappointment of adding to MLB's longest playoff drought.
"I dislike sitting here talking instead of continuing to play," Dioto said. "It was s a tough season for us . . .  I feel pretty good about what we've been able to do in putting together a deeper, more expansive roster. I believe we're making progress.
"I don't believe we're nipping at the heels of the Astros. That's going to take some time, and frankly, a little bit of luck."
Presumably he meant good luck, because the well of bad luck surely ran dry this season. Much of the nearly 40-minute session focused on the obvious: Starting pitching. As Mariners fans know, injuries blew out four of the five scheduled starters by late May, forcing Dipoto into a frenzy of transactions nearly unprecedented in MLB history.
"There were issues we could have been out in front of," he said, "as a medical/training staff, coaching staff or as a front office planning staff, putting in place the ability to absorb the innings we lost. That's on me — how to create more depth.
"When this occurs — I don't know if I can say inevitably; this (injury frequency) is something no one else has dealt with — I don't know how many years I can prepare to run 17 starters out there. We have to do better than we did this year. It happened so quickly we didn't even have a chance to watch a younger group at AA and AAA, who all of a sudden were shoved into a big league role."
Dipoto was fairly direct in his assessment of the Mariners' most awkward problem: Finding a way to use a fading Felix Hernandez though the final two years of his contract.
"I don't know how we're going to get him through 33 starts without managing him a little different way than we managed it this year," he said. "Whether that means starting him less frequently, monitoring pitch counts in a different way, whether it's a part of his off-season training and in-season routine . . . we'll do whatever we have to do to make sure he can be in the best position he can be."
At 31 with 2,502 major league innings, Hernandez was twice on the disabled list and pitched only 15 games and 86 innings. He was 6-5 with a 4.36 ERA, his highest since 2006.
Dipoto didn't say directly that Hernandez's arm is wearing out. But the numbers speak for themselves, and there's not much to be done.
"I don't know that he can try to stay healthier," Dipoto said. "Once you know you have these issues, it's a matter of maintenance. It's not something that you can just work harder and make a ligament stronger. You can't lose weight and create more stability in an elbow joint. That's not realistic.
"What we're dealing with is creating enough depth behind him so when he starts, we can find a way to monitor his outing so that he can be out there as frequently as he can be. When he steps aside, we have somebody to step in. We can't place expectations that we're magically going to fix something and he'll throw 180 innings."
Because of Hernandez and injuries to James Paxton, Hisashi Iwakuma and Drew Smyly, as well as a dearth of quality starting pitching throughout the majors, Dipoto talked about adopting a "wolfpack" approach, where the game's 27 outs are attacked as a staff group rather than traditional starter/reliever roles.
"You'll see a different style of pitching-staff set-up," he said. "We have the depth. We have quality pitchers on the staff. There's a real step forward. We just have to figure out how to put it together in a different way.
"This is not singularly pointed toward James or Felix. We are not going to plan to get innings from starting pitchers the way we've done before . . .We are adjusting to what the world looks like now for starting pitching — the 15- to 18-out variety of starter rather than the complete-game starter. We have to wrap our arms around that."
Dipoto wouldn't second-guess himself about entering spring training counting on starters who had some injury histories.
"We had four starters you can largely count on," he said. "Obviously it didn't work out. If I had to do it all over again, I'd probably do the same. How we could have imagined all four going down the way they did . . . I can't say I would change my decision-making, and that's not a cop-out. They were hurt. They did the best they could do. We were not prepared properly (for the abrupt emergency), and that's my fault.
"I can't do anything about the decisions we made on those four players. I can do something about decisions we made on pitchers five through 17."
Dipoto said the roster tumult had some side benefits: The Mariners became younger, particularly with the outfield of Ben Gamel, Mitch Haniger and Guillermo Heredia, and other young position players and pitchers could be tested in the MLB crucible. The roster has become more stable.
"We won't have nearly as much movement; we know where our holes are," he said. "I'll take the darts from time to time over the level of activities we've had. That's how we were able to churn out 2,000 plate appearances for younger players. That's how were were able to (have) almost a third of our innings thrown by pitchers 26 or under."
Presuming the roster's return to relatively normal health, Dipoto has outlined a personnel strategy that he figures can max out the players on hand without resorting to free-agent reaches.
He's also counting on Servais to rid the Mariners of the scourge of nincompoopery.
Not sure who has the more difficult task, but at least they aren't kidding each other.