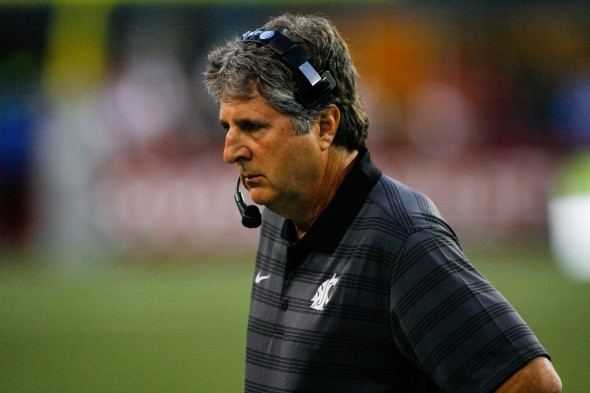 At his weekly presser Monday, Washington State football coach Mike Leach said he was "as surprised as anyone" when he learned early Sunday that athletics director Bill Moos bolted the Cougars to head up the athletic program at the University of Nebraska. Leach also said, in a vague sort of way, that he has no plans to follow Moos to Lincoln.
"My wife told me about it," Leach said of the sudden departure that caught WSU administrators by surprise. "I'm sure some of our players knew about it before I did."
Asked specifically about reports that he might follow Moos to Nebraska, Leach said, "I don't have any plans to do that. Nebraska already has a pretty good coach in Mike Riley."
There is a broad belief that Nebraska, which has floundered in recent seasons, hired Moos specifically to fire Riley, the former head coach at Oregon State, and hit a home run with Riley's replacement — just as Moos did when he brought Leach to Pullman in 2011. Leach brushed off such speculation Monday and focused on praising his former boss.
"He's the best athletic director I've ever met," Leach said, "and he made a huge contribution to this program. He had a great presence, a great spirit, was the ultimate Coug, and had enthusiasm for all things Washington State. He made it particularly appealing for me to come here.
"I haven't talked to him yet. He's getting swarmed (by media), I'm sure, and I got a bunch of Nebraska media hammering me. I wish him the best, and we'll just move forward here.
"Bill Moos is a fantastic guy. I would love to tell you that most college administrators are honest, but that's not true. There are a lot of shady guys. But Bill is honest. He had a vision for Washington State and how to elevate program. But people move around in athletics. People move around all the time. You've got to go on and do your thing. Right now, I'm going to focus on beating Colorado."
The Cougars (6-1, 3-1) saw their undefeated season crash Friday night in Berkeley, where Cal administered a 37-3 beating. It marked the first time WSU had failed to score a TD since a 2012 game against Oregon. The loss sent the Cougars from No. 8 in the Associated Press weekly rankings to No. 15.
"It's the worst game that anybody's played under me," Leach said Monday. "We didn't play good anywhere. "
The Bears sacked QB Luke Falk nine times and intercepted him five times.
"We got what we deserved," Leach said of the beating. "I thought we were mentally tougher than we showed, but we aren't. Our mentality was soft and we've got to play better. I think we're pretty determined to improve. We need to have a great week of practice."
The Cougars host the Buffaloes at 7:45 p.m. Saturday (ESPN).
Cougars name interim athletic director
WSU president Kirk Schulz Monday named John Johnson, the school's senior associate director of athletics, to serve as interim director. Johnson assumes the role Wednesday and will continue until a permanent director is named. Although Johnson has been athletics director at Weber State (Ogden, UT.) and Eastern Washington, he will not be a candidate for the permanent position.