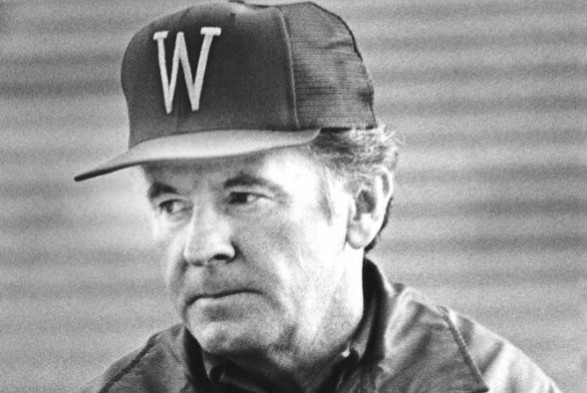 For most of the past three decades, University of Washington athletic officials tried without success to hire the ideal replacement for Don James, who coached football team from 1975-92 and died in 2013 at 80 from pancreatic cancer. They hired nearly half a dozen men but none came close to replicating the program James built, and at least one failed spectacularly.
James led the Huskies to a co-national championship in 1991 after nearly winning the title in 1984 when UW finished No. 2 in the final polls. James won four Rose Bowls in six tries, an Orange Bowl (first by a Pac-12 conference school), four other miscellaneous bowls multiple times, and produced a league-record 98 wins and a career mark of 153-57-2 (.722 winning percentage).
Sixteen of his 18 teams spent time in the Associated Press Top 25, and six of those clubs ended a season ranked among the AP's Top 10.
Three years after coaching his final game, the 1993 Rose Bowl, James entered the College Football Hall of Fame (USC's legendary John McKay had to wait four years before entering that pantheon).
At least one more honor awaits James. Friday afternoon, Washington athletic officials will unveil a statue of the "Dawgfather" in the Northwest Plaza's rose garden outside of Husky Stadium. The public is welcome at the 5 p.m. event, which will literally present James as larger than life.
Funded by players coached by James, as well as by fellow coaches, family and friends, and sculpted by artist Lou Cella, the statue stands eight feet, six inches and weighs nearly 500 pounds. It depicts the former coach in a pose familiar to longtime fans: Arms crossed and wearing his purple cap with the gold W.
James is the second former UW coach, following his predecessor Jim Owens (1957-74), memorialized by a statue outside Husky Stadium (Owens' statue was unveiled in 2003). Neither was the school's first choice for the job when it opened. James lagged in the speculation to replace Owens behind California's Mike White, San Jose State's Darryl Rogers, Howard University's Douglas Porter and Green Bay Packers coach Dan Devine.
Surprising all, athletic director Joe Kearney tapped the 42-year-old James, who had a 25-19-1 record in four years at Kent State following gigs as an assistant at Florida State (1959-65), Michigan (1966-67) and Colorado (1969-70).
Two seasons and four games into his UW tenure, many thought Kearney made a major blunder. James had posted records of 6-5 (1975) and 5-6 (1976) and was 1-3 to open 1977 with a veteran team and senior quarterback. At that moment, James appeared to be another in a long line of coaches unable to produce anything better than .500 teams.
One game – Oct. 8, 1977, at Oregon — changed everything. The Huskies went into Eugene and frolicked, 54-0, behind Warren Moon. Although no one knew it at the time, the James era was on.
Just as James didn't inherit much from Owens, who hadn't had a winning year since 1972 or delivered a bowl team since 1963, current coach Chris Petersen didn't receive a bounty from his predecessor, Sarkisian, another surprise choice because he had never been a coach at any level.
But Sarkisian's four bowl appearances in five years was a big uptick following Tyrone Willingham's 0-12 flatline in 2008.
Petersen's career arc at Washington is remarkably similar to James.
Midway through his fourth year on Montlake, Petersen is 33-15 in 48 games, including bowls. Midway through his fourth season, James was 24-16 in 40 contests. Petersen reached the College Football Playoffs after his third year, losing to No. 1 Alabama in the national semifinals at the Peach Bowl. James won the Rose Bowl following his third season, shocking No. 4 Michigan. That marked Washington's first triumph in Pasadena since 1960.
This is how the coaches stack up after their first three full seasons at Washington (Wins v. ranked = Washington wins over ranked opponents):
| Category | James | Petersen | Skinny |
| --- | --- | --- | --- |
| Years | 1974-77 | 2014-16 | Both played quarterback in college |
| Record | 21-13 | 27-14 | James 10-2 in '77, Petersen 12-2 in '16 |
| Conf. titles | 1 | 1 | Title in 1977 was UW's first since 1963 |
| Bowl games | 1 | 3 | Petersen's: Cactus, Dallas, Peach |
| Bowl wins | 1 | 1 | James '78 Rose, Petersen '15 Dallas |
| Weeks ranked | 2 | 15 | UW ranked every week of 2016 season |
| Highest rank | 13 | 4 | Huskies 4th for 5 weeks in 2016 |
| Wins v. ranked | 2 | 6 | UW already ranked 8 times this year |
No individual had better exposure to the two coaches than Skip Hall, an assistant under James at both Kent State and Washington. Hall also served as head coach at Boise State for six years starting in 1987, and lived in the Idaho capital during most of the time that Petersen worked as the Broncos' head coach (2006-13).
"I got to know Coach Pete and his family, who went to the same church as we did," Hall told Sportspress Northwest in December.
As Hall watched Petersen compile a 92-12 record with five bowl wins at Boise State, he came to recognize the similarities he shared with James. So when the Washington job opened up after Sarkisian bolted for USC following the 2013 season, Hall understood that Petersen was probably as close to a replacement for James as the Huskies were likely to get.
Hall took it upon himself to lobby Washington AD Jennifer Cohen on Petersen's behalf.  She apparently didn't need much convincing, hiring Petersen a couple of days after Hall made his pitch and Cohen conducted her interview.
"There are many similarities with Coach James and Coach Pete," said Hall, "and there are some differences. The similarities are pretty obvious: the organization, the discipline, the hard-work aspect, the integrity, the insistence on doing things the right way, and the passion both have not only for the game, but for their players.
"Coach James was very keyed in on the welfare of the players and what was best for the team, and Coach Pete is the same way. Coach James was a builder of great teams and a builder of men. So is Coach Pete. Coach James used to say that if all you are ever remembered for is football, then you are going to waste most of the years of your life. I think Coach Pete has she same philosophy.
"Coach James had a different personality than Coach Pete, both good in their own way. Coach James coached from a distance in a tower. He wanted to see all the drills and didn't want to miss anything. He'd make notes and then coach the coaches. Coach Pete is a little more hands on, on the field more. But he also delegates to his coaches, which is another similarity."
However Petersen will be judged a quarter of a century after he coaches his last game at Washington, he's off to a start strikingly similar to the one for which a statue will be unveiled Friday.