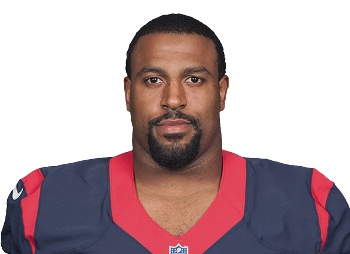 The Seahawks made a surprising attempt to repair an inept offensive line Monday when they acquired three-time Pro Bowl LT Duane Brown, 32, from the Houston Texans in exchange for veteran CB Jeremy Lane and reportedly a fifth-round draft pick in 2018 and a second-rounder in 2019. The deal came on the eve of the NFL's trade deadline Tuesday.
Brown, selected by Houston in the first round of the 2008 NFL draft out of Virginia Tech, and Lane still need to pass team physicals before the swap becomes official.
"He's a heckuva player and he's been a heckuva player for a long time," Seahawks GM John Schneider told reporters about Brown, a 6-foot-4 305-pound native of Richmond, VA., the home area of QB Russell Wilson. "He's an alpha male. He's a leader. He's been through a lot of NFL battles (133 games).
"A lot of (Seahawks) know who he is. It's like you saw with Dwight Freeney coming in last week. It's like 'it's Dwight Freeney!'"
Rees Odhaimbo, a third-round pick out of Boise State has been Seattle's starting left tackle after taking over for George Fant, who had a season-ending knee injury during the preseason.
Brown had been a contract holdout all year, costing him $3.8 million in lost salary, until he returned to the Texans Sunday, when he played 68 of 71 snaps in Houston's 41-38 loss to the Seahawks at CenturyLink Field.
The Seahawks were held to a season-low 33 rushing yards in Sunday's 41-38 win over the Texans. Wilson had 30 of the 33 yards, mostly on scrambles.
Asked about a trade-deadline deal Monday, coach Pete Carroll offered no hints one was imminent, saying,  "You're either competing or you're not."
Asked about the poor running game, tied for 20th with Carolina at 97.6 ypg, Carroll said, "I thought we would be ahead of it (by now) in the running game. We have to make up some ground and have to clean up the leaky activity on the line of scrimmage."
Brown is scheduled to make salaries of $9.4 million in 2017 and $9.75 million in 2018 under his current contract, which will likely get renegotiated, including an extension.
Lane, a sixth-round draft pick in 2012, recently lost his starting job at right corner to rookie Shaquill Griffin. Lane returned to the club Sunday after missing two games with a groin injury, but played only six snaps after sustaining a thigh bruise, according to Carroll
Of Lane, Schneider said, "He accomplished a lot of great things here. We will miss him. He did a great job for us and overcame his injury and everything from (Super Bowl XLIX when he had an ACL tear and broken wrist on the same play). But he had to be part of the deal.''
The Seahawks (5-2), who moved into a tie Sunday with the Los Angeles Rams for first place in the NFC West, host the Washington Redskins Sunday at 1:05 p.m.