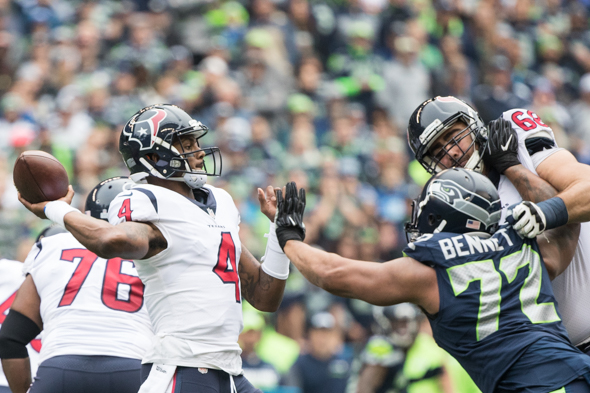 Anyone following the Seahawks' coaching tenure of Pete Carroll knows that he is unafraid to throw talented youngsters immediately into NFL action, QB Russell Wilson being the prime example. In his rookie year of 2012, Carroll started Wilson ahead of free-agent signee Matt Flynn. As you may have read, it worked out.
That pattern is likely to continue. Just not right now. Urgency hangs upon the Seahawks like morning fog in a Seattle fall.
At 5-2 with an aging but still premier defense and no overwhelming adversary in the NFC, the Seahawks are armoring up with crusty Rambo types instead of kids.
The arrival Tuesday of LT Duane Brown, 32, following the previous week's hire of DE Dwight Freeney, 37, signals that surviving boot camp isn't sufficient for mission status. On Sept. 1, a similar move for an accomplished veteran defensive tackle, 26-year-old Sheldon Richardson, meant that the Seahawks temporarily lost their patience for development.
"I think it is really cool," CB Richard Sherman said. "I think it says a lot about what our front office thinks of our team right now, and what they think of us moving forward. I think they think this is our window. They are doing everything they can to put us in position to be successful and make us a championship team.
"Any perceived weaknesses, they are doing their best to shore up. They are doing a phenomenal job."
Carroll picked up on the locker room excitement because Brown and Freeney are old enough to have been admired by Seahawks players growing up.
"I did watch Dwight's immediate impact," he said. "Guys' obvious respect starts the process of the relationships. Both of these guys are really smart, bright, easy-to-deal-with people.  They are team guys.  They are hard workers and they are tough guys.
"That is not the whole reason for doing this. It is just one of the great by-products of it. We are very fortunate."
Where the Seahawks are not fortunate, is in having one of  the inept rushing games in the NFL, particularly Sunday against Houston when the run numbers ended up on the wrong side of the decimal point. It took a franchise-record passing day from Wilson to pull out a three-point win with 20 seconds left.
The desperate Seahawks traded a third-round pick in the 2018 draft and a second in 2019 to the Texans Tuesday to get 10-year-veteran Brown. He ended last week a contract dispute that kept him out of training camp and cost him $3.9 million in game checks, plus all the game conditioning. But Carroll saw enough from Brown Sunday to approve the trade Monday.
"For coming, really, off the couch, he did a great job," he said. "I'm counting on immediate impact, because he was coached in the exact same scheme from (former Seahawks assistant) Alex Gibbs (for six years). It is going to be almost an immediate transition for him. He is a really smart player, and I think he is going to play effectively. He just showed us that he can sit out the whole off-season and come in and play and do well in a game.
"The experience, you can't replace that. You can't do anything about that if you don't have it."
But by design, inexperience is the box in which the Seahawks placed themselves this season. Next to Brown in the line for Sunday's home game against Washington (1 p.m., FOX) is left guard Ethan Pocic, a rookie making his second start. At right tackle is Germain Ifedi, in his second year in the NFL.
Obviously injuries are the primary disrupter, but the Seahawks have for years voluntarily invested in the defense and the quarterback, and went annually to the starter kit for an O-line. The nadir was reached Sunday, when the four rushers not named Wilson carried 17 times for three yards.
"We targeted right and all, but we just missed blocks," said line coach Tom Cable. "Too many negative plays. One aspect is getting better, in terms of (pass) protection, Now we seem to be kind of going backwards in the run-game for, really, two weeks here."
It isn't all the fault of Rees Odhiambo, the backup forced to start when George Fant went down for the season in August. But the Seahawks were set up for him to fail in a critical position, forcing the rare mid-season trade that sacrificed future treasure.
"It's the crucial spot on the offensive line," Cable said. "It's the backside of a right-handed quarterback, and that's no joke. It's a real deal.
"That is what (Brown) has been great at doing. It's great for Russ's confidence, knowing that he's got a guy back there that has been through it all. It will help us coming off the football in the running game as well."
Another veteran on offense is also advancing this Sunday — the Seahawks' most experienced running back, Eddie Lacy, 27.
"Going to see a lot of Eddie this week," Carroll said, apparently meaning that Thomas Rawls won't be co-sharing the job. "I don't feel like we have been in rhythm. I think I have held them back a little bit by spreading it around quite a bit, and trying to figure that out.
"As we zero in here heading into the second half, I'm hoping that we are going to make some real headway."
The headway will have to be initiated by Brown, the fresh, if lined, face.
"It's worked out pretty good for me, I have to say," said Brown, who lost millions but is in line to get a contract extension in Seattle he wouldn't have received in Houston. "I thought I did some great things in my career, and I thought we had some great years there in Houston. But to come here and immediately be a part of a contender and a chance to win, it's worked out amazing. I couldn't ask for anything better."
The kids are alright. But the old guys are in charge for now.