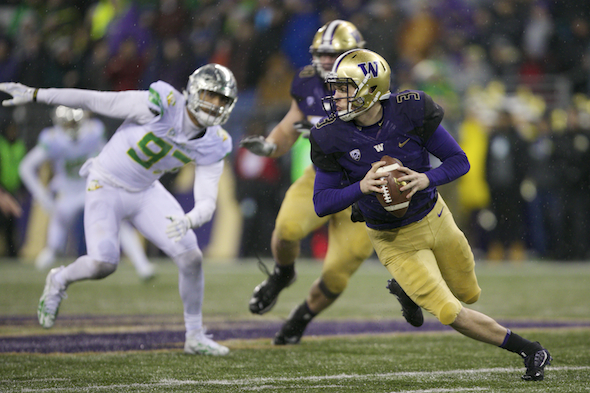 Washington rose three spots to No. 9 and Washington State climbed seven places to No. 19 in the Associated Press college football poll released Sunday. The Huskies (8-1, 5-1), who hammered Oregon 38-3 Saturday night, went even higher in the coaches poll, from No. 11 to No. 8, while the Cougars (8-2, 5-2), a 24-21 winner over Stanford, came in at No. 20.
USC (8-2, 6-1), a 49-35 winner over Arizona, is the only other Pac-12 school ranked in this week's polls. The Trojans are 15th in AP and 14th according to the coaches. The Cardinal fell out of both rankings after losing to the Cougars at Martin Stadium.
Washington received 1,061 points from AP voters, up from 874 last week.
Alabama remained No. 1 in the AP poll with 56 first-place votes and 1,520 points. Georgia, ranked first in the College Football Playoff poll, is No. 2 in AP followed by No. 3 Notre Dame, No. 4 Clemson, No. 5 Oklahoma, No. 6 Wisconsin, No. 7 Miami and No. 8 TCU.
In the coaches poll, USC also improved three places to No. 14. Washington State, unranked last week after falling at Arizona, is at No. 20.
The second edition of the CFP rankings, which determine the four spots in the national playoffs, will be released Tuesday. Washington was No. 12 in that poll last week while Washington State was No. 25.
Washington plays at Stanford Friday at 7:30 p.m. on FS1, while Washington State plays Utah in Salt Lake City at 2:30 p.m. on the Pac-12 Networks.