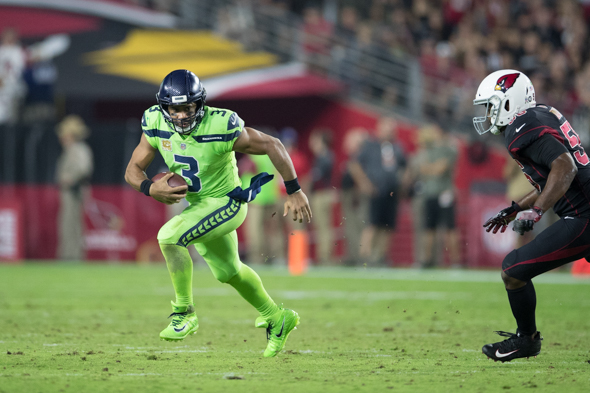 After QB Russell Wilson on national TV went through the sideline tent in likely record time, the NFL said Friday it was reviewing whether the Seahawks quarterback followed the proper concussion protocol after he was hit on the chin and sat out one play in Thursday night's game at Arizona.
The NFL issued this statement Friday: "A thorough review is underway. According to the policy jointed developed by the NFL and NFLPA, if the concussion protocol is not properly followed the club is subject to discipline."
On the third-quarter play, Wilson, after completing a short pass, was hit by Arizona's Karlos Dansby under the face mask and went to ground. After roughing the passer was called, referee Walt Anderson ordered Wilson to the sideline.
As backup Austin Davis came in for a play, Wilson said he was asked questions to test his cognitive ability, then sent into the tent. TV cameras followed him as he came and went without pausing or talking to medical personnel, and he re-entered the game.
"I  got smacked in the jaw pretty good," Wilson said after the game." I wasn't concussed. I felt completely clear. But my jaw was  . . . oh, man, it's stuck.
"I was down for a second, and I think Walt thought I was injured. I told him I was good. But he said I should go off the field. He did a great job. He made the smartest decision, although I was 100 percent fine. We went through the concussion stuff. I answered every question you could imagine."
Meanwhile, the cascade of injuries in Seattle's 22-16 win, including the ruptured Achilles tendon that will cost Richard Sherman the rest of the season, was cited by WR Doug Baldwin in a condemnation of the Thursday night format that severely cuts recovery time from the previous game.
"This (expletive) should be illegal," Baldwin told the Tacoma News Tribune. "It is not OK. It's not OK. You can quote me on that."
Baldwin had five catches for 95 yards in the game, but also had a mild quadriceps strain during pre-game warmups.
Asked if the NFL needed to end Thursday games, coach Pete Carroll said, "I don't want to have to pay anything, so I'm not going to comment about anything."