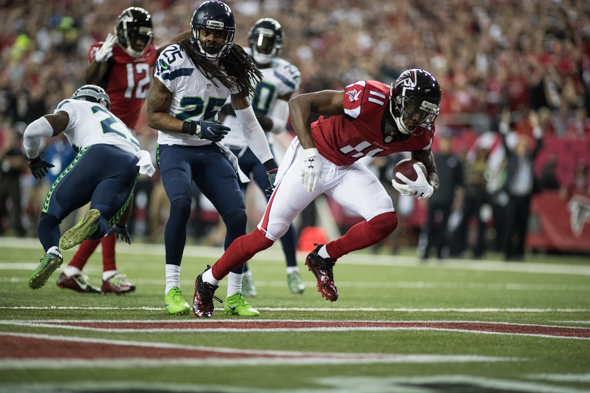 Asked what he expected to see from opponents in the injury absence of CB Richard Sherman, beleaguered Pete Carroll politely sidestepped the question Tuesday, although he certainly could have justified a few elbow smashes and an airplane spin or two upon his interrogators.
"We will have to wait and see," the Seahawks coach said with a tight-lipped smile.  "Let's not go ahead and give them any ideas. If you don't mind."
I suppose he could have said, "Well, without either Sherman or Kam Chancellor, and with Earl Thomas having missed two games, and maybe no Jarran Reed, I expect a blizzard of go routes, numerous seam routes from the tight ends and a bunch of play-action misdirection to take advantage of our absence of experience at various positions, which will give Julio Jones at least 100 yards in receptions, Matt Ryan 300 yards passing and 100 yards rushing for Tevin Coleman.
"Just a guess."
Since he didn't say that, it is left to the rest of us to speculate for him. You're welcome, Pete.
Then again, no one, including Carroll, knows which Seahawks defenders will show up Monday night against the defending NFC champion Falcons.
Carroll does know that Atlanta offensive coordinator Steve Sarkisian, his former protege at USC and the ex-Huskies coach, is capable of unleashing the football equivalent of a Cirque du Soleil aerial act upon his former boss and his former town in front of a national TV audience.
More or less, that's what the Falcons delivered in January, a 36-20 playoff whipping in Atlanta that ended the Seahawks season and could have been worse had not coach Dan Quinn, the ex-Seahawks assistant, eased off.
The deed was done without Sarkisian, in his first year with the Falcons. But he's under much fire already for the Falcons' tepid 5-4 start. So for Monday night, the man does not lack for incentives.
Nor do the Falcons, who appeared to correct themselves Sunday with a 27-7 beatdown of the depleted Cowboys. Desperate to avoid falling further behind the revived Saints (7-2) in the NFC South, Atlanta encounters an even more depleted Seahawks team, who inexplicably is favored by the Las Vegas bookmeisters by three points.
The bookies seem to have forgotten an axiom provided by former Seahawks coach Chuck Knox.
"It's not always who you play," he said. "It's when you play 'em."
If ever there were a good time to play the Carroll-era Seahawks (6-3), it is now.
Besides Sherman on the defense, Reed (hamstring) and Chancellor (neck stinger) are hurting. On offense, the Seahawks lost RB C.J. Prosise (ankles) for what amounts to the season. Perhaps most significantly, LT Duane Brown (ankle), who is so much better than the next best Seahawks O-lineman than even a Seahawks running back could run through the gap, might miss the game.
The upshot is that with a wounded defense and an ineffective run game, the Seahawks appear to need a grand slam, a hat trick of goals, a buzzer-beating jumper as well as the best game of his football life from QB Russell Wilson. Even at his $21 million salary, that might be a reach.
After the high casualty rate of the 22-16 win over Arizona, Carroll sought to soothe the psychic wounds with positive, brave words.
"I made the point (to players) that we survived the game and we had a good break, which is what the Thursday opportunity does," he said.  "There is an upside — these guys had four days off. So they had a bye, in essence, to try and get recovered, and back for the finish of the most challenging season.
"We are surely not belly-aching about it, or griping about it, or any of that kind of stuff."
Indeed, whining should be reserved for when it does the most good — penalties. Oh, wait . . .
Truth is, outside help available at this point in the season is barely even modest. CB Byron Maxwell was brought back, but only after the Dolphins were willing to eat the balance of his $8.5 million contract two weeks ago to be rid of him.
Nor did things work out for Maxwell in Philadelphia, where he was hired by Chip Kelly after the 2014 season for $63 million. Maxwell's chief claim to fame in Philly was that he was part of a trade that allowed the Eagles to move up to draft QB Carson Wentz, who is remaking his team the way Russell Wilson did in 2012 with the Seahawks.
On offense, the Seahawks promoted from the practice squad RB Mike Davis, who offered some promise in the preseason. In his first two seasons with the 49ers after being taken in the fourth round from South Carolina, he traveled 108 yards in 54 carries.
He should fit in.
"It's an amazing opportunity, especially coming from not playing," Davis said Tuesday. "I gotta make the most of it."
So said Maxwell.
"You've always got to prove yourself in this league, no matter what," he said. "You know, Dwight Freeney (another mid-season hire off the couch by the Seahawks), he's out here trying to prove himself that he can still do it. So no matter who you are, you're still trying to prove you can do it."
Injuries have made Seahawks home this season to the try-hards. What they need are do-betters, a steep task in a week.