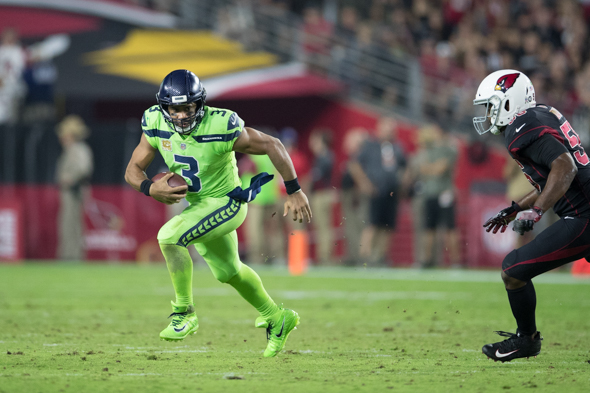 Add another name to the list of Seahawks' walking wounded: Russell Wilson. The Seahawks quarterback disclosed Friday that his jaw was nearly broken in the game at Arizona, forcing him into a liquid diet for a few days until treatment allowed him to get back to chewing solid food.
"I was lucky," he said. "It was pretty close. Doctors were like, 'Man, any harder, we'd probably have to wire your mouth shut.' So that was a good thing that it didn't happen."
That understates it a bit. Having Wilson out or even diminished Monday night at the Clink against the Atlanta Falcons would be doomsday for a team that already won't have CB Richard Sherman and probably not SS Kam Chancellor, who has missed the week of practice seeking medical opinions on a neck stinger from the same game.
Wilson was back to normal Friday. He said he had been wearing what he called a splint for protection.
"Basically, a hard mouth guard," he said, "which would re-set my jaw a little bit and make me feel good again and speak to you guys again.
"I was pretty sore. Tons of ice and treatment and all of that, so I feel good now. The first two-and-a-half, three days, I couldn't really eat anything. I was just doing smoothies and all that kind of stuff. It was very hard to talk. It hurt pretty good."
On the third-quarter play, Wilson was retreating to throw a pass when LB Karlos Dansby hit Wilson's chin under his face mask after the ball was released. Dansby was penalized for roughing the passer, and Wilson rose rubbing his jaw.
Concerned about a possible concussion, referee Walt Anderson ordered Wilson to the sidelines to begin a mandatory protocol. The moment became an object of controversy because Wilson missed only a single play before returning to the field. TV cameras caught Wilson entering and exiting the blue injury tent in about three seconds, deliberately averting the standard protocol.
After the game, the NFL announced it would investigate whether the Seahawks were in violation of the league's concussion policy. Wilson was as elusive about the investigation as he is against a pass rush, because a fine is possible from the NFL against the club.
"The league has to do what they have to do, and obviously, it's really important for player safety," he said. "I was completely fine; my jaw just got busted up pretty good. We're cooperating and doing everything we can to make sure that we do it the right way, That's all.
"Walt did a good job. Everything was fine. We'll talk about that with the league."
The nature of the blow was a career first for Wilson, who until last season had been remarkably free of consequential injury in his NFL career.
"Not to my jaw, no," he said. "I've taken a couple of hits, but like I said, it just kind of re-set my jaw. I had to re-set it again, and I'm good to go. Maybe I'll have to talk out of the side of my mouth for the rest of the year, but I'll be all right."
Wilson also reported that Sherman was back in the locker room two days after having his ruptured Achilles tendon repaired by a surgical specialist in Green Bay.
"It was good," he said of talking with Sherman. "I think he understands that it's part of the game, a part of that that is really, really unfortunate. But the thing about Richard Sherman is that he has no regrets about how he plays. He's given his all for his teammates and for his family and for himself.
"That's what you love about him; that's what you respect, and that's why it's going to be heartbreaking not to have him out there. But I know he'll be fully supportive and be great for us throughout the week and in the game."
Besides the continuing absence of Chancellor, three other starters did not practice Friday: LT Duane Brown (ankle), DT Jarran Reed (hamstring) and LB Michael Wilhoite (calf). All are likely game-time decisions. LG Luke Joeckel remained out, dimming his chances to return a month after arthroscopic knee surgery.