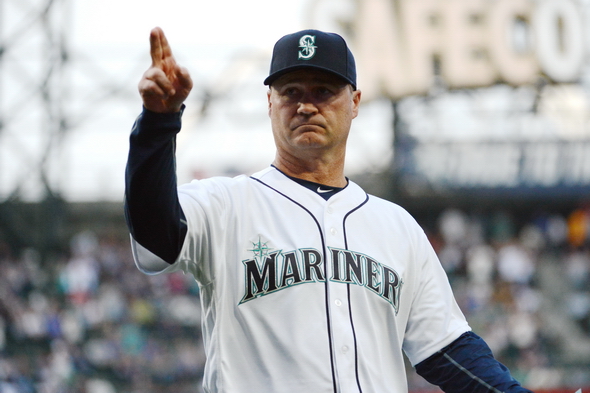 At MLB's annual winter meetings at Disney World in Florida, Mariners manager Scott Servais met with reporters Tuesday to talk about the past season and plans for 2018. A transcript of the lengthy interview is below.
Q. What did you learn last year besides injuries are a pain in the butt?
I learned how to deal with injuries, there was no doubt about that. Using 40 different pitchers was a challenge, and unfortunately, kind of became the story of our season. We just couldn't overcome it.
I thought we did a lot of good things throughout the season to hang in there. I think at one point in August we had one of the wild card spots but weren't able to keep it going through September. So I think you have a chance to reflect as a ballclub and an organization and try and move forward and take that next step.
Q. What do you think about the two acquisitions that you have so far?
Excited, I am. It's a great fit for the ballclub. Ryon Healy, we saw a lot the last year and a half (with Oakland). He swung the bat very well against us. Looking at him playing first base predominantly and getting him comfortable over there and up to speed. But we like the bat, like the upside of the player. He's got power. Continue to focus on controlling the strike zone to get the most out of the power, and what pitches to hit.
Newest acquisition of Dee Gordon is very exciting. We saw the impact that speed and athleticism can have in our outfield last year with (Jarrod) Dyson and (Ben) Gamel and (Mitch) Haniger, and (Guillermo) Heredia. Dee Gordon is a proven major leaguer. He's an All-Star. We're asking him to play new positions. Dee is getting after it. He was already out yesterday taking fly balls, trying to get comfortable. He's going to try to turn himself into a Gold Glove centerfielder.
So excited to have him on the club, not just what he does in the lineup every day, ultimately making the adjustment to centerfield. He brings energy, excitement to our ballclub.
Q. Are you planning on going with Gordon and Jean Segura as 1-2?
Right now we would probably go with Dee Gordon at the top with Segura. We'll see how it plays out as we get into spring training. Our lineup is very deep. I think you start looking at the bottom of the lineup and you got Healy and Haniger and (Mike) Zunino and Gamel, those guys have all put together nice stretches last year. That's what it's going to take. We have a tough division. The American League continues to get tougher, and you have got to have a deep lineup.
Q. How has Gordon responded?
Absolutely we talked about it. We had Jerry doing the deal with the Marlins. The Marlins knew where we were headed about it and gave Dee a little bit of a heads up. I think Dee was surprised, rightly so, but talking with him just a couple hours after the deal, he understood where we're going. He said to me, and I know he said to Jerry as well, 'If this is what makes the ballclub better, then let's get after it. I will turn myself into a quality centerfielder.' That's what he's going to do.
Q. How big of a challenge is that?
A guy that talented that athletic and that fast, you're looking at different things that he's done throughout his career. Going back on pop-up at second base, he's got unbelievable rang. We hope to take advantage of that in the outfield, running balls down. Offensively, just do what he does. He's been very good getting on base. He scored 114 runs last year. If he does that again this year, we'll be in really good shape.
Q. Nelson Cruz gathered a large group of your players down in Miami to work out as a team down there. What do you think of getting all these guys to go down there and work out together?
I think it's fantastic. It's something that in the exit meetings at the end of the year, it's an idea that Nelson had brought up. I thought it was tremendous. Really pushed for him to do that. I really should be done with the players themselves. There's not going to be any club personnel down there, no coaches. Guys just spending some time together in the off-season working out.
Dee Gordon is going to join the group, Ryon Healy will join the group. Any time you can do those things away from the field, it helps with the team building.
Q. Nelson likes to work out in the off-season, I imagine those won't be easy workouts?
Those will not be easy workouts. Nelson, I'm sure, will have his training guru, Ian Glen. Nelson's looking to have a big year. He's had a big year every year he's been with the Mariners. He's just looking to continue to get better, even at (37). Nothing surprises me anymore with Nelson.
I appreciate the leadership and him stepping out and trying to set things like this up, and the other guys jumping on board.
Q. What are your feelings about Felix at this stage of his career, what does he need to do?
First thing is, he needs to stay healthy. It is going to be about his health. He's had an unbelievable career. People in Seattle have been able to enjoy that, but they haven't been able to enjoy watching Felix pitch in playoff games. He knows kind of where he's at in his career. Trying to do some different things training this off-season to be ready. He doesn't have to get ramped up as early as he did last year. There's no WBC this year, which is a good thing for the Mariners.
Everybody knows Felix has maybe taken a step back in the velocity of the fastball. He has not lost his know-how, his field of pitch, his competitiveness is all still there. That's what we need. If Felix can give us 30, 32 starts this year, he'll put up his numbers and we'll be just fine. But I think the expectations — he set the bar very high, he did it to himself — are not quite where they were before. We realize that. He has actually wanting to show people he can still be the King. I would love to see him again.
Q. We talked about this for a couple years now, but does he have to buy into the fact that he's not the dominant pitcher that he was?
I think you saw that at the end of the year. I know had a couple starts in Oakland where he did not have even kind of where his stuff is at now. His stuff was not good that day, but figured out a way to get through six innings. Keep the club in the game, win the game. That's what we are looking for, the innings, the bulk. And only way to do that is you got to be out there. You got to be healthy.
Q. Do you feel like you've had him for two years and you really haven't seen the best of him yet?
No, I haven't. Just looking from afar, before I got the opportunity here in Seattlel. You're looking for that guy to anchor down your rotation, the guy you give the ball to, and we can take a deep breath here. We started to see James Paxton be that guy. I haven't seen it out of Felix yet. It's there. We've seen it for a game here, a game there. But there's nobody more competitive who wants the ball and produce for the Mariners.
So keeping him healthy, getting him off to a good start, maybe change up a few things in spring training on how he kind of revs up for the season.
Q. How good can James Paxton be?
The sky's the limit, really. He really carried us in the rotation, as banged up as we were, we were able to hang in there last year because Paxton was giving us consistent 6, 7 innings every time out. You could kind of give the bullpen a little bit of a breather on those days. It's going to be really important for us to continue to progress.
The confidence level is what really is the difference in Paxton. He is aggressive on the mound. His demeanor on the mound has changed dramatically. Not just on the mound, but also in the clubhouse as a leader. Understanding that not just the day you pitch, but the other four days are important in being a good teammate, and trying to draw the rest of the group in and talking among the pitchers. He's really kind of embraced that role and it's great to see.
So this is the step forward. I know people talked about it for awhile, but you've seen the success, the confidence. Now the health. We got to keep him healthy the whole year.
Q. Some teams are trying a five-and-a-half-man rotation, with all the off-days, to keep guys healthy. You had injury issues. Are you going to try that?
It's something we talk a lot about. I know a lot of the guys are proud, they want to make their 34 starts. But it's about keeping them healthy, keeping it going. You saw what happens when they're not healthy.
To do that you got to have a six-man rotation that you feel comfortable about giving the ball to, and not just run out there and lasting two and a third or three and a third. So you got to have not just the quantity but the quality to do it as well. So it's something I think we can do. We do have a lot of off-days early. So you might not see us break out of camp that way, but at some point during the season we could pull back and put an extra guy in the rotation.
Q. How do you see your rotation beyond Felix, Paxton?
Erasmo Ramirez did a really nice job. Built him up. He was in the bullpen in Tampa, and we got him back. He'll be in that mix to fill out the rotation.
Marco Gonzales, we'll see. We traded for him last year. We saw some glimpses. The struggle with Marco was to get through that lineup the third time. After having a full season away from the Tommy John surgery, probably look to him to add the cutter back into his repertoire, which is going to be really important. It's a pitch that he used a lot before he got hurt. He didn't use it at all last year. So he'll add that back into the mix and most of the lefthanders who throw like he does, they do have the ability to cut the ball in on right-handers. So it's going to be important for him to get the feel of that pitch better.
Q. The bullpen depth is kind of key here the way you talk about using your starters?
It is. You got to have depth, multiple guys that can do more than just inning. I think that's really important. You saw the importance of that. As the game evolves, guys who can throw multiple innings if they're not pitching every day, they can go two or two and a third, are really, really valuable. So we're still working through our bullpen.
I certainly like the back end of it. I think that once we acquired David Phelps last year, I loved our bullpen. Unfortunately, when Phelps went down, it changed things. We put a little bit more workload on the other guys. We came up a little bit short at the end because we weren't quite deep enough. So it's one of the things we're trying to address this off-season.
Q. About Shohei Ohtani being in same division, what was your reaction and how are you going to prepare now you have to face him?
Obviously he's a talented player. We got to spend a little time looking at how he does it. He made a decision he's going to be with the Angels, so we will see him a lot. He's a really talented player. I'm sure we'll have plenty of battles.
Q. Scared to see him?

No, no. Respect. Not scared. Respect.
Q. How do you see him as a pitcher and as a batter?
He's a good player.
Q. Big picture question: How big of a challenge is it (to pitch and hit)?
Oh, it's a challenge. I think the two-way guy, how do you keep him healthy, keep him going on the mound and keep the bat going as well. There's no doubt it's a challenge.
All the teams that talked about possibly bringing him in, I'm sure they all came up with a plan of how to do it. Everybody's going to look at it a bit differently. I do think it will be interesting to see how it plays out. It could open the door for more players. You see it in college — don't see it in pro ball — more guys that have the ability. It will be a testing ground. We'll see if he can do it.
Q. Three years ago at this time we were coming off a season where offense really cratered and a lot of people were talking about how speed was going to become a big part of the game. Instead, we got a bunch of power. Why do you think that happened and just how important is speed in the game today?
I think the people that saw us play last year, saw the value of speed, certainly in our outfield, turning a lot of balls in gaps into outs. So the athleticism, the speed defensively, has been huge.
Where the power's come from in the game, obviously we're going to focus on it. You see guys, I call it hunting their pitch, shrinking the strike zone and trying to drive the ball out of the ballpark, getting the ball in the air more consistently. I think that's the biggest change. Hitters are more aware mechanically of their swings, what they need to do to get the ball in the air and not chase pitches, but sitting on their pitches and trying to pull the ball in the air. The result has been more home runs.
Q. Why do you think that trend happened?
Why do you think?
Q. I get paid to ask the questions.
They get paid to hit it out of the park (laughing). That would be my guess. Obviously guys are getting rewarded. I think there's a record number of guys last year who hit over 20 home runs in the league. They're hunting their pitches. They're not missing it, they're trying to get it in the air, and they're getting rewarded for it.
Q. You guys are probably set up to go to a 13-man pitching staff again. Did you get pretty comfortable having that extra reliever last year?
We have talked a lot internally — 12 or 13 —  you can go back and forth based on kind of your schedule, who you're playing, the match-ups, the off-days, things like that. I think that with how our season played out last year we had to carry 13. We needed an extra guy in the bullpen. Our starters were not getting deep into games and you needed the extra arm.
I would say probably more than half in the American League carried 13 last year. We'll be open to looking at 12, if there's a way that the extra position player can help us at a certain time. But a lot of it will play into the schedule. There are more off-days this year. That will really help the bullpen.
Q. Does that require that your bench be really versatile?
Yes. The guys on the bench have to be a little bit multiple positions. Certainly in a perfect worldm the super utility, that's where the Taylor Motters, the Romines really play into this thing. They can play all over field.
Q. Looks for the most part your position guys are set. Jerry would say that he didn't think that. He didn't think he was going to do anything major?
I like our team a lot, our position player group, our lineup. We are athletic, we have power, we got speed. The backup catcher position is one that will kind of play out as we get through spring training, which is an important spot. I think as much as we like the growth and step forward that Mike Zunino took, he still needs days off. He can't play every day. I thought Carlos Ruiz did a nice job, but probably looking at somebody a little bit younger that we can control and give that guy an opportunity.
Q. Do you feel Zunino turned the corner, where he'll be more consistent?
I do. I always think there's going to be the hot streaks and cold streaks. Obviously the bat has been great. He hit the ball out of the ballpark, got the average up there. But really saw a step forward with his game-calling and game management behind the plate. I think a lot of it had to do with his confidence level. He just felt like he was really contributing offensively.
And to that point, the adjustments we made in our coaching staff, going with three pitching coaches. Jim Brower, assistant pitching coach, is going to work very close with Zunino in the game-calling and game-planning, along with Mel (Stottlemyre) being there.
As we get excited about offense and home runs, we saw it last year, it's about pitching. Certainly getting in the playoffs you got to have the horses on the mound, getting more out of the guys we have.
Q. With Gordon in center, I assume Haniger pretty much every day in right, is Gamel kind of splitting time in left?
Could, yeah. I think that Gamel and Guillermo Heredia, yes, splitting up time. One thing that's great about Guillermo, he can play all three positions — very talented defender.  Guillermo can, and Haniger can, and I got to believe Dee Gordon can. So you really got four guys that could play in center field and all over. So you can mix and match with those guys to keep them fresh.
We are young. I think people don't give us enough credit for the job that we have done in turning over the roster to get young. Look at Cano and Cruz, and seems like Felix has been around forever. Those are our stable guys, but adding Haniger, Gamel, Dee Gordon in his prime, Segura is in his prime. We have gotten a lot younger the last couple years, and we don't get enough credit for it.
Q. Lorena Martin is going to be really involved in player rest. How is that relationship going to work? Does she come to you and say, hey, this guy is really beat up, he needs a day, or how does that work?
Lorena Martin is on board as our director of high performance, overseeing all of our medical, mental skills, nutrition, strength and conditioning. I'm really excited to have her on board. It's a different perspective. She hasn't been around baseball a lot, so she's asking a lot of the questions that we have never really thought about. 'That's the way it's always been done' doesn't make it right. We're trying to get up to speed with other sports. It's a huge step forward for us.
She will be involved in everything — explaining how spring training plays out, the schedule, how to get guys enough rest. As we get going through the season, (learning) the sleep patterns of players. Nutrition is so important for recovery, because it is a grind. People don't give enough credit to how long the season is, and keeping guys healthy and on the field.
We will work very closely together. She will have a say. She's not going to tell me who hits second or third or fourth. But maybe more importantly, staying out ahead of it, being proactive instead of reactive. If you give this guy a day right now, it may help him down the road. Sometimes as a manager you need that perspective, because you can get so locked into today's game, instead of looking at the bigger picture. I think it's going to be a big, big plus for us.
Q. Do you know when Hisashi Iwakuma is going to start throwing again?
Iwakuma is coming along really well. He's kind of ahead of schedule, from what I understand. As far as putting a date on when we could expect him to kind of play into our mix, some people are talking about mid-May. Maybe it's early June. Really, really hoping the best for Kuma and for him to come back. He was so good for us a couple years ago. We really missed him last year, his consistency of going out there and givin six competitive innings.
So I've got my fingers crossed. I really want him back as part of the ballclub. He's a huge asset.
Q. How is Robinson Cano's health?
I think there was more that was not really public. He had that quad issue, had some lower body issues that didn't affect him so much in the batter's box. Probably saw it more defensively and on the bases, just wasn't moving as well as he did the year before.
But Robby's going to play. He understands that he's a big part of our team and certainly our offense every day. But you probably saw it affect him more laterally defensively, something we talked about at the end of the year. Coming into spring training healthy after a full off-season working out, and again no WBC this year, he will have a little bit more rest and be geared up for Opening Day. But it did bother him. He played through a lot of stuff last year.
Q. He admitted that it took him out of his routine in the spring because he would start hitting in the off-season. It really kind of affected his strength right away.
These guys know how to get ready for a season, But sometimes as you get older, you have to do a little bit more. When your routine gets thrown out of whack, it can affect you. But Robby's going to have a big year for us, there is no doubt. Looking for him to get down to visit those guys in the Dominican in January again.
Last year I was up to see Nellie, closer to where he lives. On this trip down, I'll see Robby and get the guys together down there. I'm looking forward to that.
Q. With all the information that's available in the game today, do you think today's player actually understands the game better than they did a generation ago, or are they just using different terminology in explaining the same things?
They certainly understand the numbers better. Having played in the league for a long time, the game has evolved. It's going to continue to change, and players are more aware of it because they have access to it. Everything that's on the internet, fans are more aware of it. Certainly their agents are more aware of it. Front offices are making decisions looking at the numbers. So the players are more aware of it. Do they know the game better, do they execute better? I think it depends who you're talking to there.
As far as their awareness of what it means to have more productive at-bats, the value of getting on base, the value of scoring runs, they do have a more awareness there. Certainly on the defensive metric, to hear guys talking about the range factor. Their base-running gets scrutinized. Our team did quite a bit on that last year. It's an area that we have to address this year.
Q. Kyle Seager's numbers for a lot of third basemen would probably be good, but he probably feels like a down year. Do you feel he's motivated?
Yes, Kyle Seager is very motivated to get back to where he was. I think he was a little disappointed kind of the end of year. Typically always gets off to slow start, but then we have always seen him carry the team for about a month. You look at the end of the day and it catches up and it all works out. Last year he really didn't have that extended hot streak. That was the one difference that we saw.
We talked to Kyle a lot this off-season. He is determined to get back on top of his game. Because he did he have a good year. It wasn't a typical Kyle Seager year, and we all want to see it back.
Q. How do you combat slow starts? Guys who are traditionally slow starters,  they try everything in the world to fix it.

Sometimes it just becomes mental. You kind of get to: That's who I am. Kyle will talk about it all the time: "I'm a slow starter. That's just the way it goes." In talking with him, I really wish he didn't talk about that. Let's change that. This is going to be different this year. I'm going to approach it a little bit differently
I don't know. Maybe I'll just put it on the Opening Day lineup card that it's June 1st and see how he reacts to that. Maybe that will help.