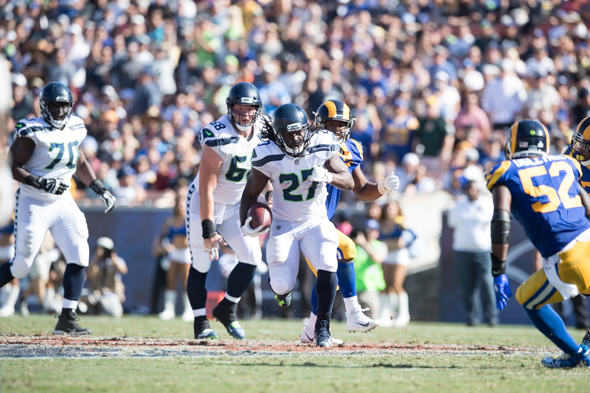 The first time they played the Los Angeles Rams, the Seahawks generated five turnovers.
"You get five turnovers, you're supposed to win the game," coach Pete Carroll said afterward. They won, 16-10, but only because Rams rookie WR Cooper Kupp, the former Eastern Washington star, dropped the potential game-winning touchdown pass in the end zone with five seconds left.
On that October afternoon in the Coliseum, the Seahawks had intact the Legion of Boom and LBs Bobby Wagner and K.J. Wright. Sunday at the Clink, the Seahawks defense could more closely resemble guys on the loading dock at an Amazon fulfillment center.
Availability of Wright (concussion) and Wagner (hamstring), both injured Sunday in Jacksonville, remained unknown Wednesday, according to Carroll. But the team already moved up a linebacker, third-year LB Paul Dawson, from the practice squad, just in case.
The highest drama in December for the Seahawks is whether they will run out of season before they run out of defenders. They gave up 31 points Sunday to the Jaguars, not once sacking the enormously average QB Blake Bortles. Now they face the Rams, who are averaging 31.5 points, second in the NFL.
Given the stakes Sunday — virtual ownership of NFC West —  it's time to turn over the outcome to the offense.
The reason may be as much due to Duane Brown as Russell Wilson.
Seattle's mid-season acquisition of the left tackle in a trade with Houston is probably the transaction of the year, give the dubious returns in free agency (LG Luke Joeckel, RB Eddie Lacy, PK Blair Walsh) and the top of the draft (DE Malik McDowell, a no-show knucklehead whose arrest video posted Wednesday by TMZ brought further embarrassment to him and the franchise).
Brown and Joeckel, along with C Justin Britt, give the Seahawks three-fifths of an experienced line, leaving rookie RG Ethan Pocic and second-year RT Germain Ifedi to get out of the way of their own training wheels.
At 32 and a 10-year vet, all with the Texans, Brown is the biggest difference in an O-line that managed 62 yards in 25 carries against the Rams.
The Seahawks Sunday ran for 141 yards on 24 carries, a 5.9 average, and permitted only two sacks for minus-11 yards, against the No. 1-ranked defense in points and yards allowed, and sacks. Whether the production was a breakthrough remains to be seen, but at least the line has emerged from perpetual mockery.
"I've played every team in the league, and I'm extremely knowledgeable about different defenses," said Brown Wednesday before practice. "I've been in a similar (zone-blocking) scheme early in my time in Houston and know what to expect.
"Guys ask me things, so I try to bring a little expertise into the room."
So much for the value of training camp and exhibition season.
"It's really amazing that he's been able to do that," Carroll said. "Other than having to deal with (a sprained) ankle, he hasn't missed a step, as far as playing from start to finish, and doing everything. It's really impressive."
The idea of actually having a rushing game that would force the ravenous Rams defense to account for it is the edge for which Carroll has yearned.
"They're much more consistent than we had been," he said of the line. "There's fewer mistakes, fewer air balls where (defenders) penetrate and get in the backfield.
"Duane is playing great football; he is really unbelievably solid for us. We haven't had anybody play like that solid for these games that he's been with us."
Added offensive coordinator Darrell Bevell: "They're starting to feel it. Luke's back (from mid-season knee surgery)  and he's starting to feel it. It's definitely a better offensive line than when we played them."
Of course, Seahawks coaches earlier have dropped similar hopeful descriptions about turning the corner in rushing, without realizing they were in a round room. But this time, it might be true: The Rams' rush defense is 28th in the NFL at 124.1 yards a game.
Brown seems a little amazed himself at the turn of events, given his abrupt arrival in Seattle Oct. 31 after his Texans lost at the Clink 41-38 two days earlier.
"It was different," he said. "Coming here, especially after playing against them, learning everybody, learning the locker room, learning scheme and terminology, getting acclimated to the city, living in a hotel for a week or so.
"It was all different, but I couldn't ask for a better transition."
Although he could ask for better weather.
"When we played here, it was 70; I got here on a Tuesday, and Thursday it snowed," he said. "That threw me for a loop. Otherwise, it's been great.
"I didn't know much about the city. There's lots to do, and the landscape and people are so different."
He also proved a quick learner regarding Seattle's largest irritant, dealing with it by landing an apartment in Renton.
"I wanted to be close by," he said. "Houston has traffic, but it's known for that. I didn't know the traffic was this bad out here. Wasn't expecting that."
That makes Seattle even with him. The city's sports fans weren't expecting a competent O-line.