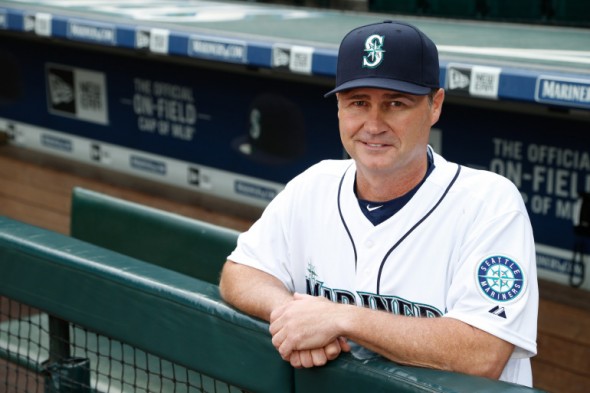 If you show up to the Sports Salon with Scott Servais Jan. 23 at the World Trade Center Seattle, the Mariners manager promises to forego asking you to pitch for his club. He pretty much did that with most of the town a year ago, and is wary of repeating the experience.
Beset by injuries, the Mariners went through 40 pitchers, tying a single-season major league record.
"It's something I do not wish on anybody," Servais said. "But we hung in there."
That was then, and Servais is happy to talk about the now, the 2018 season. The Mariners have a flashy new centerfielder, Dee Gordon, a new first baseman, Ryon Healy, and a plan to work in a sixth starting pitcher to spread the workload and help avoid injuries.
With Mariners FanFest on a one-year hiatus to give the new sod at Safeco Field more time to grow, the Sports Salon is your chance to get a pre-spring training fix with the third-year manager.
Feel free to ask Servais about Felix Hernandez, Robinson Cano, James Paxton and the coming of age of outfielders Mitch Haniger and Ben Gamel, and how Mike Zunino found his batting stroke.
Don't be bashful to ask if he thinks MLB's baseballs have been juiced, explaining the huge uptick in home runs. He's also happy to talk about the newest Mariner in the newest job — Lorena Martin, director of high performance. It's the rage in ball.
If you have yet to attend a Sports Salon, the fourth-floor restaurant opposite Anthony's Pier 66 is an intimate little gem on the Seattle waterfront.
The event starts at 5 p.m. with a happy hour of premium appetizers and networking. Servais joins me at 6 p.m. for a round of questions before the floor is turned over to the audience for a rare chance to gain insight from the inside in a relaxed setting — with adult beverages.
Tickets for WTC non-members are $30 through Friday, and $35 thereafter, available at  Brown Paper Tickets here.
Brought to you by Sportspress Northwest and the World Trade Center Seattle