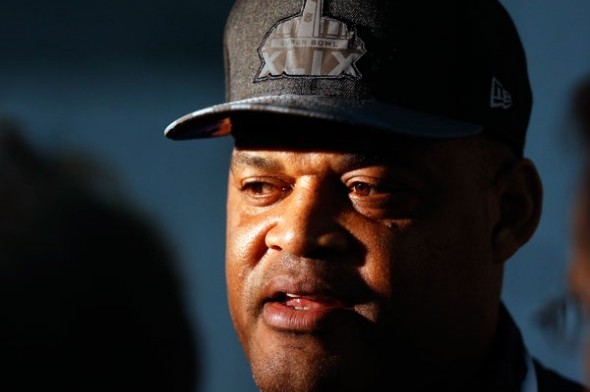 The Seahawks are going back to the future with the return of Ken Norton Jr. as defensive coordinator, according to reports Monday from the NFL's website. But there is still no word on the fate of Kris Richard, the DC for the past three seasons.
The San Francisco 49ers confirmed the Norton hire because they hired him last week as assistant head coach/inside linebackers. But coach Kyle Shanahan agreed to release him because the Seattle job was a promotion.
"Last week, Ken was presented with an opportunity to once again coordinate a defense,"  Shanahan said in a statement from the club. "Because of how we feel about Ken as a coach, we understand and respect his desire to pursue the position."
From 2010-14, Norton was the Seahawks' linebackers coach before taking the DC job with the Oakland Raiders after Richard was chosen to succeed Dan Quinn in Seattle. Quinn has had big success as the head coach of the Atlanta Falcons.
After a 7-9 season in 2015, the Raiders in 2016 improved to 12-4 and returned to the playoffs. But in the third season under coach Jack Del Rio, the Raiders slumped to 6-10. Del Rio was fired and replaced by Jon Gruden, who signed a 10-year, $100 million deal amid great NFL fanfare. Gruden two days ago hired Tom Cable, former Raiders head coach who was fired after seven seasons in Seattle as offensive line coach.
Norton, 51, was fired Nov. 21 by Del Rio. At the time, the Raiders ranked 26th in total defense at 367 yards per game, without an interception, and were last in the NFL in sacks with 14.
As a linebacker in his playing days, Norton, son of heavyweight boxing great Ken Norton Sr., is the only player in NFL history to have won three Super Bowls in a row, in Dallas in 1992-93 and in San Francisco in 1994.
Norton began his coaching career under Pete Carroll in 2004 as an assistant at USC. He moved to Seattle with Carroll in 2010.
Richard, another USC protege of Carroll's, reportedly interviewed for the head coaching vacancy in Indianapolis, which reportedly will be filled by Patriots coordinator Josh McDaniels. Carroll was hoping that Richard would land elsewhere to avoid a firing.
Wracked by injuries, the Seahawks defense fell to 11th last season after being ranked in the top five from 2012 to 2016. In 2016 against Atlanta, Richard had a televised sideline argument with CB Richard Sherman over a defensive call that led to a touchdown. Teammates stepped between coach and player, and both parties later dismissed any lingering consequences.
Saturday the Seahawks hired Brian Schottenheimer from the Indianapolis Colts, where he was quarterbacks coach, to replace the fired Darrell Bevell. Schottenheimer has been an NFL OC for nine seasons, including stints with the New York Jets and Los Angeles Rams.
Mike Solari returning to Seahawks to replace Cable
Mike Solari, a longtime NFL assistant who was with the Seahawks under Mike Holmgren and Jim Mora, will replace Cable as O-line coach, the NFL website reported Monday.
Solari, who turns 63 Tuesday, spent the the past two seasons with the Giants in New York, where head coach Ben McAdoo was fired. Before that, he was in Green Bay for a year. From 2010-14, he was with the San Francisco 49ers, whose head coach then, Jim Harbaugh, coaxed him away from Seattle, where Carroll wanted to keep him, Quinn and Gus Bradley as holdovers from Mora's staff.
Solari was the O-line coach when the 49ers reached three consecutive NFC championship games with a ground-oriented attack that featured zone blocking, the approach favored by Cable.