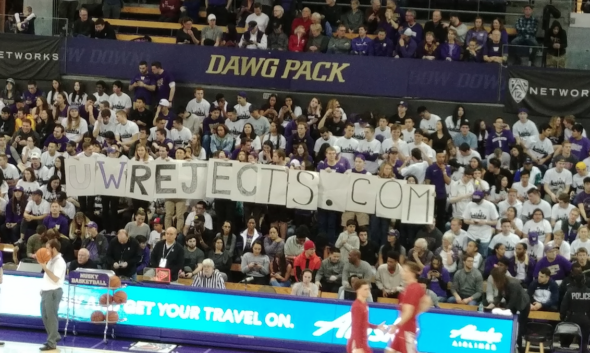 Since the Huskies in November already astounded Earth and the nearby planets by beating Kansas (fifth-ranked this week at 16-3), they can say they've already had their seasonal breakthrough moment, even if it was more freakish than a lullaby from Bobby Knight.
What happened Sunday at Hec Ed was a little more subtle. The opponent, Washington State, is one of the conference's two worst teams, so the drama was lessened. But the outcome was more significant: Routing the Cougars 80-62 for a seasonal sweep, Washington played its most complete game in front of an amped sellout to rise to 15-6, 5-3 in Pac-12 play.
"When I was coming here, that's what I dreamed it would would like," said coach Mike Hopkins, unafraid to acknowledge what his players were accomplishing was a thrill for him, in his first year after coming from a place far away and much higher up than the UW program he inherited. "I was happy we gave them something."
The rivalry aspect was far less the satisfaction Sunday than the Huskies doing two things well to an unusual degree: They held the nation's most maniacal three-point shootists (11.9 makes a game) to six of 24, including two garbage-time scores. And the Huskies, who entered the game the worst in the Pac-12 from behind the arc, were 11 of 25.
Which feat is more gratifying?
"It's a combination of both," Hopkins said. "We took away their confidence . . . and we made the extra pass.
"And we get a crowd (10,000) like this tonight."
Throughout the season, the Huskies' startling progress has been slowed by a frequent inability to play well on both ends at the same time.
On defense, they adapted quickly to the famed 2-3 zone Hopkins brought with him from Syracuse, but would lapse in critical moments, particularly when allowing second shots to bigger teams.
The offense would spark and stall, settling for the straight-up jumper instead of finding the open man with a second, third or fourth pass.
Few of the flaws were visible Sunday.
The offense played whip-around for 20 assists on its 30 field goals. Matisse Thybulle was the prime perpetrator and recipient, scoring 18 points and dishing six assists, also swiping three balls and blocking a shot.
And the spidery defense held WSU nearly scoreless in the final five minutes of the first half, using an 18-2 run to produce a 45-30 halftime lead.
It was a two-sided efficiency that Hopkins called "a thing of beauty," and he wasn't exaggerating. It is so far from the grimness of a year ago, 13 consecutive losses for a 9-22 finish and the firing of coach Lorenzo Romar, that even the holdover players, trained from the crib to be optimistic, struggle to grasp.
Asked if he would have believed this turnaround could have happened — third place in the conference — Noah Dickerson (13 points, six rebounds) was blunt: No.
"One hundred percent,''  he said. "Coming back with a new coach — statistically speaking, it says new coaches don't win, and there's kind of a little grace period. But we came out, we figured out what we needed to do, and we did it."
Hopkins offered special mention of David Crisp, a shooting guard a year ago converted to the point to make room for freshman prodigy Jaylen Nowell (14 points, nine rebounds). Hopkins even called Crisp the Tom Brady of the Huskies.
"He's the extension I need as a coach, the voice,'' Hopkins said. "He sacrificed a lot. He's a scoring guard who's playing a completely different role. He's finding guys, he's pushing it, he's poised, he's playing great defense. He's playing to win."
With under eight minutes left, Crisp, atop the key, demonstrated his capacity for distribution when he saw teammate Nahziah Carter break free along the baseline and looped a perfect alley-oop pass next to the rim, which Carter theatrically flushed with both hands. Much howling and barking commenced.
The moment evoked the glory days 10 years earlier under Romar, with future NBA stars Nate Robinson, Brandon Roy and a swagger believed long gone from the premises. Thybulle, from Bellevue's Eastside Catholic, remembers the hothouse feel, then and now.
"I've got to say the most gratifying part was to see all the fans coming back,'' he said. "It's been a couple of years — more than a couple of years — since we've had sellout games and consistently a high turnout.
"I think if we can keep having that, our season will keep getting stronger."
More formidable opposition shows up this week — 21st-ranked Arizona State at 8 p.m. Thursday and 11th-ranked Arizona at 7:30 p.m.Saturday  —  to test Thybulle's contention.
But if the Huskies have finally crossed off the final item on their seasonal to-do list — fercripessakes, shooting the ball is the most basic joy of the game — it's within reason to suggest that the nearby planets remain alert for another startling message from the hoops people of Earth.