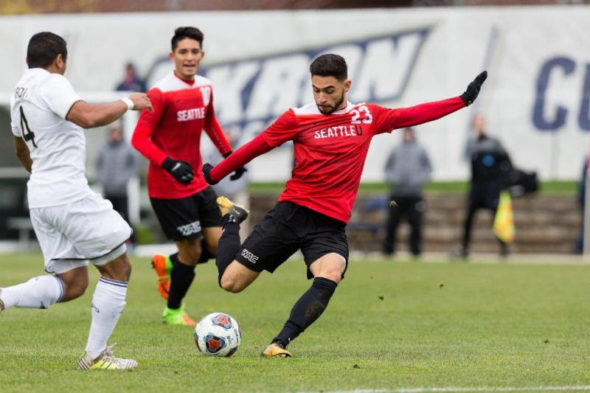 The Sounders Tuesday signed midfielder Alex Roldan and defender Jordan McCrary to the club's first-team roster. The Sounders selected Roldan, younger brother of midfielder Cristian Roldan, with the 22nd overall pick in the 2018 MLS SuperDraft out of Seattle University, while McCrary joins the club following a successful preseason trial after playing the 2017 season with Toronto FC II.
"We are proud to welcome the next Roldan into the Sounders family," said GM Garth Lagerwey in a club statement. "We were excited to draft Alex last month and, like his brother, we anticipate him being a positive addition to our club. Jordan has shown well during his trial with us throughout the preseason and we believe gives us some quality depth at the fullback position."
Roldan, 21, started all 82 games over his four years at Seattle U., finishing his career with 18 goals and 17 assists. In 2017, he scored six goals and led the Redhawks with eight assists, including assisting on the game-winning overtime goal at the University of Washington in the NCAA Tournament. In 2016, he led his team with eight goals, including six gam- winners, in addition to three assists.
"Both Alex and Jordan have done everything we've asked of them so far, so we're happy to reward them for their hard work during preseason training," said sporting director Chris Henderson. "With Alex, we're adding a very solid player who can follow in his brother's footsteps on the path to being a good pro. Adding Jordan to our roster gives us a promising young player, as well as a dynamic option to compete at the right back position."
McCrary, 24, started 19 of 27 appearances with Toronto last year. He was the 10th overall selection in the 2016 MLS SuperDraft by the New England Revolution.
Tuesday's signings bring to 25 the number of players on the first-team roster. The Sounders play at Sacramento Republic FC Thursday in a friendly. The regular season gets underway Feb. 22 with the CONCACAF Champions League, ahead of the MLS opener March 4 at the Clink opposite expansion Los Angeles FC.
Sounders move radio broadcasts to 950 KJR from KIRO-FM
In a local broadcast surprise, the Sounders are switching their radio flagship to 950 KJR-AM sports radio, leaving KIRO-FM. Announced Tuesday morning on air, the move means getting major air time on a station that has been devoted to Seahawks, Mariners and Huskies talk, with little attention devoted to the Sounders, whose followers generally have little expectations for a foothold on U.S. sports stations.
"It's a little bit emotional. I was born and raised in Seattle," majority owner Adrian Hanauer said during a KJR interview. "I've been listening to KJR for probably longer than a lot of people in this studio have been alive, back to the Top 40 days — having spent so much time listening to KJR, whether it was the Sonics, or just sports radio along the way.
"Great things happening around the league. We feel like there's a lot of wind at our backs. It's a great time to be in soccer, so we're absolutely thrilled to be partnering with KJR."
KIRO-FM is owned by Bonneville, which also owns sister station 710 ESPN, the flagship station for the Seahawks and Mariners. The company has carried Sounders broadcast since the 2009 expansion year.
"We're incredibly excited and proud to open this new chapter of Sounders FC radio broadcasting with iHeartMedia," said Sounders COO Bart Wiley, referring to KJR's ownership network. "KJR is a Seattle sports institution, and our new partner brings a second-to-none production quality and institutional knowledge of broadcasting to our club.
"We believe this partnership provides the best platform for elevating the thorough, insightful coverage of Sounders FC that our fans deserve."
All games, including a 30-minute pre-game and 30-minute post-game show will be aired. Former KJR producer Matt Johnson will keep his play-by-play role, alongside a number of soccer analysts, including former players Wade Webber and Danny Jackson, in addition to Seattle University coach Pete Fewing.
Additionally, the station is set to carry an hour-long Sounders FC weekly show, scheduled to air at at 7 p.m. Tuesday.
"We couldn't be more excited to partner with the most successful MLS franchise," said Robert Dove, president of iHeartMedia's Northwest region. "We are very much looking forward to showcasing the Sounders product and connecting with their powerful and passionate fans."