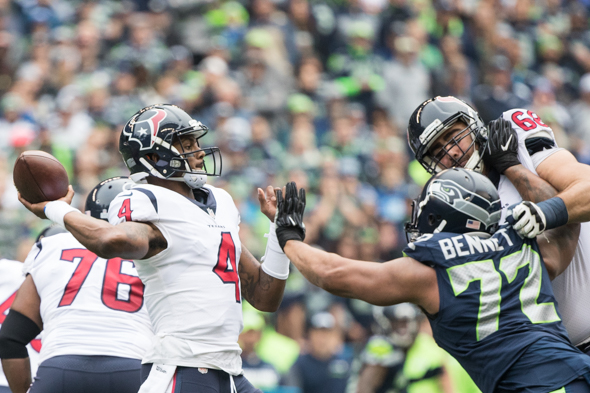 From a standpoint of spectacle last season, the Seahawks' 41-38 win Oct. 29 over the Houston Texans at the Clink was all Bourbon Street, Vegas strip and South Beach — don't dare blink, or you'll miss something outlandish, voluptuous or ridiculous.
That day, Russell Wilson threw four touchdown passes, part of a career-high 452 yards on 26 completions, and took just 1:18 to cover 80 yards with three passes for the game-winning touchdown.
Yet an argument could be made that he was the second-best player on the field that day.
In the NFL's most difficult road house and playing in his seventh NFL regular-season game, Texans rookie QB Deshaun Watson also threw four touchdown passes, part of 402 yards on 19 completions in 30 attempts, and out-rushed Wilson 64 yards to 30.
The game became more significant in hindsight on a couple of levels: It was the last one Watson played, because he tore an ACL in practice the next week and was done for the season, so his greatness is harder to recall. And the Seahawks defense was unraveling well before the 42-7 debacle defeat to the Rams in December.
Watson rolled out this marvel (the Texans had 509 yards of total offense and 25 first downs that made for scoring drives of 75, 82, 84, 63, 71 and 75 yards), against a defense that still had CB Richard Sherman and safeties Earl Thomas and Kam Chancellor, missing only DE Cliff Avril from the regulars. Marring Watson's stats were three interceptions, one a desperation throw on his final pass. Wilson also had a pick and went against a Texans defense missing DE J.J. Watt, DT Whitney Mercilus and LB Brian Cushing.
Seahawks coach Pete Carroll offered this trenchant post-game summary:
"They were swashbuckling out there, man. It was something."
Here is what I wrote after the game:
Wilson's play stood further in relief because of how it compared to Watson, the rookie who helped shred a prideful defense for 509 yards much in the way Wilson has done it to the NFL for six years — throwing deep well, extending plays with rollouts and gaining first downs with aggravating scrambles at the most critical times.
Seven games into his pro career, he's already Wilson — minus just a handful of mistakes likely to be cured with experience.
"I know how other teams feel now," said CB Richard Sherman of the comparison. "We definitely know how other teams feel. He was poised. He's back there like (Green Bay's Aaron Rodgers), ducked from one, stepped back from another, spins off another one, and hits the open guy.
"Has there ever been a rookie who's done that? It would be hard to find."
Not sure how to answer Sherman's question, but I have another question for Seahawks fans: If there's another QB of Watson's caliber and style when the Seahawks pick 18th in the first round of the draft next week, should they take him?
Think about it, because Lamar Jackson may be waiting.
The 2016 Heisman Trophy winner (youngest recipient ever) from the University of Louisville is generally forecasted to be the fifth-best QB in a draft heavy at the top with premier passers. Jackson and Watson are comparable in size (about 6-3, 215), speed and explosive play capability via arms or legs.
To cite one comparative analysis, ESPN.com's Todd McShay scored all the QBs taken in the first round of the past 10 drafts, and included the scouting reports for the top five in the 2018 class — Jackson, USC's Sam Darnold, UCLA's Josh Rosen, Wyoming's Josh Allen and 2017 Heisman winner Baker Mayfield of Oklahoma.
Andrew Luck was tops with a score of 99, E.J. Manuel last with 76. Watson's grade a year ago was 88, Jackson's right now is 84. Darnold is 94, Rosen and Allen 91 and Mayfield at 90.
Here's what McShay wrote about Watson ahead of his draft, taken 12th overall and the third QB chosen:
As a prospect: "Watson's ability to transition to a pro-style offense will ultimately dictate whether or not he succeeds in the NFL. A proven winner, there's no denying he has the physical tools and rare intangibles to develop into a franchise quarterback."
In the NFL: "Watson was tremendous in his rookie season (19 TDs and 8 INTs) before tearing his ACL. He made some rookie mistakes, but his athleticism and playmaking ability were undeniable. Hopefully, he comes back healthy this season."
Here's what McShay wrote about Jackson:
As a prospect: "Jackson is a very difficult evaluation, as no player in college football the last two years has been more explosive with the ball in his hands. But he needs a lot of refinement as a passer — specifically when it comes to his inconsistencies with progression reads, anticipation and ball placement. There's also legitimate concern about his potential durability given his slight frame (6-2, 216) and inevitable high volume of carries in the NFL. Simply put; he's too dynamic not to find ways to get the ball in his hands, but he might not be refined enough as a passer right now to hand him the keys to an NFL offense as a rookie."
Other scouting opinions also are skeptical about Jackson's accuracy, but some also analogize him to Michael Vick, who despite a career completion percentage of 56 — as well as his crimes against canines — played 13 seasons and made four Pro Bowls while causing defensive coordinators to weep frequently.
Regarding the Seahawks, yes, they have a starting QB. But they don't have a quality backup, nor do they have a QB plan beyond the 2019 season, which is when Wilson's contract is up.
The skyrocketing market for premium veteran quarterbacks is going to be a salary cap-management problem for every team with a quality player who is no longer on his rookie contract (five years for first-rounders).
The win over Houston was an apt demonstration of Wilson's wonders, including his 23rd come-from-behind win. The notion of moving on from Wilson has zero to do with his ability and everything to do with the Seahawks' ability to stay competitive while paying one player north of $30 million annually in 2020, either via contract extension or the franchise tag.
Wilson's cap number this season is nearly $24 million, part of why the Seahawks spent a lot of their modest free agent resources at the remainders table. He's worth every penny, but is that sufficient to risk being a middling team again while potentially getting less for him in the future if an extension isn't doable?
Perhaps I was blinded by Watson's game. Maybe I'm over-valuing Jackson's NFL p0tential.  And lots of studious NFL talent gurus turn out wrong when it comes to quarterbacks.
But I do trust Sherman's ability to evaluate QB talent. And if it's fair to say Watson is the new Wilson, can the Seahawks risk ignoring the chance that Jackson, especially with a season as a backup, is the new Watson?