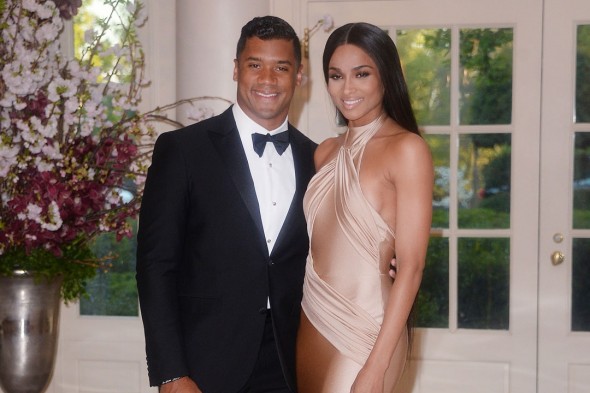 Apparently having clanked a dunk off the back rim trying to help bring NBA back to Seattle, Russell Wilson is stepping up to bat for Portland to help bring Major League Baseball to the Rose City. Yes, he's keeping his day job too.
The news Friday that the Seahawks quarterback and his wife, Ciara, are investors in the Portland Diamond Project came as a small surprise because no word had leaked about his interest. But in the big picture, Wilson always has had aspirations to mogul-hood.
He wants to turn his sports celebrity and his wife's music celebrity into some kind of post-football empire. What that will look like isn't clear yet, but he has time. At 29, he's said he'd like to play 10 to 15 more years, which would seem to coincide with the likely timeline of getting Portland a ball club.
"We believe Portland is the next great Major League Baseball city, and that's why Ciara and I are excited to announce we are a part of the Portland Diamond Project," Wilson said in a release by the PDP management group that is leading the pursuit. "It is time for MLB in Portland."
A retired executive from Nike, Craig Cheek, is leading the group and cheered the arrival of a brand name for the project, even if the play is more hood ornament than engine.
"Having Russell and Ciara sign on as owners and investors in PDP is game-changing, and has elevated our campaign significantly," he said in the news release. "I got to know Russell and Ciara when we signed Russell to his Nike endorsement deal. I saw firsthand their passion, pursuit of excellence and impact they bring to every endeavor. We know they will bring that same energy, sense of legacy and entrepreneurialism to the Portland Diamond Project."
Wilson remains a partner in Chris Hansen's arena project in Sodo, a six-year effort that  has been eclipsed by the Seattle City Council's endorsement of a rival project to renovate KeyArena. Wilson had wanted to be a part-owner of the Sonics, but picked the wrong horse. So now he's being given a similar shot in Portland for MLB.
Hansen's group still owns the 12 acres in Sodo. He has said he hasn't given up, waiting to see whether the Oak View Group can pull off its audacious plan to spend more than $600 million in private money to create a world-class music venue in a dense urban village that will also accommodate an NHL team perhaps as soon as 2020 — and the return of the NBA sometime before rising seas swallow Seattle.
Unless the Oak View group's renovation plan is thwarted by the pending environmental impact statement, or by some as-yet-unknown opponents, Hansen's plan is likely dead-ended.
But whether Portland's plan will deliver an MLB team any sooner than Seattle will get back the Sonics (best guess: 2025-26) depends on whether a 32,000-seat, baseball-specific stadium can be sited and built with mostly, if not entirely, private funds.
When it comes to environmental priorities, as well as public investment in private enterprises that need stadiums/arenas, Portland's civic vibe is nearly identical with Seattle's: Hell to the yes on the first, hell to the no on the second. That makes for an exceedingly difficult project, as Hansen will testify.
Portland now shares with Seattle a similar role in the municipal extortion game played by the sports monopolists: Suckers.
The Seattle NBA vacancy created in 2008, when the prairie pirates from the Dust Bowl absconded with the Sonics, helped get new arena deals that included public money for existing NBA teams in Sacramento, Milwaukee and Minneapolis.
In baseball, Portland, Charlotte, San Antonio and two non-U.S. cities, Montreal and Mexico City, have been targeted for sucker-hood by MLB to help failing teams get public money for new stadiums in Oakland and Tampa Bay.
MLB can make the argument that they would like to award franchises to two expansion cities to create the 32-team format that makes for balanced scheduling. In fact, Commissioner Rob Manfred made that point during a recent visit to Seattle.
"Portland would be on a list, yeah," he told reporters. "If we were going to go to 32, we would need a western time zone team. We'd need at least one more."
But Manfred knows what NBA Commissioner Adam Silver knows: It's always better to have 30 franchises making money in prosperous stadiums before asking the owners to give up two slices of the future revenue pie.
NHL Commissioner Gary Bettman knows the same thing, but since his shop is more precarious financially, the owners are more eager to take a lump-sum share of the expansion fees from Las Vegas and Seattle than worry about a cut in future revenues that may not produce numbers in the black anyway.
Gerard Mildner, an associate professor of real estate finance at Portland State University and a baseball fan, told Oregon Public Broadcasting that Portland is being played.
"In practice, what's happening is that Portland is being used as a strawman to get these other two franchises better stadium deals from their local city," he said. "We're stadium bait for the Tampa and Oakland franchises."
Manfred, in an interview in Chicago in 2016, all but confirmed the view that extorting existing cities is the priority.
"In terms of sequencing the issues, it's important to get Oakland and Tampa resolved before we move ahead with expansion," he said. He also said his preference is to go outside the U.S. to larger markets ahead of smaller U.S. cities that lack an abundance of Fortune 500 companies.
"My personal sort of front-runner would be either Montreal or Mexico City," he said. "I think it would be great for the growth of the game. Mexico City in particular would be new ground for us."
Mexico City is also a leading candidate for the NBA when it gets around to expanding. The TV market for what would amount to the national team of a country of 130 million people is almost irresistible for the pro sports leagues.
That likely leaves Portland (a market size of around 3.3 million, larger than only St. Louis and Kansas City in MLB) to fight with Montreal (about 3.9 million) and other mid-size U.S. cities to be MLB's 32nd team.
The baseball dreamers will almost certainly have to do the stadium with minimal to no public money, for the same reason the Sonics were lost in 2008 and the NFL Chargers were lost in 2017 by San Diego: The big, liberal West Coast cities have too many other funding priorities.
When asked recently about a state subsidy for baseball, Oregon Gov. Kate Brown laughed.
"I think we have really limited state dollars at this point," she said. "We will be focused on critical infrastructure with those limited dollars, like roads and bridges, making sure we can move forward with affordable housing.
"I love baseball, and I look forward to seeing what the private sector can do to put together a package."
In other words, a long shot. Then again . . .
Phil Knight, who demon-spawned Nike, has a net worth of more than $32 billion, or $10 billion more than Seahawks/Blazers owner Paul Allen. One check and, well . . . swoosh. Baseball in Portland. And PDP chief Cheek worked for Knight.
The Portland Diamond Project also has Wilson, one of the greatest fourth-quarter comeback artists in NFL history. It may be third-and-forever for MLB in Portland, but Wilson has a lot of clock.